September 12, 2010
F1 Update!: Italy 2010
For the tifosi of the team of the Prancing Horse, this was the dream setup. Ferrari on the pole, at their ancestral home of
La Pista Magica
, with their lead driver in combat for the driver's championship. But would the church bells be ringing in Maranello, or would the dream end up a nightmare of epic proportions? THIS is
your
F1 Update! for the 2010 Grand Prix of Italy!
*BAD DREAM
: When the lights went out to begin the race, the McLaren of Jenson Button lept off the starting line, just slightly faster than the Ferrari of HWMNBN. As the two drivers sprinted down to the ridiculously tight first chicane, the Spaniard tried to intimidate the Brit by sliding down on him. When the defending Driver's Champion didn't budge, it became a simple drag race. The problem arose when it became clear that by dodging across the track, HWMNBN had lost a small amount of forward momentum. It might have been just a handful of feet, but it was enough. As they entered the chicane, the silver McLaren had the advantage, the racing line, and by the end of the chicane, the lead. A small bump from the nose of the Ferrari took off a small piece of the McLaren's rear end, but neither car seemed particularly affected. Just as in Quals, Button's car was substantially faster in the turn-heavy (well, as turn-heavy as any part of Monza can be) second sector of the circuit, while losing time to the Ferrari on the long straights. The upshot of it all was that Button opened up a 6/10th of a second lead over the red car... and there it stayed. It would fluctuate a tenth here or there, but for all intents and purposes neither man could get away from the other.
*NIGHTMARE:
Away from the leaders, Hispania's DJ DNF was having communications problems. His radio malfunctioning, on Lap 24 he came into the pits for his tire change and a radio technician practically jumped into the cockpit with him to work on the electronics. The pit stop went cleanly with the new rubber being slapped on smartly, and the lollypop man quickly cleared DJ DNF to pull back into the race. Except there was one problem: the radio tech was still leaning over the cockpit.
(The FIA removed the video after one day)

Very quickly, an ambulance was summoned into the pits, closing access to the pit lane while the race continued on. He was taken to the infield hospital with minor injuries... a case where looks really do deceive because if you base your opinion on the video, the guy is dead.
(
UPDATE
: I included the video here simply because the F1 cameras never showed the incident. If the Legendary Announce Team hadn't have mentioned it, we never would have known.)
*DREAM ON
: With the pitlane closed, everybody was forced to keep circulating. Up front, the two leaders may as well have been connected to each other with a bungee cord; the lead would increase, then contract, then boing back up again, but never more than 6/10th of a second. It became obvious that barring incident, the pit crews would decide this race. On Lap 37 Button came in. It took the McLaren mechanics 4.2 seconds to slap on the new tires and get their man back out on track, rejoining the race in third. The next lap, it was the turn of HWMNBN. He was stopped for only 3.6 seconds, the fastest pit stop of the race, and came out of the pits just
barely
ahead of the silver car. Button tried to get past in the first chicane but couldn't quite pull it off. When Massa came in on Lap 39, HWMNBN took over first place, a position he would never relinquish, eventually winning by a scant 2.9 seconds over Button, with Massa crossing the line just over a second later. One begins to wonder if the small amount of damage that Button suffered in the first chicane back on Lap 1 made any difference to the aerodynamics of the car. It didn't have to be much, just about a tenth of a second total over the first hour or so, for that might have been the difference between the two when HWMNBN came out of the pits.
*MEANWHILE
: One Red Bull driver was having a bad day. Mark Webber had another patented Red Bull Lousy Start™, dropping from 4th on the grid to 9th in a heartbeat. He eventually climbed back up to 6th, but had to be frustrated. Seb Vettel, on the other hand, slogged around and around, driving as hard as he could without doing anything stupid or stunning. Car after car ahead of him pitted while he kept going and going. Eventually, he found himself in 4th place with a nearly 20 second lead over Nico Rosberg's Mercedes... but it was Lap 52 of 54, he hadn't made his mandatory pitstop yet, and the pit "bogey time", or the total time it takes to drive into the pitlane, stop, make the tire change, then get back out onto the track was right about 20 seconds. On Lap 53, he dove in fast, smoking his tires as he slammed on the brakes to make the pit lane speed limit, made his stop and re-entered the track... just ahead of Rosberg. He ended up a surprising 4th in a car that really wasn't that good on this track.
*DRIVER OF THE RACE
: For perhaps the first time, this award is going to go to two drivers. Both HWMNBN and Jenson Button drove their hearts out today, getting absolutely the best out of their vehicles. That the two cars were set up to specialize in different parts of the course, yet ended up less than a second apart for the first 40 laps, just highlights the skill both showed. Without a doubt, both deserve the award, and for providing an incredibly tense race both get it.
*TEAM OF THE RACE
: Ferrari. First and third on the podium, and the race won by the mechanics? That's a team victory, and there's no way any other team deserves this award more than the boys from Maranello.
*MOVE OF THE RACE
: There were surprisingly few passes on track today, so without a doubt this has to go to the Ferrari pitcrew. When McLaren got their man in and out in 4.2 seconds, they knew that they had a chance to decide this one. Everything went like clockwork, and they gained their car about 150 feet of track distance over their competitors. It couldn't have gone better, and made all the difference in the world.
*MOOOOOOO-OOOVE OF THE RACE
: While we here at F1U! are not fond of giving the Mooooooo-oove to something that occurs during the chaotic events of any Grand Prix's first lap, we're making an exception today. Lewis Hamilton qualified 5th and jumped to 4th by default when Mark Webber had another in a long line of Red Bull Lousy Start™s. Heading into the first chicane, the two Ferraris were side-by-side into the narrow first turn, yet Hamilton thought he could get himself some of that action. He got his front wing alongside Felipe Massa's cockpit, and his front-right tire just in front of Massa's left-rear, but only just. When Massa either accelerated slightly, or Hamilton slowed a touch, there was contact; the impact pushed the McLaren's suspension forward. Now, carbon fiber is a ridiculously strong material, but it has an odd property... it's only strong in the direction that it's woven to be strong in, unlike a steel rod which would have the same amount of strength no matter which way forces are applied to it. The result was predictable.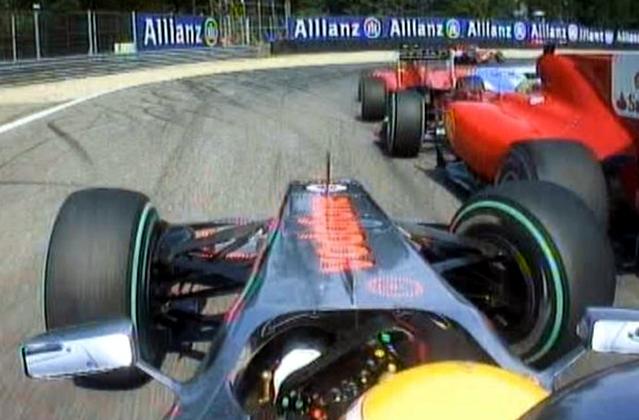 His front suspension broken, the man leading the Driver's Championship was out of the race before he reached the second turn. Now he's behind Mark Webber. A questionable decision to knock yourself out of the championship lead? Good job, Lewis, here's your Moooooooo-oove!
*SELECTED DRIVER QUOTES OF THE RACE:
"A Ferrari winning at Monza? Yeah, like
that's
never happened before." - HWMNBN (
note: this was the 17th time a Ferrari has won at Monza
)
"I had to drive as hard as possible all race long. I'm a little tired. Excuse me while I take a nap." - Jenson Button
"I don't think I was on tv once today. Did anybody notice I was in 3rd place? Hello? Is there anybody there?" - Felipe Massa
"Our strategy was a risk today - if it works then you're the king and if it doesn't you can be the idiot!" - Seb Vettel (
note: real quote
)
"Blah blah blah company line bosh bosh bosh." - Nico Rosberg
"At least I've had a better day than Lewis." - Mark Webber (
note: real quote
.
Yes, really
.)
"GRARRRRH! HULKENBERG FINISH 7TH!" - Nico Hulkenberg
"Meh." - Robert Kubica
"Sometimes there's so much rust that you can't just knock it off. You have to replace the metal. That's a analogy." - Slappy Schumacher
"Actually, it's a metaphor. Stupid git." - Rubens Barrichello
"Car go fast on straight. Not go fast in turn. Poopie." - Seb Buemi
"At least I've had a better day than Lewis. Not that it matters." - Vitantonio Liuzzi
"Hopefully, when I come here next year I won't need to learn anything; I'll just be able to show my best level of performance. Why are you laughing?" - Vitaly Petrov (
note: mostly a real quote
)
"Go away. Just leave me alone. You know there's nothing interesting here. Shoo." - Pete Rose
"I really don't understand why I got the drive-through penalty." - NKOTT (
note: real quote. It's because you cut a chicane three times in five laps when Webber was pressuring you, you idiot.
)
"Well, it's been a good season so far. I've got that going for me. Which is nice." - Adrian Sutil
"I have nothing to say that is either relevant or true." - Timo Glockenspiel
"It's a shame because I couldn't get the true potential out of the car after a good weekend, but that's life" - Heikki Kovaleininninninnie (
note: real quote. What potential is that? You're driving a Lotus, not a McLaren
.)
"He called me DJ DNF. I had to scrag him." - DJ DNF
"Today we had a race with a lot of problems. The car, for example. The driver too." - Lucas di Grassi (
note: mostly a real quote
)
"What do you mean, 'stop'? Who needs a gearbox anyway?" - Jarno Trulli
"Poof." - Bruno Senna
"I made a good start, gained a position, got up to fourth, and, at that moment,
perhaps
I should have just stayed there for a while. And perhaps Nazi Germany should have left the Soviet Union alone in WWII. Oh, and 'Aieeee.' " - Lewis Hamilton (
note: mostly a real quote
)
"If a gearbox doesn't shift, is it still a gearbox?" - Gandalf Kobyashi
So that's it for Monza, and that's it for the European leg of the season too! Next up will be the night race in Singapore, two weeks from now... see you then!
Posted by: Wonderduck at 03:46 PM | Comments (5) | Add Comment
Post contains 1862 words, total size 12 kb.
1
Looking at that first video, my thought was, "You know which guy really has to have balls? The one standing right at the front of the stop box. If the driver fouls up and goes 3 feet too far, that guy ends up crippled."
I wouldn't have that job for anything.
Posted by: Steven Den Beste at September 12, 2010 09:58 PM (+rSRq)
2
How's the engine situation? You'd mentioned that a couple teams were already running on engine 7 or 8...
Posted by: Avatar_exADV at September 12, 2010 10:22 PM (mRjOr)
3
Steven,
it happens
. Generally though, he's not the one who can get hurt the worst. The guys on the tires, particularly the side closest to the garages, are much more likely to be injured seriously. Unlike the front jack man, they're crouching and have no chance at all to get out of the way.
When they're hit, they get knocked over
and there's a good chance that a wheel will go over a limb. The front jack man usually goes flying, maybe gets a broken ankle or two, but I haven't seen that happen in a while. A tire guy get hit every few races. When they had refuelling,
it could be even worse
.
Sometimes though,
the pit crew gets their revenge
.
Avatar, Pete Rose used his last engine today. I think everybody else has at least one left. I can't find the current list, but when I do, I'll list it.
Posted by: Wonderduck at September 12, 2010 11:34 PM (blg68)
4
Just got to watch most of the race during lunch. Did I understand the announcers correctly that the teams are now interpretting the team rules ban as "please don't be as obvious as Ferrari and you won't get fined"? And isn't that more-or-less how the rule was treated anyway?
Posted by: Ben at September 14, 2010 11:49 AM (QE3Wj)
5
Ben, "yes" and "yes." Welcome to F1, where the Sporting Regulations are, in many cases, more like "Sporting Suggestions."
Posted by: Wonderduck at September 14, 2010 11:14 PM (blg68)
Comments are disabled. Post is locked.
35kb generated in CPU 0.05, elapsed 0.2174 seconds.
47 queries taking 0.1835 seconds, 265 records returned.
Powered by Minx 1.1.6c-pink.