July 28, 2013
F1 Update!: Hungary 2013
Hot. A clear, cloudless sky graced by a flaming sun greeted the F1 Circus as the cars rolled onto the grid. The ambient air temperature was over 90°, the track surface was well over 120° and everybody was anxiously eying the soft tires to see if they'd melt or just fuse to the asphalt. Did they? Did the heat help or hinder polesitter Shiv Hamilton? Or was bloodthirsty Hannibal Vettel going to be able to do bad things to the rest of the field? THIS is
your
F1Update! for the 2013 Grand Prix of Hungary!
*AND WE'RE OFF!
: To be honest, we here at F1U! were expecting the usual "Vettel takes the lead, then runs away and hides" race. And we were wrong. Today, the Red Bull RB9 looked mortal... worse, it looked human. In the opening stint, Hamilton led the field from pole, with Vettel around a second back. However, he couldn't get much closer as he had the Lotus of Lettuce Grosjean stabbing and diving at him for position. While entertaining enough, it was clear that the soft tires of everybody at the front of the field weren't going to last long... and they didn't. The instant he felt his rubber going bad on Lap 9, Hamilton pitted, and the race, oddly, hung in the balance.
*ON THE BUTTON
: The Mercedes driver came out behind his former teammate, Jenson Button, in 8th place. Button had started on the medium tires, which would last some 25 laps. Hamilton had switched to the mediums as well, and on his fresher tires swept past the McLaren driver at the beginning of the next lap and began to turn fast laps. Then it was time for Hannibal Vettel to pit. He too switched to the medium tires, and he too came out of the pits behind Jenson Button. The difference, however, is that the Mercedes has a top speed of at least six mph faster than the Red Bull, and Vettel simply could not make a move on Button as a result. It took until Lap 24, when the McLaren's tires finally went, lemming-like, over the cliff, for Vettel to get past the Glare On Wheels. At the end of the first tire stint, Vettel trailed Hamilton by around 1.5 seconds. When Vettel finally got around Button, he was over 13 seconds behind, and the race was essentially over.
*GOING FOR SILVER
: Kimi Raikkonen had a different tire plan from everybody else. Most of the field was on a three-stop strategy, but Raikkonen, driving a Lotus that was historically gentle on its tires, was going for a two-stop. Late in the race, it looked like it was about to pay off... he was in second place, but on Lap 55, Vettel pitted for the final time and set off in pursuit of the Finn. It took him approximately four laps to get within DRS range but there it stopped. Even though the Lotus had significantly worn tires, and Vettel got to use DRS, the speed difference was negligible... the Red Bull could get close, but couldn't do any more. Then, just as an anticlimax, the pit wall began to instruct Vettel to begin entering fail codes into the steering wheel, and to back off the man in second place for cooling purposes.
*AS AN ASIDE
: Heat has always been the Achilles heel of Adrian Newey-designed cars. As perhaps the premiere aerodynamicist in F1 history, his designs are marvels at the esoteric art of bending airflow to the whims of the quest for speed. As a result, his cars get every gram of aero downforce possible out of the rules, but this often comes at a cost. First, his cars lack straight-line speed, caused by the drag inherent in downforce. Second, his designs are sensitive to ambient heat. The aerodynamic bodywork is so detailed, so sculpted, and so precise that there's usually no extra space to allow for cooling. During today's race, the team told Vettel to back away from the car ahead two different times: chasing Button and chasing Raikkonen. The RB9 needed to get clean air into its radiators to keep from overheating in the ridiculously hot Hungarian atmosphere. This cost the team dearly today.
*THE END
: Hamilton got his first win as a Mercedes driver, finishing some 11 seconds ahead of Kimi Raikkonen. Vettel finished some three seconds back from the Lotus, followed by his teammate Mark Webber. Ferrari's HWMNBN was 5th, over half-a-minute behind the leader. Lettuce Grosjean, who had a penalty-filled race, finished in 6th, 52 seconds back.
*DRIVER OF THE RACE
: To be honest, nobody truly distinguished themselves today. Hamilton won, clearly, and that's quite nice, but he wasn't particularly challenged at any time. So instead of giving it to him, or Kimi, or Vettel, or anybody like that, we're giving it to Táltos Maldonado. The Williams driver finished the race in 10th place, thus earning the legendary team their first point in the championship standings for 2013.
*TEAM OF THE RACE
: Red Bull. They finished third and fourth, further solidifying their grasp on the Constructor's Championship. On a day when nobody stood head-and-shoulders above the field, that's got to count for something.
*MOVE OF THE RACE
: On Lap 31, Jenson Button was behind the Ferrari of Felipe Massa. He'd been behind for a bit, and was threatening to make a move on the Brazilian, but nothing was obviously going to happen anytime soon. Then, as the pair headed towards the chicane-like Turn 6/7 complex, the McLaren driver decided he'd had enough.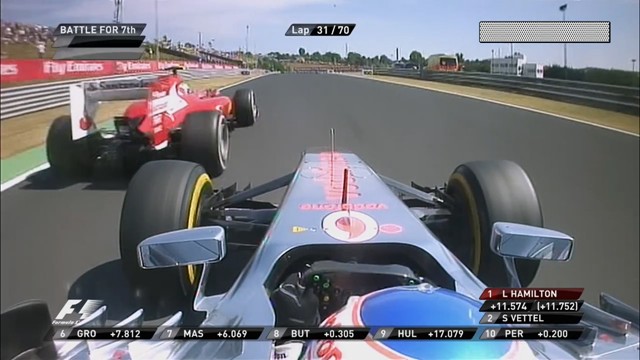 A small bobble by the Ferrari driver opened the door for Button, who decided that he didn't
have to
brake for the upcoming turns.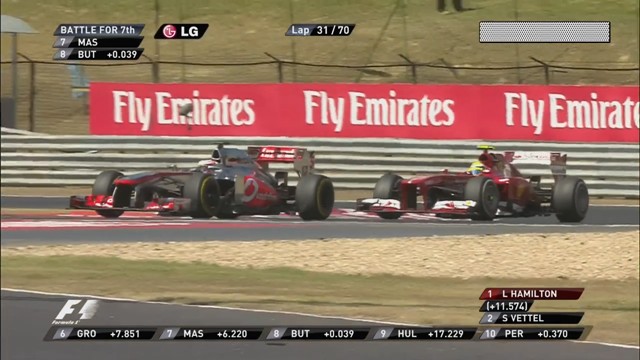 Somehow keeping the car from flying off into the Hungarian wilderness, Button managed to make the turns and just steal 7th place from Massa. It wasn't a flashy pass, but it was very well done indeed, and impressed us enough to win the MotR.
*MOOOOOOOOOO-OOOOVE OF THE RACE
: On Lap 24, Jenson Button was heading a train of cars, with Hannibal Vettel, Lettuce Grosjean and HWMNBN all stacked behind him. Unfortunately, his tires had fallen off the cliff, and it was clearly just a matter of time before the field swallowed him up. Vettel went by, and then Grosjean thought he'd have a go. First, he got most of the way past the McLaren, then tried to get back on the racing line.
Then he decided that he didn't really need to follow the layout of the track.
As is usually the case, the stewards took a dim view of these actions, hitting him with a 20-second time penalty after the race. It had no effect on his place in the standings, but it did show that last year's goofball is still lurking somewhere. Here's your Mooooo, Lettuce.
*SELECTED DRIVERS QUOTES OF THE RACE:
"I dedicate this, my first race win with Mercedes, to my ex-girlfriend. No, seriously." - Shiv Hamilton
"mrmrmrbdlmmrmr mrmrmlrmrmrrmmrmbblrmr mrmrrmrmrbrlrmmrmrmr rmbrrmrmmrr." - Kimi Raikkonen
"Button will be hearing from me soon..." - Hannibal Vettel
"Not a whole lot to be said. If the team hadn't peed my Quals down their leg yesterday..." - Mark Webber
"Better than I thought." - HWMNBN
"I could have won this one today. I could have, but I learned to drive in the bumpercars at the carnival." - Lettuce Grosjean
"I can only assume that Lettuce thought I was just going to evaporate or something." - Jenson Button
"I wonder if Porsche needs another driver to go with Webber?" - Felipe Massa
"I tried a two-stopper, like the Lotuses. It didn't work as well." - Sergio Perez
"Thanks to my efforts, Williams is now
officially
better than Marussia and Caterham." - Taltos Maldonado
So that was the Grand Prix of Hungary. That'll have to hold us for a month, because the Circus goes into its annual Summer Break. The next time we race will be at Spa-Francopants on August 25th! See ya then!
And here's the next episode of TOONED 50!
Love the kiwi.
Posted by: Wonderduck at 07:16 PM | Comments (6) | Add Comment
Post contains 1346 words, total size 9 kb.
Posted by: Tom Tjarks at July 29, 2013 09:28 AM (qE66L)
Posted by: AvatarADV at July 29, 2013 12:15 PM (GJQTS)
Posted by: Wonderduck at July 29, 2013 01:07 PM (NvF/3)
Posted by: Tom Tjarks at July 29, 2013 03:35 PM (qE66L)
Posted by: Pete at July 29, 2013 08:19 PM (RqRa5)
Posted by: Wonderduck at July 29, 2013 09:15 PM (NvF/3)
Comments are disabled. Post is locked.
34kb generated in CPU 0.0786, elapsed 8.0084 seconds.
47 queries taking 7.9855 seconds, 282 records returned.
Powered by Minx 1.1.6c-pink.