August 03, 2008
F1 UPDATE!: Hungary 2008!
Well, that doesn't happen every day!
This
is your F1 UPDATE! for the Hungarian Grand Prix!
*RUNAWAY VICTO... OOPS
: During the Ross Brawn/Slappy Schumacher era, Ferrari was known for many things, but one huge reason for their success was that their cars were practically bulletproof. They practically never broke down, and when they did, it wasn't the engine. In the post-Slappy era, Ferrari hasn't been quite as invunerable, but they've been pretty solid. Today, Felipe Massa had a brilliant start from third on the grid, leaping over both McLarens by the first turn, then ran away from everybody. Lewis Hamilton managed to stay in contact with the Ferrari for a while, but a blown tire put paid to any chance he had of winning, and actually placed him outside the points at the time. With that gift, Massa had the race in the bag. And then...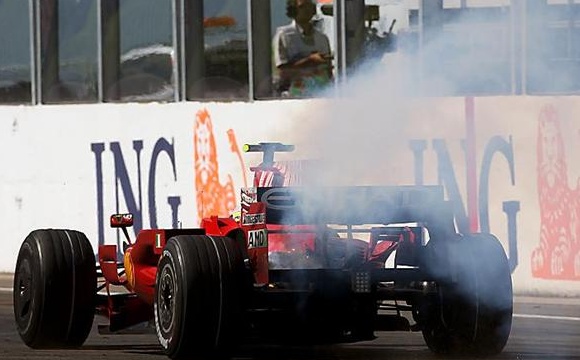 ...Massa's engine went splat. It rolled to a stop just past the start/finish line with three laps to go, leaving a puddle of various fluids under its carcass. Seventeen seconds later, McLaren's Heikki Kovaleinninninnie swept past to take the lead and a few minutes later, his first ever victory. Longtime readers know that the F1 UPDATE! crew have very little love for Ferrari, but even we feel a little bad for the Brazillian.
*SMOKE ON THE WATER, FIRE IN THE... PIT LANE
: Major problems with the refueling rigs at Hungary, as three separate teams (Toro Rosso, Honda and Williams) all had fires during their pit stops. If it was just one team, you could chalk it up to ineptitude. Three means there was something wrong. The supposition is that the rigs had problems dealing with the high ambient air temps today, the thermometer reaching 95F. Fortunately there were no injuries, and indeed no damage other than some lightly scorched paint jobs. You'd best bet, though, that the incidents added another layer of stress to an already tough job.
*DRIVER OF THE RACE
: Two weeks ago in Germany, Toyota's Timo Glock had a nasty accident when his suspension let go, sending him spinning backwards into a wall. He spent a couple of nights in a hospital with back pains as a result. In Hungary, though, he qualified fourth on the grid and drove a practically error-free race to set himself up for his first career podium on the third step. Then Massa's engine went splat, and suddenly Der Glockenspiel found himself with eight standing points and the second step on podium... and a huge grin.
*TEAM OF THE RACE
: McLaren. A win for Heikki, a fifth for Hamilton (and lucky to get it), and Ferrari losing a sure win? Yep, McLaren gets the team of the race for their performance, their third win in a row, and jumping past BMW in the Constructors' Championship. Sometimes luck is as important as skill.
*MOVE OF THE RACE
: Vaucaunson's Duck suggested Massa's pass on Hamilton at the start of the race for the MotR, and considering the paucity of passing today, we were seriously considering it, despite the general prohibition on 'off-the-grid' moves earning the award. Instead, we're giving it to what is, essentially, a non-move. On lap 54, Nelson Piquet Jr went into the pits. Upon exiting, he found Jarno Trulli rocketing down on him. The Renault was at a horrible disadvantage: slow out of the pits, heavy with fuel and on cold tires. The Toyota, on the other hand, was in the exact opposite situation: momentum, grippy tires, and a fuel load that wasn't new. Piquet, not wanting to relinquish the position to the Italian, went on the offensive, forcing Trulli to take an outside line (the long way 'round the turn), then hip-checked the Toyota even farther outside with a tire bump. Trulli slipped back, and Piquet kept the spot... a very nice bit of driving indeed.
*MOOOOOO-OOOVE OF THE RACE
: Usually there's a miserable performance of some sort in a race that points out the mere humanity of the drivers, but today? Not so much. So, instead, we're giving the Moooo-oove to Lewis Hamilton. First he drives too defensively and lets Massa get ahead of him at the start, then his aggressive braking style causes his tire to blow, costing him a win? Yep, that's a Mooo-oove, but a wimpy one. Sorry, Lewis, but we've gotta give it to
someone
.
*DRIVER QUOTES OF THE RACE
:
"Today
today
today
I consider myself
self
self
the luckiest man
an
an
on the face of the Earth." - Heikki Koveleininninnie.
"Not only do I get my first podium, but today I learned that Vaucaunson's Duck's wife, Geese, has named me her favorite driver. What an incredible feeling!" - Timo Glock
"mrmrmbll mrlblrmlbllmrlb rmmmrmmrrrl mrmbl mrrm. Mpbl." - Kimi Raikkonen
"Remember when fourth was a disappointing finish for me? Yeah, me neither." - HWMNBN
"Winning's pretty cool, isn't it, Heikki? Don't get cocky, you're still the #2 driver." - Lewis Hamilton
"Well, it's not the podium, but points are good too...
and
a MotR, to boot!" - Nelson Piquet Jr
"Yeah, yeah, whatever." - Jarno Trulli
"One point is better than nothing." - Robert Kubica (
note: real quote
)
"We weren't quick enough." - Mark Webber (
note: real quote
)
"The good news is that I got up to 10th. The bad news is that I'm pretty lucky to have gotten this high by the end, because the car really stank and our fuel strategy was as dumb as a box of hair. We'll have to examine this." - Grizzly Nick Heidfeld
"Pants." - David Coulthard's Chin
"I passed my teammate! I passed my teammate! Hey, these days, that counts as a victory, and I've gotta take all of those I can." - Jenson Button
"Thank you for not setting my car on fire. Oh, wait." - Kazoo Nakajima
"Well, my car didn't catch on fire, but the first fuel hose didn't work at all. I'm not sure if that's a fair trade or not." - Nico Rosberg
"I wonder if Zsolt can get me into the Budapest McDonalds?" - Giancarlo Fisichella
"For me the actual race was one to forget really." - Rubens Barrichello (
note: real quote
)
"It happened completely without warning, without giving the slightest indication. I was managing the race, because I had a good advantage over second place after Hamilton was delayed with a problem and I was taking no risks whatsoever. I am very frustrated at the moment." - Felipe Massa (
note: real quote
)
"The race started quite well, as I had a good pace. Then it all went to hell at the first pit stop, as the guys had to use the fire extinguisher and I got a lot of foam on my visor. It happened again at the second stop and this time I had foam inside and outside my visor and couldn't see a thing." - SeaBass (
note: real quote
)
"Hmmm... that doesn't feel right.
(brakes blow out)
AIEEEEEEEEE!!!!" - Adrian Sutil
"Y'know what? Hungary sucks." - Sebastian Vettel
So that's the Hungarian Grand Prix... and now, the F1 Circus takes it's annual three-week vacation. Next up, though, is the new street course at Valencia, Spain... and we'll be all over it. So see you in three weeks for the next F1 UPDATE!
Posted by: Wonderduck at 09:03 PM | Comments (2) | Add Comment
Post contains 1209 words, total size 8 kb.
1
I have no doubt that Heikki is happy for having won, but it's a bit hollow in that he won pretty much by default. He didn't pass anyone to get into the lead, it's just that all the cars ahead of him conked out of the race.
Posted by: Steven Den Beste at August 04, 2008 01:07 AM (+rSRq)
2
I felt so bad for Massa. It was his racce to lose..and he lost it. :-(
To say he was frustrated was probably a very polite understatement.
On the other hand, good for Heikki. A win's a win. :-)
Posted by: Mallory at August 04, 2008 10:48 AM (3sife)
Comments are disabled. Post is locked.
30kb generated in CPU 0.0107, elapsed 0.0722 seconds.
47 queries taking 0.0655 seconds, 278 records returned.
Powered by Minx 1.1.6c-pink.