July 11, 2010
F1 UPDATE!: Great Britain 2010
So did Red Bull run away with the race as expected, or did McLaren and Ferrari hold on to make it a challenge? THIS is your F1U! for the 2010 British Grand Prix!
*ANOTHER RED BULL ONE-

TWO

... SEVEN?
: Mark Webber must be feeling somewhat aggrieved by the way his team is treating him these days. Despite the fact that he'd won just as many races as teammate Seb Vettel and was only a few points behind him in the Championship standings while arguably driving better overall, Red Bull has obviously thrown their support behind the young German. As an example, after the nosecone of Vettel's RB6 broke during Saturday's practice session, it was discovered that the team only had two of the new, more effective, design available for the race... and one of them was now ruined. The other was on Webber's car. Reportedly no less a figure than Dieter Mateschitz, king of the Red Bull empire and owner of the team, declared that Vettel would get the nose and Webber would have to use the older design. Another example is when the team blamed Webber for the accident in Turkey, despite it clearly being Vettel's overoptimistic pass attempt that was at fault. So it came as no surprise when the lights went out that Webber was in a bad mood. A very good start put him alongside his pole-sitting teammate as they headed into the first turn, and on the inside racing line to boot. It probably took Webber no time at all to decide to force the young German wide and entirely off the track as they came out of the turn, and there must have been a smirk on the Aussie's face as the reports of Vettel's tire puncture came back to him. From there, it was relatively smooth sailing for Webber as he became the first driver this season to win three races.
*ABOUT THAT SEVENTH...
: Last race we saw Gandalf Kobayashi go some 50-plus laps on a single set of tires. This time around, Seb Vettel's puncture on the first turn of Lap 1 laid the groundwork for something potentially more impressive: an entire race save one lap on a set of tires. When the young German came out of the pits after the tire change, he was not only dead last, but a full 30 seconds behind the car in 23rd place. Yet he managed to baby his rubber well enough to still be going strong up to the penultimate lap, at which point they completely gave up the ghost and he started to lurch around Silverstone like a drunken sailor. Yet being off the regular pitstop rotation turned out to be something of a boon, as he made up quite a few positions while others were getting their tires changed. It certainly helped that he's in the best chassis, but a mighty effort to score anything considering the way the day started.
*HWMNBN SCREWS UP AGAIN
: ...and again Ferrari is complaining about it. On lap 16, the Ferrari driver was battling with Renault's Robert Kubica for 7th place. After some tight wheel-to-wheel action, Kubica forced the Spaniard to go off-track or wreck both cars. HWMNBN cut the turn completely, returning to the track in front of the Pole. Gaining an advantage from doing such a maneuver is a definite (and clear-cut) no-no in the Sporting Regulations, but all he had to do is relinquish the position and everything would have been fine. Instead, he accelerated off into the distance and even passed another car for 6th. Then Kubica had to retire the car with mechanical difficulties, and while the Race Stewards were digging in the rules for the appropriate penalty, a Safety Car was called out for debris on the circuit, as Pete Rose's rear wing partially disintegrated due to the rumble-strip nature of Silverstone's asphalt. When the drive-through penalty was handed out, you could hear the screams from Maranello here in Duckford. Unable to serve the penalty behind the Safety Car, HWMNBN dropped from 6th to 16th when green-flag racing resumed. Of course, Ferrari is saying that HWMNBN couldn't relinquish the position since Kubica retired shortly after the incident, and that the penalty should have come down sooner, and yadda yadda yadda.
*DRIVER OF THE RACE
: Jenson Button doesn't much care for Silverstone, his home track. He's never won there, he's never even finished on the podium, and after qualifying 14th, it looked like he'd have a hard enough time getting into the points. Despite not being happy with the grip on the car, he still managed to bring it home in 4th place, mainly due to picking up a whopping
eight
positions on the first lap. He still wasn't on the podium, but it was a heckuva run for the reigning World Champion.
*TEAM OF THE RACE
: McLaren. Yes, Red Bull got the win, but if things were happier on that team they would have finished 1-2. The friction between their drivers cost them that lockout. Ferrari just looked sloppy today, with two very bad pitstops late in the race and HWMNBN's gurning about. Meanwhile, Lewis Hamilton hung onto the rear of the faster Webber and while he never got particularly close to the Red Bull, he was never very far away, either... it only would have taken one little mistake. Throw in Button's semi-miraculous 4th place, and it was a very good day indeed for the team from Woking.
*MOVE OF THE RACE
: On Lap 31, we saw one of those fights that make F1 so interesting: a small team vs big team / youth vs experience clash. Force India's Adrian Sutil was closing in on Mercedes' Slappy Schumacher. Every time the younger German tried something, the older German would slam the door shut, making it clear that Shumi would have none of it. Finally, Sutil got tired of the game and forced his way inside of Slappy, getting very very close to Mercedes... maybe a little too close.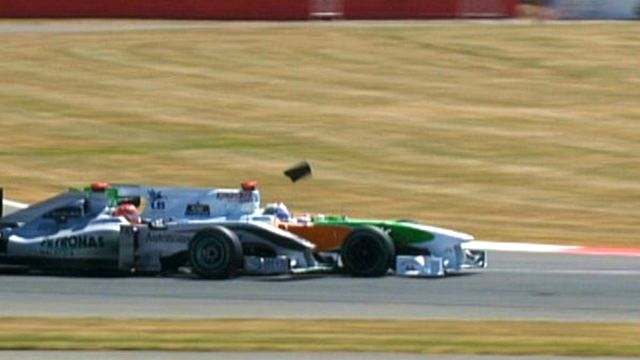 Still, the talented youth (at least, "youth" in comparison to Slappy) made it stick, impressing the heck out of everybody watching. Nice job!
*MOOOOOOOO-OOOOVE OF THE RACE
: Felipe Massa's race was essentially over halfway through the first lap, ended by a puncture caused by his teammate that forced him to limp into the pits. Emerging in 23rd position, he was destined to spend the rest of the day looking at the rear ends of HRTs, Lotuses and Virgins as he slowly made his way back up to 13th. Then on Lap 39, either due to tire wear or driver fatigue, his Ferrari suddenly spun into the last turn, neatly squaring off his tires. Ah, but at least he was close to the pits, so he drove right into his box and stopped for new rubber. And waited. And waited. And
waited
. It took nearly 30 seconds for the pit crew to get the new tires out to the wounded car, let alone change them. Ten laps later, the same thing happened again as HWMNBN suffered a puncture passing Vitantonio Liuzzi. So split this one between Massa (for his unprovoked spin) and the team (for their lackadaisical attitude). Bad job!
*SELECTED DRIVER QUOTES OF THE RACE
:
"Well done guys... not bad for a number two driver!" - Mark Webber (
note: real quote, said over the radio during the cooldown lap. No, Webber isn't happy at all...
)
"Not too shabby a result this." - Lewis Hamilton
"I finished third, but at no time during the day was I on TV... they didn't even show my pitstop. They show everybody's pitstops. Even the HRTs get on TV during their pitstops." - Nico Rosberg
"I've got to stop making it difficult on myself. The only pain is that my teammate has pulled away a bit (in the championship)." - Jenson Button (
note: real quote
)
"We're getting there." - Rubens Barrichello
"I don't have much to tell. I didn't find it especially hard, I didn't even sweat." - Gandalf Kobayashi (
note: real quote
)
"I will keep my thoughts to myself." - Seb Vettel (
note: also real quote
)
"Slappy who?" - Adrian Sutil
"F**k you, Sutil. Get off my damn
lawn
track" - Slappy Schumacher
"I have nothing to say that is either relevant or true." - Nico Hulkenberg
"Gosh, that's a shame about HWMNBN's tire puncture." - Vitantonio Liuzzi
"It did not go well for me today. In fact, it never does on race day." - Seb Buemi
"Nothing. Never mind." - Vitaly Petrov
"I do not wish to comment on the Stewards' decision. (pause, pause) The team acted correctly but the instruction to hand back the position arrived when I had already passed another driver and in the meantime, Kubica was visibly slowing down before retiring. On top of that, the penalty coincided with the Safety Car and so, rather than just losing a couple of positions, I lost around a dozen." - HWMNBN (
note: real quote, not commenting on the Stewards' decision, not at all
)
"I thought I saw a spring. Did you see a spring?." - Felipe Massa
"According to the Legendary Announce Team, I was driving
both
Lotus cars today. Darn, but I'm good!" - Jarno Trulli
"According to the Legendary Announce Team, I wasn't driving at all today. Boy, I must suck." - Heikki Kovaleinninninnie
"I'm in a stinkin' Virgin, why are you talking to me? And on a personal note, Giesela, please take me back!" - Timo Glockenspiel
"Well, it was like ridin' a bronco in a twister with no saddle." - Cowboy Karun Chandhok
"I will run wild for six laps, maybe 12, but after that there is no hope." - Sakon "Admiral" Yamamoto
"Of course I am disappointed not to have finished, you spavined pissant. Oh, and 'Aieeeeeee!'" - NKOTT
"What do you
mean
'my rear wing is disintegrating'?" - Pete Rose
"(pointing at HWMNBN) OOOOH!
CHEATER
!" - Robert Kubica
"We didn't have a very good day." - Lucas di Grassi (
note: real quote
)
And so we've come to the halfway point of the season! Two weeks until Germany, and we'll see you there for the back half of the calendar!
Posted by: Wonderduck at 02:26 PM | Comments (7) | Add Comment
Post contains 1698 words, total size 11 kb.
Posted by: Steven Den Beste at July 11, 2010 05:18 PM (+rSRq)
Posted by: Wonderduck at July 11, 2010 05:52 PM (iJfPN)
Posted by: Pete Zaitcev at July 11, 2010 09:10 PM (/ppBw)
Posted by: Avatar_exADV at July 12, 2010 01:05 AM (mRjOr)
Posted by: Mallory at July 12, 2010 02:51 PM (WJ2qy)
Posted by: Pete Zaitcev at July 12, 2010 07:24 PM (/ppBw)
Posted by: Wonderduck at July 12, 2010 08:08 PM (iJfPN)
Comments are disabled. Post is locked.
34kb generated in CPU 0.08, elapsed 0.2212 seconds.
47 queries taking 0.1921 seconds, 272 records returned.
Powered by Minx 1.1.6c-pink.