July 22, 2012
F1 Update!: Germany 2012
In contrast to the sopping wet Qualifying, the skies over the F1 circus was partly cloudy as they waited for the lights to go out. Would it stay dry? Would HWMNBN, the season's first two-time winner be able to become the first
three
-time winner? Or would national hero Seb Vettel finally win his home race? THIS is
your
F1 Update! for the 2012 Grand Prix of Germany!
*WE'VE SEEN THIS ONE BEFORE, JUST WITH DIFFERENT ACTORS
: When the lights went out and the grid accelerated away, polesitter HWMNBN's Ferrari charged away and headed for the hills. While Vettel wanted dearly to chase after him, he had to spend the first couple of laps fending off a concerted attack from Mercedes' Slappy Schumacher. By the time the silver arrow had been dealt with, the red car had a few seconds in hand over the Red Bull, and it looked like HWMNBN had every intention of keeping that way.
*RED HOT LEADER ON BACKMARKER ACTION:
It stayed that way through the first round of pit stops, with Jenson Button, in what must be considered a surprise third place, around five seconds back. As the race neared the halfway point, it was obvious that Vettel was quicker than HWMNBN, closing the lead down to six-tenths of a second and looking like he was going to blow the red car away with the aid of DRS. But it never happened, in part because the Ferrari driver made good use of terrain, i.e., Marussia's Charles ToothPic. Just as it looked like Vettel would be able to get past with the speed boost from the open slot-wing, HWMNBN got the same bonus. Y'see, the DRS detection system does not differentiate between leaders and backmarkers... if you're within one second of a car in front of you in the detection zone, you get to use the DRS, even if the car in front is in last place. So at that time, HWMNBN got to stay ahead, and put a car in between him and Vettel to boot, but surely that wouldn't last, and it didn't. But then the Red Bull driver had to contend with another annoyance... Lewis Hamilton.
*PULLING GUARD
: To say that Hamilton was having a bad day would be an understatement. At the beginning of Lap 2, he ran over a carbon fiber shard and suffered a ruined tire. As he limped his way around the Hungaroring, he bemoaned his fate, even going so far as to get on the radio and say that the team should retire the car. He managed to get to the pit, the team checked him over and sent him back out... nearly a lap down with sixty-odd left to go. But after his second stop around Lap 35, he came out of the pits a lap down, but right behind Vettel (and just ahead of his teammate), and with fresh tires. Much to the Red Bull driver's surprise, Hamilton attacked, got past, then tried to go after the Ferrari... perhaps halfheartedly. "I don't see the point in him trying to race us," said Vettel afterwards. "It is a bit stupid to race the leaders." As it was, Hamilton could not catch HWMNBN to unlap himself, and maybe kinda held up Vettel a bit while his teammate dove into the pits.
*WOW THAT WAS FAST
: A few races ago, McLaren couldn't do a pitstop without it all ending in tears, flying tireguns and lost places. Not this time. Button came in, got a fresh set of tires and got out again. He had been stopped for 2.31 seconds. When Vettel stopped next lap, Red Bull could not match that and Button passed him for second place. He then set sail for the Ferrari in the lead.
*FAIL, AND FAIL AGAIN
: He tried. He really did. He closed down on the red car, pulling to within a half-second, but no closer, and perhaps killed his tires in the process. Ultimately, Button had to stop attacking for the lead and start defending his position from Vettel's attacks. In fact, on Lap 66, Vettel made his move around the outside of the Hairpin. Button defended, pushing Vettel wide, but the Red Bull still got by...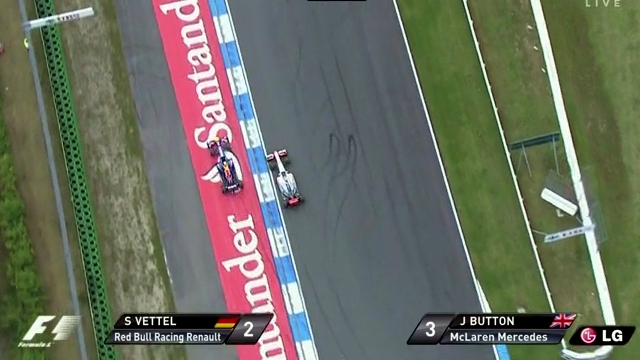 ...at this point, the F1U! team was yelling at the TV that this was illegal as Vettel had left the racing surface. When honorary F1U! team member Vaucaunson's Duck asked if anything was going to happen to the reigning world champion, the jaded response was "not a chance." The race ended with HWMNBN leading Vettel, who was a second ahead of Button.
*...AND THEN
: The FIA had been keeping a gimlet eye on Red Bull all race, and had been made aware of Vettel's transgression. Shortly after the race, the stewards handed down their judgement: a drive-through penalty. As the penalty was given after the race, it was changed to a standard "add 20 seconds to his race time." This dropped Vettel to fifth place, promoting Button to 2nd and Mumbles Raikkonen to the final step on the podium.
*DRIVER OF THE RACE
: Other than the first race of the year, Jenson Button has had a terrible season. It was nice to see him fighting for the win again, and he drove an excellent strategic race. Well deserved.
*TEAM OF THE RACE
: Sauber. Yes, Sauber! Gandalf finished 4th, Sergio Perez 6th, and they proved that they're the best of the midpack by routinely powering by Force India all day. Heck of a result for the "privateer" team.
*MOVE OF THE RACE
: On Lap 15, Slappy Schumacher was hunting down Nico Hulkenberg for 7th place. Heading into the braking zone, he was in perfect position. Meanwhile, some distance behind, Mumbles Raikkonen seemed to be out of the squabble.
Into the turn, Slappy dove inside Hulkenberg, slipping past and forcing the Force India to go wide into the next turn...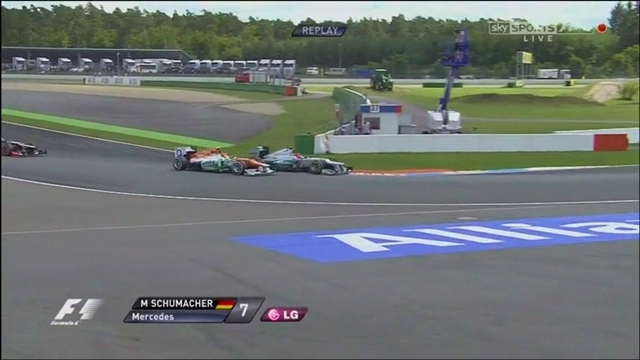 ...when from out of nowhere, Mumbles ignored his braking altogether and still somehow managed to make the turn, getting by Hulkenberg and nearly surprising Slappy in the process.
For his banzai move from out of nowhere, we'll give Mumbles Raikkonen the MotR! Good job!
*MOOOOOO-OOOVE OF THE RACE
: There really weren't any, so we're bending our rules that prevent Lap 1 incidents from winning either Move or Mooooo-ooove of the Race awards. Heading into Turn 1 at the start, Felipe Massa just drove directly into the back of Lettuce Grosjean. The result was... predictable.
The carbon fiber shards left behind were the cause of Lewis Hamilton's shredded tire, and race. Good going, Massa... here's your Moooooo.
Drivers quotes will be dropped this week, as this F1U! is late enough as-is. Next week is the Grand Prix of Hungary... god help us. See you then!
Almost forgot! Here's the latest episode of McLaren
Tooned
!
MegaLOLz!!
Posted by: Wonderduck at 09:23 PM | Comments (5) | Add Comment
Post contains 1139 words, total size 8 kb.
Posted by: David at July 22, 2012 09:50 PM (vyRm+)
Posted by: Wonderduck at July 22, 2012 11:40 PM (9ckGE)
Posted by: Steven Den Beste at July 23, 2012 12:49 AM (+rSRq)
Posted by: Tony von Krag at July 23, 2012 11:21 AM (XIY2m)
Posted by: Kyle Gottfried at July 23, 2012 11:36 AM (6EX58)
Comments are disabled. Post is locked.
31kb generated in CPU 0.0135, elapsed 0.1188 seconds.
47 queries taking 0.1089 seconds, 281 records returned.
Powered by Minx 1.1.6c-pink.