June 22, 2008
F1 Update!: FRANCE 2008
Ugh.
This
is your F1 UPDATE!
*MERDE
: Wow, this was dull. How dull was this race? Here's a picture of a piece of french bread: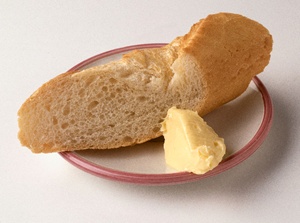 That picture is more interesting than the 2008 French Grand Prix. Even the rain that began to fall with 15 laps to go was uninteresting, being just a light sprinkle.
*FERRARI IS ALL
: Halfway through the race, Kimi Raikkonen had a problem develop with his exhaust system: it started to fall off his car. The right-hand exhaust pipe somehow broke and, held on only by the heat sensor, began to bounce and flail against the Ferrari's bodywork.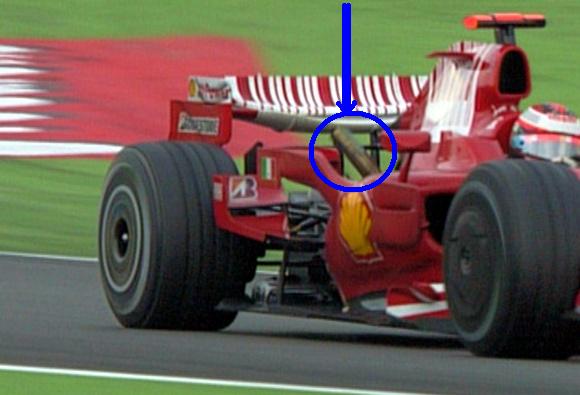 It was obvious that the piece of pipe was going to break free sooner or later, and thus constituted a hazard to everybody behind him... imagine the damage that could result if it came off and speared into a car following! Therefore, the track marshals should have forced him to pit so it could be removed. Of course, the Ferrari would have lost track position, but that's a minor thing considering the safety problems. That Kimi was leading at the time shouldn't have any bearing on the situation. Also of course,
the FIA did
nothing
. Even more surprising, neither did Ferrari when Kimi DID pit! They left the pipe as-is. It was only luck that there wasn't anybody nearby when it finally broke free, rocketing off the rear wing and headed for low-earth orbit. The overheating Ferrari eventually finished second.
*DRIVER OF THE RACE
: We never thought we'd say this, but Jarno Trulli. Bringing Toyota their first podium finish since the 2005 Hungarian Grand Prix, Trulli was under fire the entire race. Somehow, he managed to beat back challenges from Heikki Kovaleinninninnie, Robert Kubica and Mark Webber. Even Jarno's great nemesis, the rain, couldn't keep him from third place. The lone bright spot in a very boring race.
*TEAM OF THE RACE
: Ferrari. Podium sweep, fast lap, a friendly FIA, and a McLaren team that seems to be spinning its wheels all point to Ferrari running away and hiding the rest of the season.
*MOVE OF THE RACE
: On Lap 19, Lewis Hamilton, who had been bothering HWMNBN for 12th place for a while, ran low while the Renault swung wide into the turn named Estoril. HWMNBN apparently had no idea what was going on, for he began to swing himself onto the inside line even as Hamilton occupied it. Surprised, he twitched and Hamilton zipped by. A nice, if ultimately pointless (Hamilton at the end of the lap), Move of the Race.
*MOOOOO-OOOVE OF THE RACE
: Even the Moooo-ooove for this race is dull! Jenson Button bumped into SeaBass going into turn 1 at the start of the race, which broke his front wing and eventually led to his retirement (the only one of the race). Congratulations, Jenson, you're the most boring MoootR winner EVER!
*DRIVER QUOTES OF THE RACE
:
"Boy, it's lucky that Kimi's exhaust broke, isn't it?" - Felipe Massa
"mrmblmmbl mrlblbmm mrblmbll puttputtputt mrlblmmbl." - Kimi Raikkonen
"This one's for you,
Ove
." - Jarno Trulli
"Fourth is not bad, considering the way the FIA screwed me over in quals." - Heikki Kovaleininninnininnie (
note: he was given a grid penalty for "blocking" Mark Webber
.)
"Well, that sucked." - Robert Kubica
"What he said." - Mark Webber
"I still have a job, so that's something." - Nelson Piquet Junior (
note: rumors are flying that Piquet's seat is in danger at Renault. Considering how badly he's done, the rumors should be true if they're not
.)
"How in the hell did Piquet get by me???" - HWMNBN
"Pants. Just
bloody
pants." - David Coulthard's Chin
"10-spot grid penalty, a lame drive-through penalty, and a crappy driving job all day... I was supposed to be a rookie LAST year." - Lewis Hamilton
"Zzzzzzzzzzzzzzzzzzzzzzzzzzzzzzzzzzzzzzzzzzzzzzzzzzzzzzzz." - Everybody else, including the viewers at home.
Oh, and lest we forget:
"Aieeeee?" - Jenson Button
Thus endeth the really really dull French Grand Prix for 2008. With luck, next year we'll be in Paris and have a better race. Two weeks from now, we'll be at Silverstone for the Grand Prix of Britain... see you then!
Posted by: Wonderduck at 06:33 PM | Comments (4) | Add Comment
Post contains 696 words, total size 5 kb.
Posted by: Mallory at June 23, 2008 10:37 AM (WJ2qy)
Posted by: Lokki at June 23, 2008 11:43 AM (wSBsc)
Posted by: Wonderduck at June 23, 2008 07:01 PM (AW3EJ)
Posted by: madmike at June 24, 2008 09:35 AM (o+iiH)
Comments are disabled. Post is locked.
26kb generated in CPU 0.06, elapsed 0.2654 seconds.
47 queries taking 0.2308 seconds, 268 records returned.
Powered by Minx 1.1.6c-pink.