April 12, 2015
F1 Update: China 2015
Right, so, much to my surprise, I stayed up to watch the race last night. This morning? It started at 1am, so you make the call. Anyway, I had no plans to do so, but an overly-long nap after a day of intestinal distress found me wide awake when the lights went out. So what happened? THIS is
your
F1 Update! for the 2015 Grand Prix of China!
Weather was no issue when the lights went out and the Thundering Herd piled into Turn 1. It took very little time at all for the front of the field to settle down to Hamilton-Rosberg-Vettel-Raikkonen-Bottas-Massa... or Merc-Ferrari-Williams, if you prefer. Prior experience would have us see that and think "Silver Arrows galloping over the horizon." But! This is no longer 2014, my friends... it's 2015, a new era in Formula 1! Things have changed! And by that, I mean that Mercedes didn't gallop over the horizon... at least, not alone. Ferrari tagged along, staying close enough that Hamilton and Rosberg could clearly see red in their rear-view mirrors. By Lap 10, a mere six seconds separated the leader from Raikkonen in fourth. It looked like Ferrari's plans to make their tires run longer than the Mercs were working... and if they could stay in touch with the Silver cars, they would actually have the advantage.
Which is why it came as such a shock when Seb Vettel brough his Ferrari in on Lap 13, before either driver for the German team even discussed stopping. After all the drivers made their stops, the standings were exactly the same as they had been: Hamilton-Rosberg-Vettel-Raikkonen, with seven seconds covering the four. On one hand, Ferrari had to be ecstatic: they were actually racing with the dominating Mercedes. On the other hand, they had to be disconsolate: their strategy of out-lasting the Mercedes on tires had clearly been launched out the window. Still, it could be worse; they were still in contact with last year's champs, and it was pretty clear they would be able to stay right there.
So far this season, Nico Rosberg and Lewis Hamilton had seemingly called a truce after last year's nigh-on open warfare. These days, both drivers were saying all the right things and appearing to mean it. Sure, Rosberg did say that he wasn't the team's second driver, but you'd want him to say that. On Lap 20 however, we heard a call to the pit wall from the German
wunderkind
: "Lewis is driving really slowly, get him to speed up." After the race, he go even farther, accusing Hamilton of intentionally sabotaging his race by driving just slowly enough to force him into his dirty air. This would cause his tires to wear more, due to decreased aero grip. This had the effect of letting Vettel close up, ohbytheway. The after-race interview was... um... heated.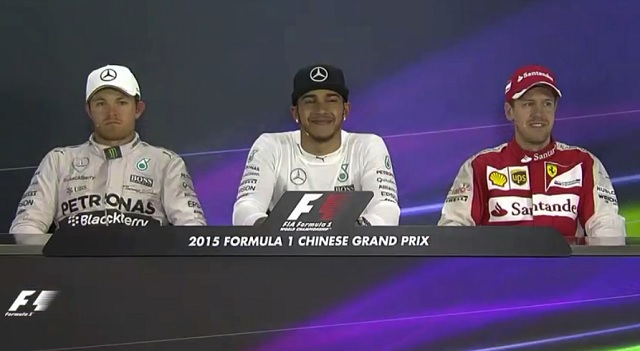 Anyway, everybody stayed close (at least in F1 terms, anyway) until the second round of pitstops occurred in the early Lap 30s. By the time it was all over and done with, Hamilton had a six second lead over his teammate, who was four seconds up on Vettel, who had a similar gap to
his
teammate. The Williams were at least on the same lap, some 50 seconds back, but there's clearly Big Two and an Everybody Else now.
Now that the leading four were on the harder Prime tires, the race went straight to hell with 20 seconds covering them. Unfortunately, they weren't evenly spaced: the two Mercs were a couple of seconds apart, then there was a 12 second gap back to Vettel, who was slowly losing time to his Finnish comrade. Indeed, on Lap 50 it looked for all the world that we were going to see an exciting fight between the Red cars for the final podium position.
Until 17-year-old Max Verstappen's Toro Rosso had A Bad Thing happen to the rear of his car just over the start/finish line on Lap 53. With his rear tires locked solid and a lump sounding less like an engine and more like the sound pudding would make if it were dropped down a flight of stairs... and made of metal... he tried to pull off the track, but couldn't manage the feat. Not his fault, this fell into the category of "comprehensive and total failure."
Unfortunately, it occurred on the front straight, where it would be singularly unsafe to try and send marshals out to recover the car unprotected. It would have been even more unsafe to leave the car where it was, so Berndt Maylander was duly summoned to the track for Safety Car duties. And that's how the race ended, under the watchful eye of The Powers That Be. Hamilton led Rosberg, Vettel, a slightly disgruntled Raikkonen who later said that he believed he could have taken Vettel, followed by the Williams of Massa and Bottas. Both McLarens finished the race (12th and 13th) as did both Manors (15th and 16th).
A race that was right on the edge of being really exciting... coulda been.
Next weekend, we'll be in Bahrain, where it's going to be hot again... look for Ferrari to make a comeback. See ya there!
Posted by: Wonderduck at 02:59 PM | Comments (1) | Add Comment
Post contains 873 words, total size 5 kb.
Posted by: Ben at April 12, 2015 07:54 PM (S4UJw)
27kb generated in CPU 0.22, elapsed 0.3165 seconds.
49 queries taking 0.2755 seconds, 256 records returned.
Powered by Minx 1.1.6c-pink.