April 19, 2015
F1 Update: Bahrain 2015
Back again for the second night race at Sakhir, the assembled F1 Horde sat burbling quietly under the lights. Would the Mercedes massacre? Would Ferrari fight fiercely? Would Williams win? THIS is
your
F1 Update for the 2015 Grand Prix of Bahrain!
The beginning of a race is signaled by the sequential lighting and mass extinguishing of five red lights. The way these work is interesting, to a certain extent. Once the field has taken to the grid, Charlie Whiting, technical overseer for Formula 1, presses a button on his control panel that begins a random countdown. When the countdown reaches zero, the set process begins. Today, there was a remarkably long stretch of time between the cars hitting the grid and the lights coming on. Part of that was due to Pastor Maldonado taking the wrong place on the grid for reasons not worth getting into and easily capsulized by rolling your eyes and saying "Maldonado" in a disgusted tone. But part of it had to be the timer taking longer than we can remember. This is somewhat more important than you might at first think... F1 cars are cooled by airflow over relatively small radiators. Thus, if they aren't moving, they aren't being cooled... and the cars had been still for a very long time indeed. Much to our surprise here at F1U! HQ, everybody on the grid got away clean... Felipe Massa started from the pitlane due to a problem getting started on the grid, and Jenson Button's power unit woes continued, the team giving up on getting him into the race. Meanwhile, both Manor cars took the start. Just sayin'.
Thus the race started, and noticed was served quickly that Ferrari were not messing around. The two Red cars, starting second and fourth on the grid, actually seemed to team up as they headed into the first turn. In doing so, they positioned themselves so that the Mercedes of third-place-sitting Nico Rosberg had two choices to make: either back off the throttle and surrender the place to hard-charging Kimi Raikkonen, or bury his Silver Arrow deep in the bowels of one of the Prancing Horses. Wisely, he backed down, but the tone for the race had been set. A dogfight was in the offing!
And then a lack of refreshing sleep caught up with the members of the F1U! staff. This is not an uncommon problem when the weather begins to change around Duckford. It was right around the time of the first pit stops, with Hamilton leading Rosberg and Vettel leading Raikkonen, that the whole of the F1U! horde found itself in that state of not-quite-asleep, eyes closed, brain right on the edge of pulling up a pillow and shutting down. The first time we watched the race, we stayed that way until the winner's anthems were played. The second time, we picked up from where we remember leaving off.
And promptly went under again. This time though, the F1U! staff managed to pull ourselves out of the blissful arms of Morpheus (the Greek god, not the
Matrix
character) after roughly 20 laps, just in time to see the second round of pitstops. In the rotation, Hamilton still led, but Vettel's Ferrari jumped Rosberg's Mercedes for second.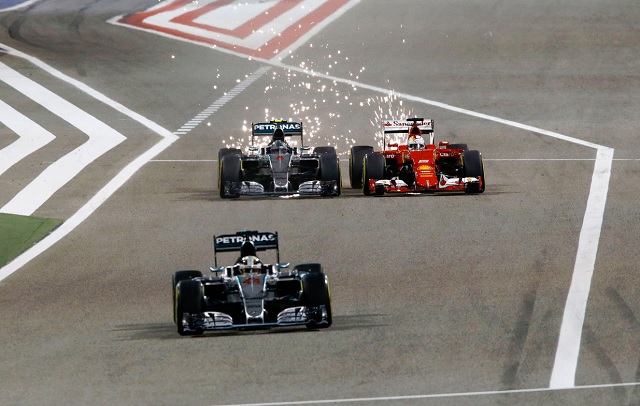 This situation only lasted for a few laps. Vettel, finding himself under all sorts of pressure from Rosberg, went wide out of a fast turn and badly damaged his front wing, either on a rumblestrip or from just barely getting into a sandtrap at high speed. Either way, the Ferrari had to come in for an unscheduled third stop, letting Raikkonen into third... well, not really. In truth, Raikkonen was in the lead at this point, but only because he had yet to stop for tires. He did not stop until ten laps after everybody else, emerging on fresh Option tires in third place.
While much faster than either Mercedes at this point because of the tires, Raikkonen was 24 seconds in arrears to Hamilton, and 19 to Rosberg. By Lap 50, the gap to Rosberg was 10 seconds and dropping by over a second per lap. By Lap 55, Rosberg had mirrors full of Red car, and it looked like we were going to have an exciting fight for second. And then both Mercedes drivers reported problems with their rear "brake-by-wire" systems. Rosberg's glitch occurred just as a turn approached, and he had to run very wide, letting the Finn past with no fight at all. The question then became "could he catch Hamilton in the few remaining laps?"
Alas, the answer was "nope." He did cut the lead to only a few seconds while Hamilton wallowed around the track with recalcitrant braking, but it wasn't enough. Lewis Hamilton led Raikkonen, Rosberg, the Williams of Valterri Bottas who was some 45 seconds back, and Vettel who probably would have passed Bottas in another lap, across the line for his third win of the season in what turned out to be a pretty interesting race.
It's clear that Ferrari may not be able to match the overall pace of the Silver Arrows. However, it's also clear that it's a lot closer than anybody expected, and while I'm not positive about this, it seems like when the cars are on the softer, less durable tires, the Red cars are quicker. It's not enough to make up the overall gap between the two marques, but it does make it a lot closer.
The next race will be Spain on May 8th, as the European leg of the season begins. At that point, we'll have a whole new championship as that's traditionally when the upgrades start to get applied to the cars. Might make for some extra excitement! We'll see you there and then.
Posted by: Wonderduck at 10:41 PM | Comments (1) | Add Comment
Post contains 967 words, total size 6 kb.
1
Neat! I hope this is a sign that there will be some exciting races (in a non-wreck way) this year!
What do you think about the Cubs guy throwing his glove? I thought that was classic!
Posted by: Suburbanbanshee at April 20, 2015 10:17 AM (ZJVQ5)
28kb generated in CPU 0.02, elapsed 0.1392 seconds.
49 queries taking 0.1204 seconds, 256 records returned.
Powered by Minx 1.1.6c-pink.