April 22, 2012
F1 Update!: Bahrain 2012
All the hand-wringing and complaints proved not to be enough and the 2012 Grand Prix of Bahrain was to take place as scheduled. How was the race? Did protesters manage to disrupt the event? Did it rain? Could Mark Webber manage to finish 4th in his fourth straight race? THIS is
your
F1 Update! for the 2012 Bahrain Grand Prix!
*BACK TO THE BAD OLD DAYS
: When the lights went out, polesitter Seb Vettel was off and away, opening a 2.2 second lead by the end of the first lap. Other than a failed late-race challenge from the
Renault
Lotus of Kimi Raikkonen, the result was never in question... just like in 2011. If we're exceedingly fortunate, this was just an aberration and things will return to chaotic-normal in Spain. If we're not... *shiver*
*WHAT WE

WEREN'T

SHOWN
:
Smoke rises as protesters burn tires at a march in the vicinity of the Bahrain International Circuit.
*DRIVER OF THE RACE
: Red Bull's Seb Vettel had an opportunity to regain his glory days of 2011. He grabbed it off the line, ran with it, and left the rest of the field in the literal dust. Other than a lap or two during the pit rotations, he lead the entire race. Even when Kimi Raikkonen pulled within a couple of car-lengths of him later in the race, one never got the feeling that he was in danger.
*TEAM OF THE RACE
:
Renault
Lotus. Both drivers on the podium, and only a dominant drive by the reigning world driver's champion kept them from a win... yes, that's a good day for any team. When it's from a team trying to prove that it deserves to be mentioned with the big boys? Well done indeed.
*MOVE OF THE RACE
: On Lap 21, Sergio Perez and Dean Maldonado had been scrapping for the past five minutes. Meanwhile, the Force India of Paul di Resta casually made its way up behind them, looking for some opportunity to get by.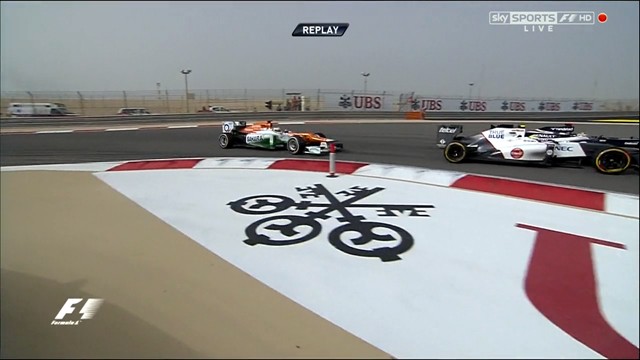 As the Sauber and Williams drivers threw haymakers at each other, the Force India danced in and threw a little jab.
...and came out the other side leading the both of them. For making it look so
incredibly
easy, Paul di Resta wins his first MotR!
*MOOOOOOOO-OOOVE OF THE RACE
: On Lap 10 Lewis Hamilton attempted to pass the winner of last week's race, Nico Rosberg. For his part, Rosberg decided that he didn't want to let the McLaren by without a fight...
...so he pushed him nearly two car-widths off the circuit. He then whined back to the pit wall that Hamilton had passed him off-track. On Lap 25, HWMNBN came up on the Mercedes of Rosberg, and what do you think happened?
That's right! Rosberg, apparently taking lessons in good driving from his teammate, shoved the Ferrari off-track in the same place he did Hamilton. While both incidents were investigated by the stewards after the race, neither earned Rosberg a penalty. They did earn him a Moooo, however, as one suspects that this will come back to haunt him.
*SELECTED DRIVER QUOTES OF THE RACE
:
"I AM AMUSED BY THE SIMPLICITY OF THIS GAME! BRING ME YOUR FINEST MEATS AND CHEESES!" - Seb Vettel
"mrmrmbl mrmmrlbllmrb mmrbblblmmrbbb rmrmrbblbrmmb mrm." - Kimi Raikkonen (
note: real quote
)
"My first ever podium. I'm going to bathe in ranch dressing tonight!" - Lettuce Grosjean
"Four-for-four for fourth." - Mark Webber
"Screw F1U!, I did nothing wrong... the stewards said so." - Nico Rosberg
"Considering the team was on the verge of
running to the airport on Friday
and calling it quits for this race, this is an amazing result." - Paul di Resta
"As for the incident with Rosberg, I can only say that if, instead of such a wide run-off area there had been a wall, I'm not sure I'd be here now to talk about it." - HWMNBN (
note: real quote
)
"As for the incident with Rosberg, I can only say that if, instead of such a wide run-off area there had been a wall, I'm not sure I'd be here now to talk about it." - Lewis Hamilton
"The churchbells are pealing in Maranello!" - Felipe Massa
"I started 22nd. I'll take a 10th." - Slappy Schumacher
...eh, know what? Screw it. Let's just mark down the 2012 Grand Prix of Bahrain as a bad idea and move on to Spain in three weeks.
But do not forget the Bahraini people.
Posted by: Wonderduck at 04:40 PM | Comments (3) | Add Comment
Post contains 748 words, total size 6 kb.
1
It's a bit surprising, and disappointing, that Rosberg could get away with that trick twice without being penalized.
Posted by: Steven Den Beste at April 22, 2012 11:48 PM (+rSRq)
2
According to the stewards' report, they were still behind him when he moved, and funny enough, while there's a requirement to leave room after you've done your one defensive move, you don't have to leave room on that move. So what he did was not actually illegal, if extremely hinky and ill-advised.
Wasn't really a bad race - lots of jockeying in the first few laps, people passing each other in several places on the track. But the tire wear really punished anyone trying a low-stop strategy, and Vettel driving in clean air is still as good as any other driver on the circuit.
Posted by: Avatar_exADV at April 23, 2012 03:53 PM (pWQz4)
3
I'm sorry if I gave the impression that the race wasn't good... it was fairly entertaining. A few years ago, it would have been a race of the year candidate. But I just can't shake the feeling that we dodged a bullet here.
Posted by: Wonderduck at April 23, 2012 10:22 PM (PVVuW)
Comments are disabled. Post is locked.
28kb generated in CPU 0.0187, elapsed 0.0764 seconds.
47 queries taking 0.0653 seconds, 279 records returned.
Powered by Minx 1.1.6c-pink.