March 24, 2013
F1 Update!: 2013 Grand Prix of Malaysia
Well, that was
different
. Going into the 2013 Grand Prix of Malayasia, all the talk was about tires and rain. The race was supposed to be run in the middle of a deluge, and both Red Bull and Mercedes had come out publicly and called for Pirelli to return to last year's tires. Heck, Red Bull even flat-out claimed that these tires were designed the way they were to specifically not work well with their car. Coming out of the 2013 Grand Prix of Malaysia, all the talk was about something entirely different.
This
is YOUR F1Update! for today's race!
*THE RACE
: Formula 1 is the pinnacle of motorsport. The best equipment, the best technology, the best drivers, the best mechanics, the best strategists, you name it, F1 is where it's at. But every now and again, the best will sometime pee their abilities right down the leg of their firesuits... a driver turns left instead of right, a team sets themselves on fire (metaphorically, it is hoped), that sort of thing. Rarely, however, it appears that everybody involved with the sport goes completely bugnutty at the same time. That's what we got today at Sepang. The weather didn't help any; as the cars made their way to the grid, rain was falling fairly heavily at some places on the circuit. Five or six cars wound up going off on the recon lap, though none of them suffered more than a broken nose. The race began with everybody on the Intermediate tires, and right away someone suffered a bit more than a broken nose.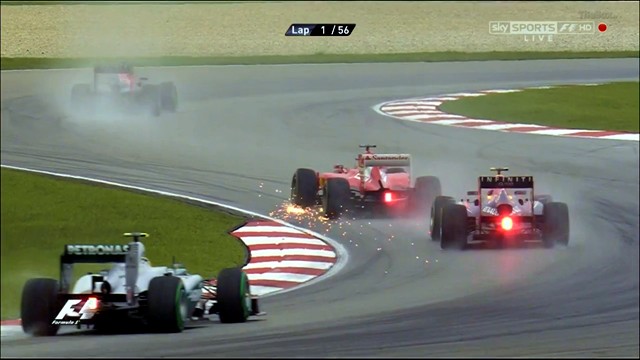 HWMNBN's Ferrari bumped into the back of Seb Vettel's Red Bull in the first turn complex, deranging his front wing drastically. However, he didn't appear to suffer any in performance, being able to keep the rest of the field (including Mark Webber, who had a great start) behind him. Still, from the sparks flying from the dragging wing, it was pretty clear that he had to pit at the end of Lap 1. According to the Legendary Announce Team's on-site reporter, Ferrari's mechanics were in the pit lane, new nose at the ready, as he came running down the long back straight... and drove right past pit-in. The team later said that they told him to stay out, hoping to get one more lap done before they changed the Spaniard onto slicks. We here at F1U! think that HWMNBN made the call on his own, and the team is covering for him. Whichever it was, it was a stupid mistake, one that every announcer on the planet was decrying the second he went past pit-in. Just a few seconds later, they were proven correct.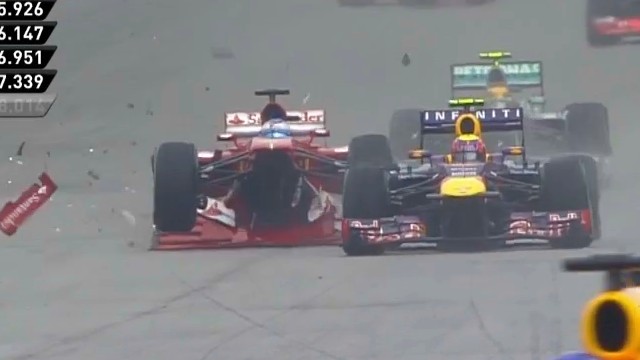 HWMNBN's wing came off, slid right under the "tea-tray" and popped his front tires off the ground right when he should have been braking for Turn 1. Once the tires ended up back on the tarmac, it was too late and he just skidded straight on into the kittylitter. Beached, he was out of the race on Lap 2. But that was merely the first of a parade of unforced errors committed by these, the best teams in motorsport.
*PITS. STAHP!!! STAAAAAHP!!!
: All the first round of pitstops needed to make everything perfect was circus calliope music and mechanics coming out in clown shoes. It all began with Shiv Hamilton, current driver for Mercedes, trying to stop at his old team McLaren's pitbox.
Then Jules Vergne, leaving his box, ran into Charles ToothPic, coming in for his first stop. During the next round of stops, around Lap 22, Force India brought Adrian Sutil in for a stop, and spent what seemed to be an hour trying to get tires off the car. It may have been a design flaw, but the team wound up retiring (pardon the pun) both Sutil and di Resta for safety reasons.
*THEN IT GOT UGLY
: On Lap 28, Seb Vettel was on the hard tires, and behind his teammate Mark Webber, on the mediums. Vettel began to bitch over the radio that Webber was too slow and the team tell the Aussie to let him past. As he was saying this, Webber was in the process of turning the fast lap of the race up to that point. By Lap 40, the race had settled down: Webber led Vettel, then there was a decent gap back to Shiv Hamilton, who led his teammate Nico Rosberg. Thanks to some blisteringly fast pit-in laps, Vettel managed to finish his final pitstop and come out right on Webber's tail. The two began to duel for the lead while Team Principle Christian Horner began to chastise Vettel: "Come on, Seb, this is silly." Red Bull has standing orders: after the final pit-stop, their positions are locked: the driver behind at the last stop must stay behind the leader. Both drivers had been given orders to turn down their engine power as well, better to preserve them for later races. Except Vettel decided to ignore
both
instructions. Meanwhile, down at Mercedes, Rosberg had been talking to his pit lane, pleading that he could pass Shiv Hamilton. THEIR Team Principle, Ross Brawn, had to get involved and explain that Hamilton had been instructed to drive to a time, protecting tires. The difference is, Rosberg and Hamilton obeyed their boss. Vettel, knowing that his teammate had turned his engine power down, decided to blow off team orders. He passed Mark Webber, though not without some effort, and rocketed away into the distance. Webber's firmly extended middle digit let us know his opinion.

*THEN IT GOT UGLIER
: The race ended with Vettel leading Webber, then Hamilton ahead of Rosberg. There was much symbolism involved in the way the Red Bull drivers crossed the finish line: Vettel swerved close to the inside wall, where the mechanics were gathered. Webber, on the other hand, took the checkered flag as far on the other side of the track as it was possible to go, clearly signifying his distaste of the goings-on. Hamilton and Rosberg crossed nose-to-tail, both close to the wall. Then, in Parc Ferme, Webber parked his car first and was nowhere to be seen when Vettel finally pulled in; instead of waiting for his teammate, he just went into the "green room." By contrast, Shiv Hamilton waited to speak to Rosberg before going up to the podium. In the green room, the tension between the Red Bull teammates was obvious, and it got worse during the podium celebration and post-race interview. When it came time to spray the champagne, Webber immediately moved very far away from Vettel, who went in the other direction, with Hamilton. Neither congratulated the other, neither even looked at each other. Then, during the interviews, the less than pleased Webber ended his statement with "...and in the end, Seb made his own decisions today, and will have protection as usual, and that's the way it goes." Meanwhile, Hamilton said in his interview segment that "to be truthful, Nico (Rosberg) should probably be up here instead of me." There's clearly going to be some rather heated discussions in a couple of teams between now and the next race in China.
*DRIVER OF THE RACE
: Felipe Massa. He finished fifth, kept his car clean, and showed what he can do when his teammate isn't in his way. A solid performance for a driver resurrecting his career.
*TEAM OF THE RACE
: Lotus. The first team to get both cars across the line without their drivers wanting to kill each other.
*MOVE OF THE RACE
: Vettel's pass on Webber towards the end of the race was pretty nice. Other than being done against team orders, against a teammate with a purposely-slowed engine, that is.
*MOOOOOO-OOOOVE OF THE RACE
: HWMNBN's decision to blow off the team and keep going on a broken front wing on Lap 1. OR Ferrari's decision to keep HWMNBN out with a broken front wing, whichever way you think it went. Just dumb.
*SELECTED DRIVER QUOTES OF THE RACE
:
"...and then I told him how sorry I was. BWAHAHAHAHAHAH!" - Seb Vettel
"Australia is full of things that will kill you if you don't take care. Just saying." - Mark Webber
"Nico drove a smarter, more controlled race than I did. He deserved to have finished ahead of me." - Shiv Hamilton
"Yes, I did." - Nico Rosberg
"My car didn't work well on the Inters; otherwise, I would have been on the podium. How cool is that?" - Felipe Massa
"Remember me? I'm kinda quick, when I'm not crashing into people." - Lettuce Grosjean
"mrmrmrmrblr mrlmrmrbr mrmrbllblrbmmrlr." - Kimi Raikkonen
"You never saw me today." - Nico Hulkenberg
"God, these tires suck." - Sergio Perez
"Could have been better if I hadn't been told to leave the pits right when the Caterham came in. That was kinda dumb." - Jules Vergne
There's your top 10, and now we're off for a few weeks! The next race is in China on April 14th... will both Red Bull drivers survive until then? We'll find out... see ya then!
Posted by: Wonderduck at 08:40 PM | Comments (5) | Add Comment
Post contains 1521 words, total size 10 kb.
Posted by: HC at March 24, 2013 08:48 PM (Yyzy6)
Posted by: Pete at March 24, 2013 09:04 PM (RqRa5)
Posted by: Steven Den Beste at March 24, 2013 09:55 PM (+rSRq)
Posted by: Avatar_exADV at March 25, 2013 09:47 PM (pWQz4)
Posted by: Wonderduck at March 25, 2013 10:41 PM (stmPk)
Comments are disabled. Post is locked.
33kb generated in CPU 0.0124, elapsed 0.168 seconds.
47 queries taking 0.1602 seconds, 281 records returned.
Powered by Minx 1.1.6c-pink.