November 18, 2012
F1 Update!: 2012 United States Grand Prix
They say they do things big in Texas... big country, big cattle, big hats, and now, biggest of all, the big Circuit of the Americas in Austin. The past few days has confirmed that it's a nice looking track, but how will it race? Who would win the return of F1 to the US? And biggest of all, would Seb Vettel and Red Bull take home the two championships: Drivers and Constructors? Or would HWMNBN and Ferrari manage to stretch them both out to the last race in Brazil? THIS is
your
F1 Update! for the 2012 United States Grand Prix!
*BEFORE
: Things looked bleak for HWMNBN. He qualified ninth behind Vettel's pole, and when Lotus' Lettuce Grosjean served his five grid-spot penalty, he got bumped up to eighth, but to the dirty side of the track. The consensus view was that trying to start on the dirty side would be similar to running in the wet: lousy. Some wags were even saying that being on the even-numbered side would immediately cost a driver four places at the start. And then Ferrari did something quite sneaky, quite legal, and very,
very
clever: they snipped the FIA seal on Felipe Massa's gearbox. You see, once a car begins Quals, it is in
parc ferme
condition and unable to have any changes done to it beyond the most basic (front wing angle changes, mostly). Things like engines, gearboxes and the like are sealed by the FIA with a lead... well, seal. If that seal is broken during
parc ferme
, there's an immediate penalty. This morning, Ferrari walked into the stewards' office and dropped the two chunks of seal on the desk. Of course, there was nothing to be done but give Felipe Massa a penalty... the team didn't even change the gearbox, they just broke the seal. Massa was dropped down to 11th, and HWMNBN was promoted to 7th place. On the clean side of the track. Somewhere, an evil genius is rubbing his hands together, cackling "
excellent
,
excellent
!" to himself. And wearing red.
*LIGHTS OUT
: While being on the clean side of the track did not, in fact, immediately convey a four-spot advantage to those fortunate enough to reside there, it certainly helped HWMNBN. By the time he maneuvered his way up Phil Hill and Turn 1, he was in fourth. Meanwhile, McLaren's Shiv Hamilton, starting second on the dirty side of the grid, lost a place to Vettel's teammate Mark Webber... and at this point, we here at F1U! want to point out the greatest visual we've ever seen in Formula 1: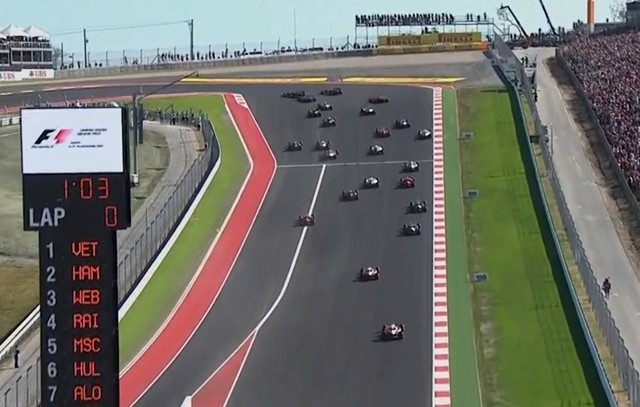 We've been expecting this ever since we saw
the elevation map
for the Circuit of the Americas, and we're glad the F1 camera team caught it. Now, Vettel and Webber in front set up the worst nightmare of the fan hoping for an exciting race: two Red Bulls galloping off into the sunset, and of course Seb Vettel began to pull away from his teammate. But Hamilton, knowing that he couldn't let the German get away if he wanted to win this race, pushed Webber hard.
*NOW IT'S A RACE!
: It only took four laps for Hamilton to get past the Australian, and he immediately set off after the leader. There was about three seconds between the two, and for once, it was clear that the combination of Vettel and RB8 chassis wasn't, in fact, the best car/driver combo on the track. No, today it seemed that Hamilton and the McLaren MP4/27 was the class of the field, for he began to rip off fast lap after fast lap in his pursuit of the reigning world champion. By Lap 10, the lead was cut in half, to 1.5 seconds, with Webber 4.5 seconds behind Hamilton, and HWMNBN a further three seconds adrift and not making any headway on the Australian. However, nobody else could hold a candle to him as Nico Hulkenberg was nine seconds behind in fifth and fading.

*MARANELLO CHUCKLING
: Considering that everybody was predicting a one-stop strategy, seeing cars beginning to make their way into the pits on Lap 14 had to be a surprise. What wasn't really surprising was the radio call to Mark Webber on Lap 16: "KERS has failed, KERS has failed." How many times have we heard Red Bull say that this year? Ferrari certainly began to get excited about that, and only got moreso when, a moment later, the Aussie pulled to the side of the circuit with a cascading electronics failure. This promoted HWMNBN into third place... but it was still early. Hamilton and the Ferrari pilot pitted on Lap 21, with Vettel doing the same on 22. Unsurprisingly, he kept his lead during his stop and when the rotation was over, everything remained the same: Vettel, Hamilton and farther back, HWMNBN.
*NO WAY!
: While Hamilton kept on coming, it looked like he could get close, but couldn't make the move on the leader. The McLaren's advantage in top speed and parity in the twisty bits began to tell, so that by Lap 40, the gap between the two was down to 0.6 seconds, well within the DRS activation range. On Lap 42, the two encountered the HRT of Narain Kittylitter in the 'esses' and Vettel had some trouble getting around the backmarker, allowing Hamilton to close up even more. At this point, Vettel was complaining on the radio about Kittylitter slowing him up, none of which made any difference. As the leaders entered the DRS activation zone, the McLaren had a huge advantage in speed. Vettel made it difficult, maybe even stretching the rules as he kinda-sorta weaved a little bit as Hamilton closed in, but it made no difference: the RB8 was passed for the lead, and Maranello was suddenly going crazy.
*THE END
: Hamilton quickly opened a 1.5 second lead over Vettel, who was over a half-minute ahead of HWMNBN, and for all intents and purposes, that's how the race ended. On the final lap, Vettel cut the lead to under a second, but couldn't get any closer and Shiv Hamilton, winner of the last US Grand Prix at Indianapolis, became the first winner of the US Grand Prix at Austin. Vettel came home in second place, with HWMNBN in third, minimizing the damage to his championship hopes to only three standing points. The German now has a 13 point lead over the Ferrari driver as they head into the last race of the season in Brazil.
*DRIVER OF THE RACE
: Shiv Hamilton. He's been saying that he wanted one more win with McLaren before he leaves the team. He's been saying that he
really
wanted this one. He got it with a sterling drive, taking advantage of every and any opening given him by Seb Vettel, few they may have been. Nearly perfect.
*TEAM OF THE RACE
: They only had one car finish the race, and they somehow lost the lead in the process, but Red Bull locked up the Constructor's Championship here at the United States Grand Prix. It's their third year running for the championship, and there's little doubt they really have joined the big names of the sport for good... or at least until Adrian Newey, designer of the Red Bull chassis, retires. And Seb Vettel has still got to be the favorite for the driver's championship.
*MOVE OF THE RACE
: It may not have been the best pass of the weekend, but it was certainly the most important. On Lap 42, Lewis Hamilton had been reeling in Seb Vettel for nigh on 20 laps and finally had the opportunity to pass the Red Bull for the lead.
As they came down the long back straight, the McLaren driver had three advantages: first, he had a lovely tow from the Red Bull. Second, he had a higher top speed, and finally, he got to use his DRS.
None of this was going to make Seb Vettel just allow the Brit by; he gave a quick juke to the right before backing down... Vettel knew he had more important things to deal with than just this race, after all.
Still, if Vettel could have kept the McLaren in hand, he could have used the DRS trick on the next lap. He couldn't; by the time the detection zone came around on Lap 43, the lead was over a second and the McLaren was in the clear. This one pass cost Vettel seven championship points... if he loses the championship next week, you can point to this Move of the Race as the reason why.
*MOOOOOOOO-OOOOVE OF THE RACE
: There really weren't any. Everybody did a fine job except for Jules Vergne breaking his suspension on a curb. So instead, I'm going to give this award to a pair of people... two fans who were very happy that Lewis Hamilton passed Seb Vettel. Two fans with absolutely no coordination whatsoever.
On world-wide television, with maybe 300 million people watching, you completely whiffed a high-five. Excellent. Have a Moo!
*SELECTED DRIVER QUOTES OF THE RACE
:
"That was wicked! Except for those two guy on TV... they weren't." - Lewis Hamilton
"We won the constructors, and I've got a 13 point lead in the drivers championship. I'm okay with this." - Seb Vettel
"Deep down, I feel I have an excellent chance to with the championship in São Paolo. Deep down, I also feel like Greedo shot first. And
this
is a cunning hat." - HWMNBN
"Today, maybe I could have finished ahead of HWMNBN, but I'm well aware of the championship situation and I do what is right for Ferrari, as I've done throughout my career." - Felipe Massa (
note: real quote. Subtext: "Damn it."
)
"At least I didn't have to take a penalty to give Lewis the lead." - Jenson Button
"mrmrmrbln mrmmrlrmrblrm mrmlrrbbblr mrlrbbrrlrblr." - Kimi Raikkonen
"Can someone take some sandpaper to the track, please?" - Lettuce Grosjean
"I have nothing to say." - Nico Hulkenberg
"Really, a great circuit. I love it. Except for the first turn." - Pastor Maldonado
"And the dirty side of the track." - Bruno Senna
"I had a porn-star brake pedal today... it kept getting longer and longer." - Sergio Perez
"I think I overtook more people in this race than in any other in my whole career! At least two!" - Daniel Ricciardo (
note: real quote, up to the last sentence
)
"Keep Austin weird!" - Nico Rosberg
"Next time, softer tires. If I'm still driving." - Gandalf Kobayashi
"So 15th is the best I could do when my cousin Dario Franchitti is in the pits watching? Yeah, that's embarrassing." - Paul di Resta
"I've won more US Grands Prix than anybody in history. Today, with my last race here, I finished 16th. But I bought a ranch here in Texas, so it works out." - Slappy Schumacher
"No issues." - The Red Menace
"Except I'm driving for Caterham." - Heikki Kovaleinninninnie
"If we had KERS, we might actually be dangerous!" - Tim O'Glockenspiel
"And if we had Adrian Newey, we'd be driving for Red Bull." - Charles ToothPic
"My seat broke!" - Pete Rose (
note: true story, with five laps left his seat insert broke. When you're pulling five or six Gs, that's a big deal
)
"Why, what's this check? It's made out to me from... Scuderia Ferrari?" - Narain Kittylitter
"Well, pants." - Mark Webber
"Aiee?" - Jules Vergne
And that, my friends, brings a fantastic US Grand Prix weekend to an end. Next week, we head to Brazil for my least favorite circuit and the end of the season! See you then!
PS: McLaren's
Tooned
, ep 11
Posted by: Wonderduck at 09:23 PM | Comments (2) | Add Comment
Post contains 1952 words, total size 13 kb.
Posted by: Avatar_exADV at November 19, 2012 03:44 AM (GJQTS)
2
Very nice writeup, as always. And a great track - can't wait to see it in the wet.
RE: Ferrari's gearbox move: Very sneaky - yes. Very legal - yes. Very clever - yes. Very unsporting - yes. The regulations should be corrected.
Posted by: vaucanson's duck at November 19, 2012 01:57 PM (CKoWa)
Comments are disabled. Post is locked.
35kb generated in CPU 0.0126, elapsed 0.0842 seconds.
47 queries taking 0.0762 seconds, 278 records returned.
Powered by Minx 1.1.6c-pink.