November 25, 2012
F1 Update!: 2012 Grand Prix of Brazil
As the field formed up on the grid behind polesitter Shiv Hamilton, the skies above Autodromo Jose Carlos Pace were... confused. Grey, leaden clouds predominated, umbrellas popping up in the grandstands, while at the same time there were desperate glimpses of blue sky. Despite the greasy conditions, the entire Thundering Herd was on dry tires for this final race of the season... the race that would decide the World Driver's Championship. Would Ferrari's HWMNBN come back after leading in the points for much of the season, or would Red Bull's Seb Vettel join elite company with his third consecutive championship? THIS is
your
F1 Update! for the 2012 Grand Prix of Brazil!
*LIGHTS OUT
: When the lights go out on a F1 race, it can sometimes be difficult to figure out what's going on. 24 cars, V8 engines screaming at 18000 rpm, all trying to slot themselves into a narrow band of asphalt can occasionally make for action-packed confusion. And then you have starts like this one. The two McLarens on the front row got away clean, but both Red Bulls experienced Mark Webber Lousy Start
©
s, letting both Ferraris do terrible things to them. Hometown boy Felipe Massa jumped up to second, and title contender HWMNBN got ahead of rival Vettel to take fifth, while Force India's Nico Hulkenberg was a surprise sixth with Vettel on his diffuser as the field headed into Turn 4. So far, so good... busy, but not too bad.
*LOOK OUT!!!
: As the bunched-up field of cars began to enter Turn 4, there was a sudden billow of tire smoke as someone discovered that they'd missed their braking point. That someone was Seb Vettel. Kimi Raikkonen was forced to dive offtrack to avoid plowing into the back of the wallowing RB8, which then maneuvered into Turn 4. At the same time, the Williams of Brazilian Bruno Senna, passing two cars in the turn, pulled next to Vettel who appeared not to see the Williams. The coming-together sent Senna careening into the Sauber of Sergio Perez, ending both drivers' races. But what of Vettel? This is the view he had after the contact.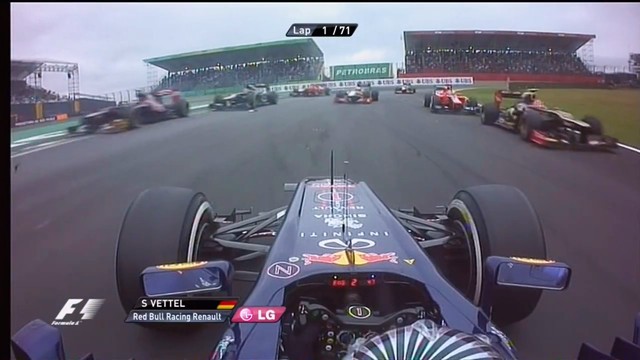 By luck and skilled driving, nobody else slammed into the backwards-rolling leader. After the remaining cars swept by, Vettel righted his ship and rejoined the race, albeit in 22nd and last place. The Williams launching itself off his left side managed to damage the RB8's sidepod and floor, doing unrepairable damage. And then, it began to rain.
*THAT WAS ONE LAP!
: ...and Brazil is a short track, to boot. By the end of Turn 1 on Lap 2, HWMNBN had jumped to third place, behind Shiv Hamilton and Jenson Button, and was on-pace to win the Driver's Championship. Of course, there were 70 laps to go, but one got the feeling that back in Maranello, there were people in the belltowers, polishing their clappers to give a perfect tone.
*THE RAIN
: As those things go, the rain wasn't much of a much. However, it doesn't take much wet to make a F1 car skittish, and what was on the track was just worst type of rain possible: there was enough to make the asphalt slippery, but not enough to consider changing to intermediate tires. HWMNBN lost third place to Nico Hulkenberg when he slipped off-course, but managed to stay ahead of the closely pursuing Mark Webber. Two laps later, the Aussie wound up spinning off, just moments after the Lotus of Lettuce Grosjean ended up in the wall, recording a reading of 7.2 g in the process. Oh, and the McLaren teammates were trading the lead between themselves and Seb Vettel had made it up to 7th place. Yep, it was going to be
that
sort of race. Eventually, teams began to wise up to the fact that the track was begging to have intermediate rain tires on it and drivers began to pile in.
*MEANWHILE
: Not everybody, however. Jenson Button stayed out, as did Nico Hulkenberg, who moved into second place and was rapidly catching the McLaren up. One might be excused for thinking that's an odd result, but remember: two years ago in qualifying, in exactly the same conditions as these, Hulkenberg earned an out-of-nowhere pole here at Brazil. There are certain drivers who like certain tracks in certain conditions, and it appears that Hulkenberg at Brazil in light rain is one of those great combinations. Throw in a set-up dialed in for these conditions by the team, and suddenly it's not so far-fetched. The pass for the lead finally happened on Lap 19, and a Force India was legitimately leading a race.
*HUH?
: Then something really odd happened. While everybody else was pitting for intermediate tires, Red Bull decided to do something they didn't need to do: gamble with Vettel's tires. He pitted on Lap 20, rejoining with the dry-weather prime (hard compound) tires on his steed. The benefits of this choice were not readily apparent to either the F1U! team or the Legendary Announce Team. Fortunately for him and his title hopes, he wouldn't have to worry about them for very long.
*SAFETY CAR
: On Lap 22, HWMNBN called his pits to report a lot of debris on the track, and he wasn't wrong. Through various contacts, lost noses, damaged endplates and the like, there was probably enough spare parts on the circuit to build a new car. Charlie Whiting apparently agreed, and called out Berndt Maylander. Nico Hulkenberg and Jenson Button, who had opened a 45 second lead on Shiv Hamilton in third, had to have been beside themselves. When the Safety Car left the Thundering Herd to its own devices on Lap 30, the order was Nico Hulkenberg, Jenson Button, Shiv Hamilton, HWMNBN, and Seb Vettel, who was under investigation for passing Gandalf Kobayashi under yellow flag conditions back around Lap 16 (he was cleared). And then the rain stopped and the track began to dry.
*CONFUSED YET?
: Now you know how we here at F1U! feel.
*DRY MEANS... SLOW?
: All week long, Ferrari had been performing rain dances, thinking that was their best chance to get HWMNBN his championship. Ironically, as things dried out Seb Vettel began to slow down. The aerodynamic damage from his Lap 1 accident wasn't much of a hindrance in the wet, but as speeds began to build, it proved to make things quite difficult for the young German. From fifth place, he began to lose contact and drift back, eventually falling down to 10th place after pitting for medium tires on Lap 53. Meanwhile, the undamaged Ferrari could do nothing against the three cars ahead of him.

*AWWWWWWW... SHHHHHUCKS.
: Eventually, all good things must come to an end, and Shiv Hamilton managed to get past the Force India of Nico Hulkenberg as the returning rain caused Hulkenberg to lose just enough grip to nearly lose it on Lap 49. The German kept in contact with the Brit, however, and on Lap 55 saw an opportunity to retake the lead as Heikki Kovaleinninninnie's Caterham came into view at Turn 1. A momentary loss of traction made the Force India fishtail... right into the side of the McLaren.
Hamilton's front suspension folded itself like origami, ending his McLaren career on the spot. The Force India bounced a couple of times, but suffered no obvious damage and, after recovering from the spin, continued on in second place, having seen Jenson Button get past. This also had the effect of promoting HWMNBN to third place, the bare minimum he needed to have any chance of winning the driver's championship.
*RAIN FALLS
: Then around Lap 60, the skies opened up. Nico Hulkenberg, obviously having some ill effects of the Hamilton contact, had slumped to 5th place, with Button leading Massa, HWMNBN (who had pitted for inters), Mark Webber, Slappy Schumacher in 6th place, then Seb Vettel. Unsurprisingly, HWMNBN got to sweep by his teammate for second, which cut Vettel's championship lead to merely one point.
*ENDGAME
: Unfortunately, there was nothing that HWMNBN could do against the McLaren ahead of him, so he had to hope for the Red Bull behind him to make a mistake or have a late-race failure. This was not an impossibility; the sidepod damage that Vettel's RB8 had suffered included a crushed exhaust outlet, which if it cracked open would set the car ablaze. The young German had also had a radio failure, perhaps the first indication of an electrical failure. Or maybe Slappy Schumacher, in the last race of his career, would take offense to being passed by a young upstart and hipcheck him to Belo Horizonte. None of these things occurred... indeed, Slappy was passed by Vettel for 6th on Lap 65. At this point, Red Bull was on the radio, on the off-chance that their driver could hear them, telling him to "just keep it on the black part." With darkness falling and the rain coming down even harder, this was becoming more and more difficult to accomplish, until it all became moot. On Lap 70, Paul di Resta, in the other Force India, lost control and clouted the wall halfway between Turns 13 and 14, then slid all the way up to 14, leaving pieces of the car behind as it went. A Safety Car was called for, and all positions were locked in. Jenson Button had won his third race of the year, HWMNBN led his teammate home in second and third, respectively... and Seb Vettel finished in sixth place, winning the World Driver's Championship by 3 points after an extraordinary race.
*AND THEN...
: HWMNBN climbed from his car and... just stood there, seemingly for an hour, all sorts of emotions visible in his eyes.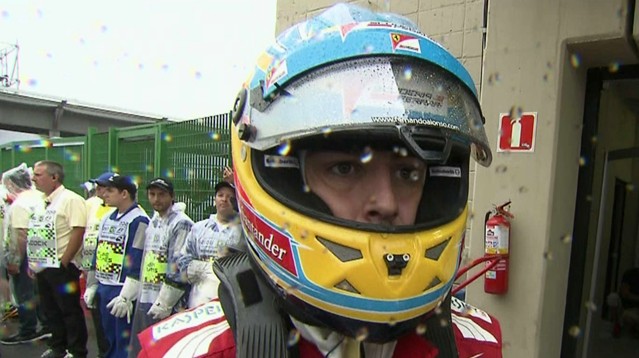 Eventually, he made his way to the gathered Ferrari mechanics and thanked them, but in a way that made it clear, he wasn't happy at all with the way things had worked out. Meanwhile, a few yards down the pit lane, a whole different emotion was on display.
Almost as soon as he was out of his RB8, Slappy Schumacher was there to congratulate Seb Vettel, a lad who had grown up idolizing the older man.
*DRIVER OF THE RACE
: Jenson Button. HWMNBN did everything he needed to do to win, but couldn't come close to either McLaren. Button never put himself in a position where he could be taken out by a poorly-placed Force India, managed his car brilliantly on a wet track with dry tires, and all-in-all owned this race. Well-deserved.
*TEAM OF THE RACE
: They couldn't get their man the championship, but they still brought home a 2-3 finish and locked up second place in the constructor's championship. Not bad for a car that was pretty much average all year. Honorable Mention to Caterham for finishing in 11th today and therefore finishing the Constructor's Championship in 10th, therefore taking home a big check and probably bringing back Heikki Kovaleinninninnie in the process.

*MOVE OF THE RACE
: We here at F1U! have a rule against awarding MotR or MooootR to anything that occurs on Lap 1. Lap 2, however, is fair game, and HWMNBN announced that he wanted this championship badly. As Lap 1 came to an end, he was in 5th place, behind Webber in 4th and Massa in 3rd.
As they raced down the front straight, HWMNBN slipstreamed behind both cars, then dodged inside.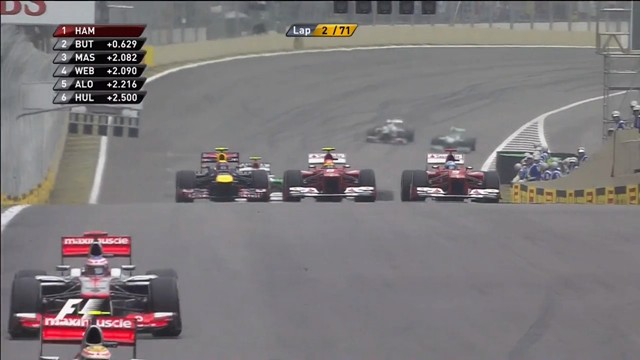 Obviously Massa wasn't going to be putting up much of a fight, but Webber was a different story.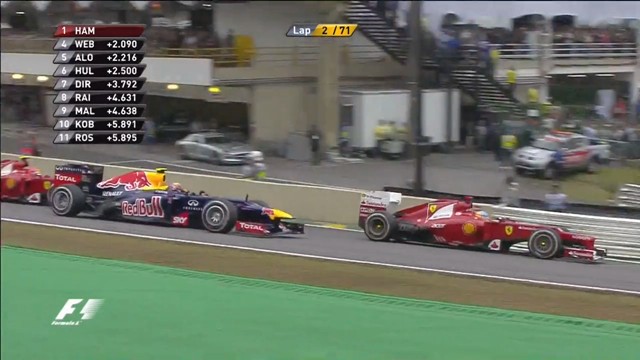 As they raced into Turn 1, HWMNBN kept the inside line, braked a smidge later and picked up both places in one swoop, despite some serious efforts from the Red Bull driver to prevent it. Well done, HWMNBN, and while it's no replacement for the championship, it's still something.

*MOOOOOO-OOOOVE OF THE RACE
: This was just weird. On Lap 54, Kimi Raikkonen got bit by the dampening track and wound up going off at Turn 1. Fortunately for him, there's a lot of run-off area there now... enough that he found himself on an access road behind the grass near Turns 1 and 2. Instead of cutting across the grass, he followed the road, obviously thinking yes, this will take me back to the track.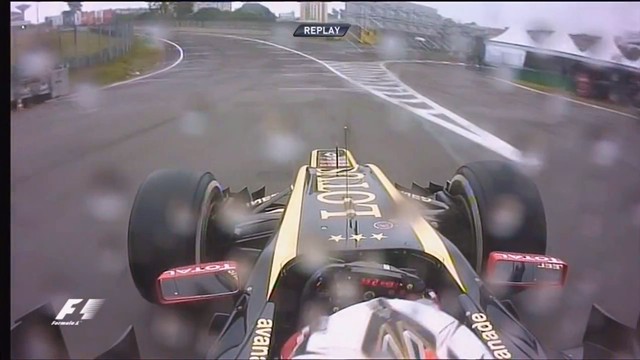 Instead, it took him onto the OLD Interlagos circuit, and henceforth to a dead end. He was obliged to do a U-turn and come back the way he came... one can only imagine a GPS device screaming "recalculating" furiously at him as he tried to figure out where he was. Thanks, Kimi, for the comedy relief! Here's your Moooo!

*SELECTED DRIVER QUOTES OF THE RACE
:
"Australia, Belgium and Brazil. Not too bad." - Jenson Button
"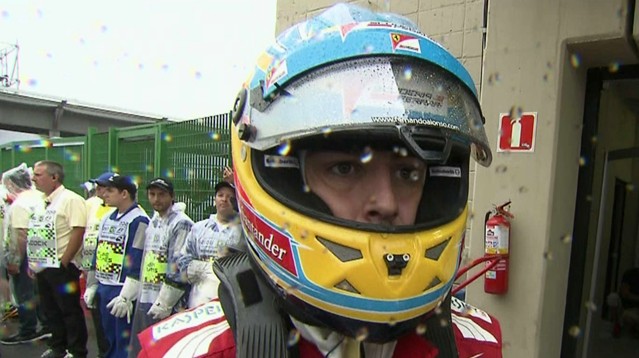 " - HWMNBN
"I speak Portugese, so you don't understand." - Felipe Massa
"I need a beer." - Mark Webber
"So. Sauber next year, eh? It's a living." - Nico Hulkenberg
"
I. AM. GOD. HERE.
" - Seb Vettel
"I'll... just see myself out then, shall I? Yeah? Okay." - Slappy Schumacher
"I have nothing to say that is either oh you know the rest." - Jules Vergne
"I will return." - Gandalf Kobayashi
"mrmrmbrlmrlmkrb mmrmrbrrlrrbrlrmrmlrbr." - Kimi Raikkonen
"Heikki owes me, big time." - The Red Menace
"Screw Marussia, I'm outta here." - Charles ToothPic
"At no time today did I ever cross anybody's mind." - Daniel Ricciardo
"I can haz career?" - Heikki Kovaleinninninnie
"I hope the fans enjoyed the show; it sucked from where I was." - Nico Rosberg
"Next year, we'll have KERS and that'll make us better." - Tim O'Glockenspiel
"Last one out, turn off the lights." - Pete Rose
"I don't wanna leave." - Narain Kittylitter
"AIEEEEEEEEEEEEEEEEE!" - Paul di Resta
"Really? Y'know, if you gave me the points for all the times I crashed out or had a malfunction when I was leading the race, I'D'VE won the championship..." - Shiv Hamilton
"AIEEEEEEEEEEEEEEEEEEE!" - Lettuce Grosjean
"Y'know, I crashed out and nobody noticed." - Pai-de-santo Maldonado
"AIEEEEEE!" - Bruno Senna
"AIEEEEEEEEEEEEEE!" - Sergio Perez
Well, that's it then. 2012 in the books. Congrats to Seb Vettel and Red Bull for the double championships three years running. Thanks to all the F1U! readers who followed along for all 20 races... and remember:
We'll see you then.
Here's the final McLaren
TOONED
for the year:
Posted by: Wonderduck at 09:56 PM | Comments (9) | Add Comment
Post contains 2391 words, total size 17 kb.
1
What a race... Alonso's thousand yard stare...
Best mooo-oove of the race haha
Posted by: carnett at November 25, 2012 11:07 PM (osEjJ)
2
Ed Flynn, I deleted your comment for two reasons. One, you used a raw URL instead of the link button. Two, the URL you listed was broken.
Posted by: Wonderduck at November 26, 2012 11:33 AM (OS+Cr)
3
A fun read, as always. And that's the kind of race we want to end the season with. I didn't have a strong preference for whether Vettel or HWMNBN took the title, but I wanted to see good racing to the end, and we pretty much got that. It certainly didn't feel safe to say "it's over" and walk away from the TV at any point.
It's too bad Hulkenburg couldn't hold on better, I would have loved to have seen him on the podium after that run.
Posted by: David at November 26, 2012 12:39 PM (I6iFS)
4
Say what you will about Lewis leaving but if half of his DNF this year hadn't happened it would have been a better title race & constructors championship.
Posted by: vonKrag at November 26, 2012 02:44 PM (XIY2m)
5
vonKrag, I refer you to Shiv's Selected Driver Comment, where he says:
"Really? Y'know, if you gave me the points for all the times I crashed out or had a malfunction when I was leading the race, I'D'VE won the championship..." - Shiv Hamilton
Posted by: Wonderduck at November 26, 2012 05:54 PM (LbiZL)
6
Kimi was just searching for the hidden warp pipe.
Good season. Racing right up until the end. Next year ought to be interesting too... wonder what technical changes they have in store? Bans on the double-DRS, perhaps? (and then turbo in 2014?)
Posted by: Avatar_exADV at November 26, 2012 07:48 PM (pWQz4)
7
As a matter of fact, Av, yes! The double-DRS is banned for 2013. The FIA is also going to implement new testing procedures for testing front wings, so maybe we won't see flexi-wings any more.
Posted by: Wonderduck at November 26, 2012 08:00 PM (LbiZL)
8
Boo! Embedding disabled.
Posted by: Mauser at November 27, 2012 04:21 AM (cZPoz)
Posted by: David at November 29, 2012 05:43 PM (Lf1Ga)
Comments are disabled. Post is locked.
41kb generated in CPU 0.0128, elapsed 0.0725 seconds.
47 queries taking 0.0632 seconds, 285 records returned.
Powered by Minx 1.1.6c-pink.