May 24, 2014
F1 Quals: Monaco 2014
Sitting on the pole, while sounding painful, is quite important in Formula 1. If you're on the pole (ow!), or one of the first four places, your chances of winning any race goes up exponentially. Nowhere is that more true than the small French fishing village that hosts the crown jewel of the F1 calendar, Monaco. The race is Sunday, so that means Qualifying was today... and how did they end up? Let's take a look at the (very) provisional grid for the 2014 Grand Prix of Monaco:
Well, what a shock, Mercedes with another front-row lockout. I never would have seen that coming. Once Q3 began, there wasn't any question that one of the Silver Arrows would be on pole, it was more "which one?" It turned out to be the guy who was raised and grew up in Monaco.
But. Nico Rosberg is currently under Steward's Investigation for an incident in the closing moments of Q3. He had set the fastest lap earlier in the session, but during his last run with about a minute left to go, he lost control of his car and skidded into the run-off area at Mirabeau. This brought out a local yellow, which meant that everybody had to slow in that section of the track... and all of the challengers for pole were also
behind
Rosberg on the circuit. So much for the race for pole!
Rosberg is proclaiming his innocence, and he's almost certainly right. Doesn't mean he didn't ruin the hot laps of everybody else... including, ohbytheway Lewis Hamilton his teammate... and therefore deserve a penalty. We'll see what the Stewards say; I'm glad I don't have to make the call on it! Penalties could range from his fastest lap in Q3 being invalidated to total exclusion from the race.
More as/if it comes in... we might know until raceday. See ya then!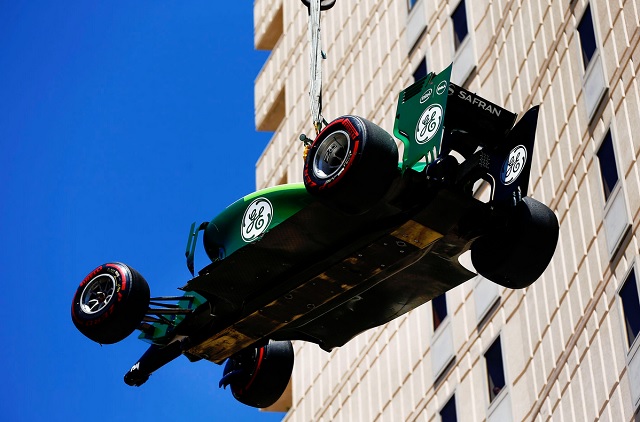 UPDATE: No action will be taken against Rosberg!
Posted by: Wonderduck at 10:25 AM | Comments (4) | Add Comment
Post contains 478 words, total size 17 kb.
Posted by: Ben at May 24, 2014 12:27 PM (DRaH+)
Posted by: Steven Den Beste at May 24, 2014 04:11 PM (+rSRq)
Posted by: Wonderduck at May 24, 2014 06:18 PM (OKRM1)
Posted by: Pete at May 26, 2014 09:09 PM (RqRa5)
Comments are disabled.
39kb generated in CPU 0.0113, elapsed 0.1219 seconds.
47 queries taking 0.1139 seconds, 280 records returned.
Powered by Minx 1.1.6c-pink.