May 15, 2010
F1 Quals: Monaco 2010!
It was an action-packed Saturday in The Principality today, but did someone knock Red Bull off pole for the first time this season? Let's take a look at the provisional grid for Sunday's Grand Prix of Monaco!
Well, the answer is "no." Mark Webber turned in the only sub-1m14s time of the entire weekend with only eight seconds left to go in Q3. That fended off a last-ditch charge from Robert Kubica, who had sat in the top spot for the first nine minutes of the session. The two of them then threw fast lap after fast lap at each other in a quick game of "Can You Top This?" Eventually, the Renault couldn't.
A sharp-eyed reader will note the glaring "No Time" next to HWMNBN's entry on the grid. That's because he had a little run-in with the armco during Saturday's practice session. He pretty much left the right side of his car at Massanet and Ferrari never even attempted to repair it, opting instead to build up a new chassis for the race. Considering how the damaged car looked, that's probably a good decision.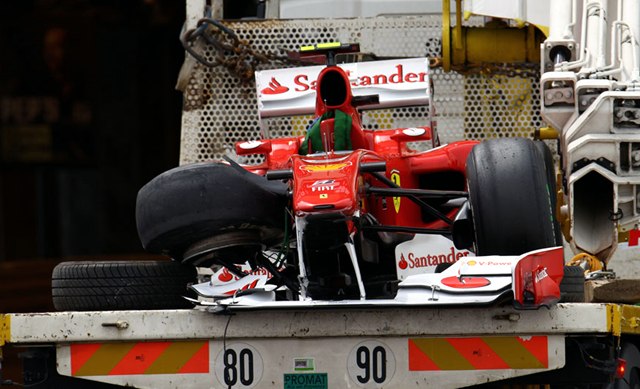 HWMNBN's teammate at Ferrari, Felipe Massa, ended up fourth on the grid, but that might not stand. As the traffic built up in Q3, he slowed down to get a gap between himself and the cars ahead. That's quite normal and usually a good idea, particularly around a track like Monaco, where free space is at a premium. The problem arises when you do it without looking at your mirrors. If Massa had bothered, he would have seen Jenson Button coming up behind him on a rather torrid hot lap. Of course, the Mercedes driver had to stomp on the brakes to keep from impaling the Ferrari; only then did Massa accelerate away, and he never made an attempt to get off the racing line. Expect a five-spot penalty at least for the Brazilian driver, which I'm sure will be cold comfort for Button.
As previously noted, the Renault was surprisingly quick around Monaco; might we see our fifth winner out of six races, or will one of the Red Bull drivers join Button as a double-victor? Find out on Sunday!
Programming note: Sunday is graduation day at Duck U., and I'll be working at the Bookstore from 9am to 2pm or so because of that. The F1 Update!, therefore, won't be up until later in the evening... I won't get to watch the race until mid/late afternoon. I'll keep you guys waiting as little as possible, though.
UPDATE 1045pm
: Massa escapes with no penalty. A member of the media asked Jenson Button if the Ferrari driver was a "plonker." Button's response: "That's your word, not mine." Hmmm... think ol' Jense is a bit peeved at this decision?
Posted by: Wonderduck at 10:52 AM | Comments (2) | Add Comment
Post contains 628 words, total size 15 kb.
1
What a shame that HWMNBN will be starting tail back. ;-)
Posted by: Mallory at May 15, 2010 03:28 PM (WJ2qy)
2
Petrov is back to the permanent underachiever position. On the other hand, if Webber wins, I'll be giddly.
Posted by: Pete Zaitcev at May 15, 2010 09:32 PM (/ppBw)
Comments are disabled. Post is locked.
32kb generated in CPU 0.02, elapsed 0.0868 seconds.
53 queries taking 0.0685 seconds, 219 records returned.
Powered by Minx 1.1.6c-pink.