June 20, 2009
F1 Quals: Britain 2009
Shocker at Silverstone! Let's take a look at the provisional grid:
Okay, Vettel on pole isn't a surprise. It's his third of the season, and his second in a row. Barrichello and Webber aren't a surprise, either. Trulli? Toyota's quick, so it's no surprise to see him fourth. But Jenson Button in sixth? Lewis Hamilton 19th? Good merciful heavens.
But wait, don't forget about fuel loads. Button must be running heavy. Except he's not: he's at 657.5kg, but Vettel has 666.5kg, the most of anybody in the top 10.
Uh-oh. Not only that, but Vettel had the fastest times in all three quals, AND the fastest sectors of all as well. Could it be that the RB5 has caught up with Brawn?
In a word, yes. Silverstone has seen Adrian Newey roll out some new aerodynamic modifications to the front of the Red Bull chassis.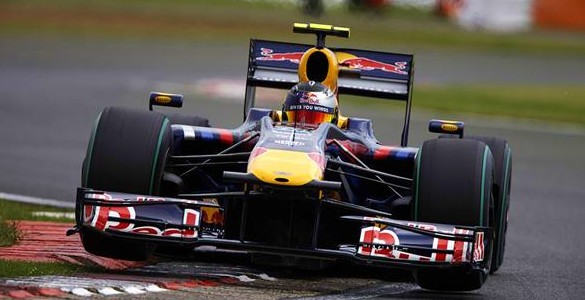 Compare this to the
original nose
on the RB5. It used to be very narrow, almost fragile in appearance. Now it is much wider (though narrower than the Renault). Can such a change make
that much
difference? I guess we'll find out on Sunday afternoon!
Posted by: Wonderduck at 05:11 PM | Comments (2) | Add Comment
Post contains 327 words, total size 14 kb.
1
I was amazed Sutil walked away from his q1 crash almost straight away, that was a hell of an impact. Totally screwed things up for Hamilton, although to be fair if he'd scraped through to q2, I doubt he would have got much further. Vettel was in fine form, obviously favourite for tomorrow on that performance, however I still think Button will nurse his tyres nicely as usual and nip it towards the end.
Posted by: flotsky at June 20, 2009 06:21 PM (Z/oAM)
2
It was, indeed, a shocker to see Hamilton second to last on the grid.
I'm pulling for Button to win, especially since it's his home GP.
Posted by: Mallory at June 21, 2009 10:23 AM (WJ2qy)
Comments are disabled. Post is locked.
35kb generated in CPU 0.0114, elapsed 0.0931 seconds.
47 queries taking 0.0855 seconds, 278 records returned.
Powered by Minx 1.1.6c-pink.