April 25, 2009
F1 Quals: Bahrain 2009!
Well, that was unexpected! That was also, paradoxically, unsurprising in this Bizarro Season of F1. Let's take a look at the grid for the Grand Prix of Bahrain:
Yes, that's right, your eyes are not deceiving you... an all-Toyota front row, a first for the Japanese team. It turns out that both cars are running light on fuel, with nearly 20kgs less than the RB5 of Sebastian Vettel, who has a whisker more than both Jenson Button and Lewis Hamilton. Still, it's a great result for Trulli who, to be frank, stunk in China.
Still, it looks to me like it'll be a battle between Vettel and Button when the lights go out Sunday. One can't count out the Ferraris, however: Raikkonen has more fuel onboard than anybody save Rosberg, and Massa has just a bit less than Kimi.
One thing to watch out for, though, is heat-related failures on race day. The pit walls were constantly telling their drivers to "keep the engine cool, don't push it too hard" all day. That won't be easy to do come the race, and the Toyotas in particular seemed to be having problems. Much of the rear bodywork by their exhausts had gone from bright white to dull brown in a way that suggests scorching. While it's not uncommon for that sort of thing to occur, the amount that it was happening on the TF109 was troublesome.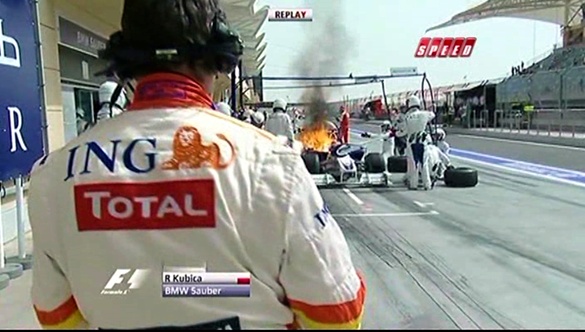 Throw in two seperate fuel fires on Robert Kubica's BMW in Q2, likely caused by the heat, and you've got what might be a dangerous situation brewing.
In other news, Adrian Sutil was penalized for blocking Mark Webber, and has been dropped to 19th.
This should be quite the exciting race to watch, power-outages and thunderstorms not withstanding. None of this delay would have occured if I hadn't've had to work at the Duck U. Bookstore today, but so it goes... cross your fingers and see you Sunday for the F1U!
Posted by: Wonderduck at 09:59 PM | Comments (2) | Add Comment
Post contains 462 words, total size 14 kb.
1
It seems to me that Hamilton's performance is quite amazing. He's driving a car that doesn't measure up; it's obvious simply from the way Heikki has been doing.
Yet Hamilton has still been competitive and he's been finishing in the points. He's getting more from that car than any normal human would be able to.
If the McLaren engineers can find a few more improvements for him, he may be back in the top bracket before this season is over.
Posted by: Steven Den Beste at April 25, 2009 11:18 PM (+rSRq)
2
Oh, no disagreement there, Steven. I honestly believe that if he's not the best driver in F1 right now, he's only shaded by HWMNBN.
Yes, it pains me to say that, but the Renault is a dog, yet there's The Evil One, putting it high on the grid again.
Vettel is moving up my rankings, though. If he can keep up his performance for the whole season, he'll at least be in the argument.
Posted by: Wonderduck at April 25, 2009 11:24 PM (/nYBT)
Comments are disabled. Post is locked.
34kb generated in CPU 0.1, elapsed 0.444 seconds.
47 queries taking 0.3767 seconds, 239 records returned.
Powered by Minx 1.1.6c-pink.