July 02, 2016
F1 Quals: Austria 2016
It is uncommon these days for my life to be so busy that I actually forget things like lunch dates or important to-do's. Yet that is exactly what happened today here at Pond Central. In fact, it wasn't until I was tucking into my plate of sausage-stuffed giant rigatoni at Olive Garden that I realized:
I had completely forgotten about today's Quals
! Reacting immediately, I mentioned to my folks "huh, I forgot about quals," and had myself another spoonful of zuppa toscana and a breadstick. I eventually made my way home, sat down to watch quals and promptly dozed off in my chair. Once I woke up a few minutes later, I got myself to the computer desk to write this and found myself getting constantly distracted by things
like this
, or
like this
, or particularly
like this
. To the point that it's now a very long time indeed since Quals, or even since I came home from lunch. What I'm trying to say is that here's the provisional grid for the 2016 Grand Prix of Austria:
Pos

Driver
Q1
Q2
Q3

1

Mercedes

1:06.947

1:06.228

1:07.922

2

Mercedes

1:06.516

1:06.403

1:08.465

3

Force India Mercedes

1:07.385

1:07.257

1:09.285

4

Ferrari

1:06.761

1:06.602

1:09.781

5

McLaren Honda

1:07.653

1:07.572

1:09.900

6

Ferrari

1:07.240

1:06.940

1:09.901

7

Red Bull Racing TAG Heuer

1:07.500

1:06.840

1:09.980

8

Williams Mercedes

1:07.148

1:06.911

1:10.440

9

Red Bull Racing TAG Heuer

1:07.131

1:06.866

1:11.153

10

Williams Mercedes

1:07.419

1:07.145

1:11.977

11

!
Haas Ferrari

1:07.660

1:07.578




12

MRT Mercedes

1:07.565

1:07.700




13

Haas Ferrari

1:07.662

1:07.850




14

McLaren Honda

1:07.671

1:08.154




15

Toro Rosso Ferrari

1:07.618

No T

ime






16

Force India Mercedes

1:07.657

No Ti

me






17

Renault

1:07.941






18

Renault

1:07.965






19

MRT Mercedes

1:08.026






20

Toro Rosso Ferrari

1:08.409






21

Sauber Ferrari

1:08.418






22

Sauber Ferrari

1:08.446





Well, okay you say, big deal, just another Merc 1 - 2, hey? Well not so fast there, Binkey! Both Nico Rosberg and Seb Vettel had to change gearboxes meaning they take five-grid-spot penalties... which ALSO means that Force India's Nico Hulkenberg will be starting second, and Jenson Button's McLaren will be third!
As the late great Mel Allen used to say, "
How about that?
" (oops,
got distracted again
)
Down towards the bottom, we find Carlos Sainz, Sergio Perez and Kid Kvyat, all three of whom snapped their suspensions like dry twigs running over the... shall we say "aggressive"?... curbs at the Red Bull Ring. There's been a lot of that this weekend... Rosberg's gearbox change is a result of his left-rear suspension breaking, and I know it happened to a few drivers in Practice 1 as well.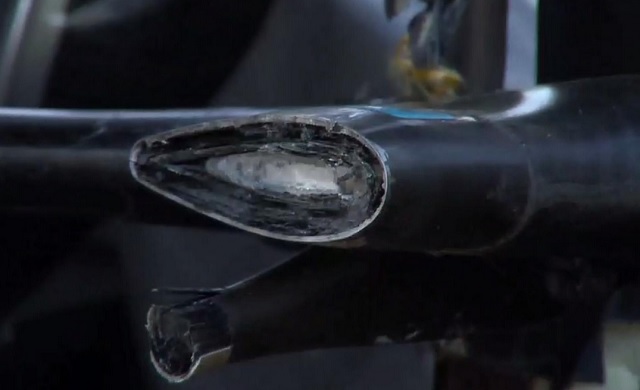 That's Rosberg's suspension at the point of failure. Pretty clean snappage right there... and that's the thing about carbon fiber: it's remarkably strong right up to the moment it isn't anymore, at which point it breaks like a dry saltine. Metal may be heavier, but it usually bends before it breaks... which is probably why suspensions were the last thing to change to carbon fiber in a F1 car design.
Well, it should be a race tomorrow. There's even a chance of rain, which'll throw the ducks amongst the rye bread, that's for sure. See you then, maybe!
If I remember.
Posted by: Wonderduck at 05:29 PM | Comments (5) | Add Comment
Post contains 594 words, total size 23 kb.
1
Hulk starting in second place? Awesome! (I've got a soft spot in my heart for Force India; I want them to do well.)
Posted by: Steven Den Beste at July 03, 2016 01:01 AM (+rSRq)
2
Mmmm, zuppa toscana. I can take or leave anything else at OG (the breadsticks... ain't what they used to be...) but I love that soup.
Posted by: GreyDuck at July 03, 2016 09:04 AM (rKFiU)
3
I can confirm the breadsticks are different. I don't know what the change is, but they aren't anywhere near as tasty as they once were.
The zuppa toscana though... nom
Posted by: Wonderduck at July 03, 2016 11:23 AM (Hdexn)
4
That RWBY AMV link caused me to spend an hour watching that and the related ones. Thanks!
Posted by: David at July 04, 2016 02:08 AM (YHSti)
5
OG seem to have tried to mask the drastic lowering in quality of the bread itself by slathering on more and more butter & garlic salt.
It isn't working. Those sticks are just gritty and doughy now.
I mean, go ahead and laugh at my lamenting the loss of OG bread sticks as a tasty treat, but dammit.
Posted by: GreyDuck at July 04, 2016 01:49 PM (rKFiU)
48kb generated in CPU 0.0385, elapsed 0.2059 seconds.
49 queries taking 0.179 seconds, 283 records returned.
Powered by Minx 1.1.6c-pink.