November 17, 2012
F1 Quals: 2012 United States Grand Prix!
(PRE-SESSION)
Here we are, with the first session that actually means something this weekend! Having said that, we don't know how much it means since the Circuit of the Americas is a brand new track. It could be that it's an awful racing circuit that encourages nothing but parades meaning that qualifying position is incredibly important... or it could be that it works so well that the winner can come from anywhere on the grid! We just don't know right now... but we will soon.
Here's what we DO know already: Lettuce Grosjean did indeed have to change his gearbox, meaning he's got a five gridspot penalty ahead of him.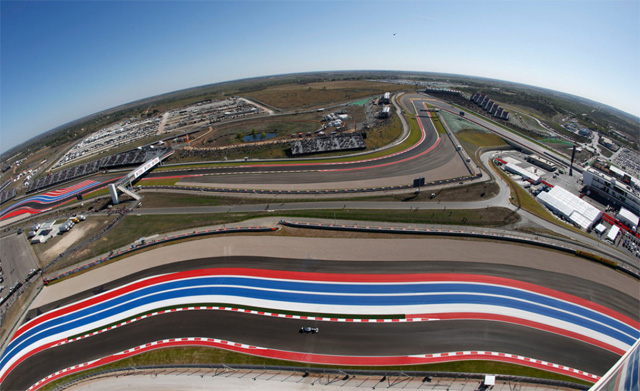 Q1
Nobody pitted. The tires were so difficult to get heat into that everybody stayed out and just kept running and running and running... until Narain Kittylitter came to a stop just off track at Turn 2, probably out of fuel. This brought out a yellow flag, meaning that it was going to be very difficult for drivers to improve their positions. For most this was okay, but it meant that Nico Rosberg needed a heckuva lap to get himself into Q2... he got it, but only just: he finished 17th.
Those eliminated, from 18th down: Daniel Ricciardo, Tim O'Glockenspiel, Charles ToothPic, The Red Menace, Heikki Kovaleinninninnie, Pete Rose and Narain Kittylitter.
Both HRTs came in under the 107% rule, so they get to race on Sunday without begging the stewards for permission.
Q2
Nobody pitted
again
... except for Jenson Button. He "lost the power, lost the power" with three minutes and a full track to go, and somehow managed to limp back to the pits. When he made it to the pits, he was 8th on the board. By the time the session was over, he was bumped to 12th and out of Quals altogether. SPEED managed to catch the team working on something at the front of the car (throttle pedals?) just before Quals began, and McLaren's engineers dove right for the same spot on the car when it came to a stop.
Those eliminated from 11th down to 17th: Bruno Senna, Jenson Button, Paul diResta, Jules Vergne, Sergio Perez, Gandalf Kobayashi, and Nico Rosberg.
Q3
AGAIN nobody pits. Heck, for all we know, some drivers were still on the same tires they used in Q2. Nobody broke down, nobody ran out of fuel, and Vettel just embarrassed the field. The Top 10 (before penalties) are:
1) Seb Vettel 2) Shiv Hamilton 3) Mark Webber 4) Lettuce Grosjean 5) Mumbles Raikkonen 6) Slappy Schumacher 7) Felipe Massa 8) Nico Hulkenberg 9) HWMNBN 10) Pastor Maldonado
Amazingly, this is Vettel's 100th Grand Prix, and his 36th pole. Good lord. This is a terrible result if you're rooting for HWMNBN; ninth is horrible. Two places behind your teammate is even worse... and this is a guy driving for the Championship! Then again, Vettel has completely dominated this race weekend, so it's not exactly a surprise that he's gotta be the favorite tomorrow.
Right, the 2012 United States Grand Prix will be on Sunday, with the F1Update! coming sometime thereafter... we might have some in-race comments, too. We will see you tomorrow!
Posted by: Wonderduck at 12:00 PM | Comments (2) | Add Comment
Post contains 701 words, total size 19 kb.
1
It looked to me as if Button's front end pushed & there wasn't much grip. Both the RB's & Hamilton seemed to go when & where they wanted.
Posted by: vonKrag at November 17, 2012 04:05 PM (XIY2m)
2
vK, you may well be right. One thing I've learned while doing all the liveblogging and streaming stuff, particularly this weekend, is that I get so busy that I don't get to notice the details like that. Just broad-brush things only.
That being said, if I said I wasn't having a ball, I'd be lying.
Posted by: Wonderduck at November 17, 2012 07:29 PM (dhChJ)
Comments are disabled. Post is locked.
40kb generated in CPU 0.0112, elapsed 0.0703 seconds.
47 queries taking 0.0627 seconds, 278 records returned.
Powered by Minx 1.1.6c-pink.