August 22, 2008
F1 Practice: Valencia 2008!
Okay, I'm starting to come around on this new circuit. Earlier, with just the silent footage to judge from and only one car on course, I didn't find it to be a particularly
interesting
layout. After seeing 20 F1 cars whipping around Valencia, however, it's a lot more attractive. A LOT more.
My first impression of the track being like Melbourne needs to be corrected, too. If you took the DNA from both Monaco and Montreal, then did some weird gene-splicing experiments (since all other problems in the world have been taken care of), you'd end up with Valencia. Twisty, curvy, but with some high-speed sections followed rapidly by brutally slow hairpins, and some promising passing areas to boot. There's some potential here, folks.
Bridgestone brought the soft and supersoft compounds to the party, and it doesn't look like there's going to be any out-of-the-ordinary wear issues (unless you're Nico Rosberg, who at one point flat-spotted his tires so badly after a spin that you could SEE the flat spots as the car was moving at 160mph). It turns out, however, that the tire manufacturer is somewhat concerned about the bridge, of all things. It turns out that it's not your usual span, but a swinging bridge that splits in half to clear the way to the harbor, and there's a gap of about a half-inch between the two pieces. That's fine for your everyday street tire, but for a race tire going at 130-140mph? There may (or may not) be a lot of blowouts come raceday.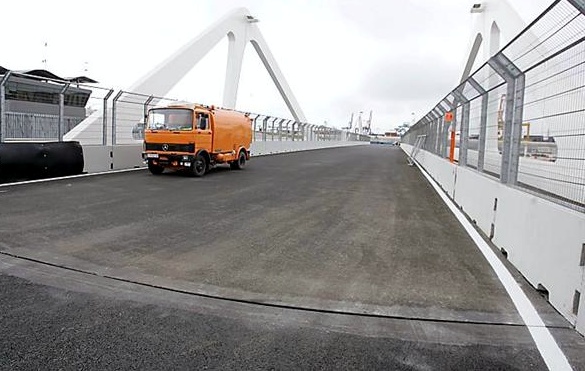 Not the most interesting picture, I admit...
Of course the track was very, very green, and very, very dusty. Pit boxes had to be swept all day just to allow the cars to have a little bit of traction. However, as the layout rubbers in, the times will drop. Nobody seemed to have any real problems learning the circuit, either.
I'm getting excited about this race. Sure, some of it is because we haven't had a race in three weeks, but I think this circuit promises big things. Since it's new, I'm going to treat it as if it's a wet race: all bets are off, and nobody knows what's going to happen. If it actually rains, though, not only are all bets off, but the casino is closed.
Quals Saturday, be here or be somewhere else.
Posted by: Wonderduck at 08:19 PM | Comments (8) | Add Comment
Post contains 398 words, total size 3 kb.
Comments are disabled. Post is locked.
27kb generated in CPU 0.0184, elapsed 0.1202 seconds.
47 queries taking 0.1128 seconds, 284 records returned.
Powered by Minx 1.1.6c-pink.