May 28, 2010
F1 Practice: Turkey 2010
It appears that the previous talk about the circuit at the Istanbul Otodrom becoming bumpy in its age didn't go far enough. It's hideous, particularly on the first two apexes of Quad-8 (or, as one e-mailer to the Legendary Announce Team named it, "Diabolica," a play off of the famous "Parabolica" at Monza). The braking zone for Turn 12 is also infested with molehills growing into mountains.
Felipe Massa had a bad, bad time with Turn 8 today, losing the car twice in two laps at the same place on the bend. In fact, he just was having a bad time in general. I'm starting to wonder if the rumors that he's not the same driver he used to be before the Spring Incident... aren't true. He hasn't even come close to winning a race this season; heck, other than the Ferrari domination of Bahrain where he finished second, he's not come close to the front of the pack this year at all. It's a shame... while I can't say that I much like the guy (he
does
drive for Ferrari, after all), having your career curtailed through no fault of your own just isn't very fair.
Speaking of unfair, the last time HRT's Bruno Senna raced at Turkey, his GP2 car was totaled when he
ran into a dog
on the circuit. Which isn't quite as bad as hitting a cow,
like these rally drivers did
, but still pretty bad.
Late in P2, Red Bull's Mark Webber blew an engine. Not so bad, really, as it only had about 30 miles left in its scheduled lifespan anyway. Meanwhile, his teammate, Seb Vettel, got a new chassis. The past two races, he's been complaining about the car not feeling right; turns out there was something wrong with the floor/undertray. The team could not fix it, so brand new car for him... which, in his tradition, he has named "Randy Mandy." She joins "Kate," "Kate's Dirty Sister," and "Luscious Liz" on the list.
Jensen Button headed the timesheet in P2, followed by the two Red Bull drivers and Lewis Hamilton. Massa was 10th.
Ferrari has a new livery for this race: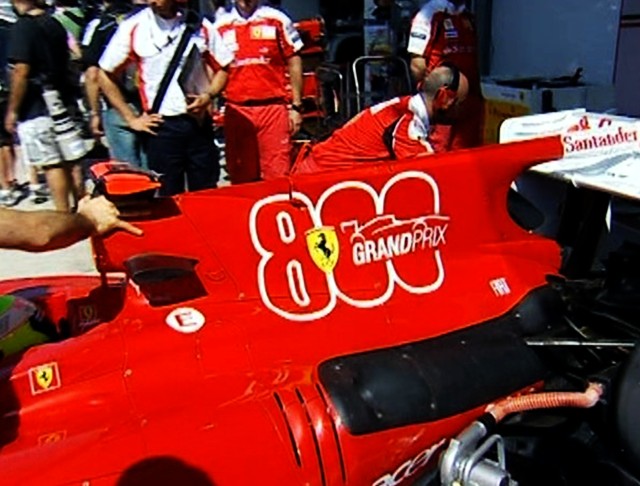 This will be their 800th Grand Prix start. Nobody else is really even close, as they're the only team to have participated in all 60 seasons of F1. That's a lot of races... and makes the fact that Rubens Barrichello is closing in on his 300th start (near the end of this season) all the more impressive.
Quals in the morning. See you then!
Posted by: Wonderduck at 08:26 PM | Comments (1) | Add Comment
Post contains 428 words, total size 3 kb.
1
Since my better part is away (and she has the monopoly on TV), I asked TiVo to record the race this time.
Posted by: Pete Zaitcev at May 29, 2010 09:02 AM (/ppBw)
Comments are disabled. Post is locked.
20kb generated in CPU 0.02, elapsed 0.1035 seconds.
53 queries taking 0.0845 seconds, 218 records returned.
Powered by Minx 1.1.6c-pink.