May 10, 2013
F1 Practice: Spain 2013
The first race back in Europe after the first overseas leg always brings us new and... interesting... modifications to the cars. New wings, new sidepods, new noses, lots of new stuff we can't see. And on the whole, nothing ever changes. The fast teams are still fast, the slow teams are still slow, its just the same with more money spent. Unless you're Caterham.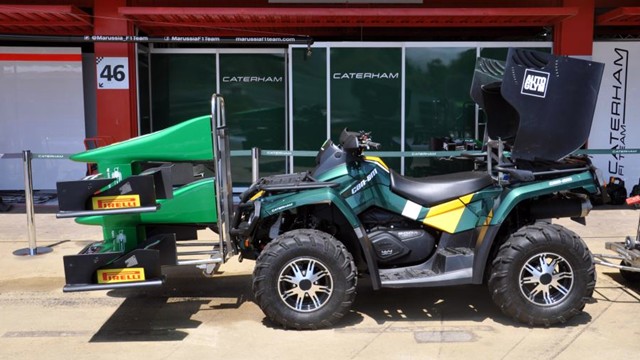 They're really pushing the edge of the rules with their latest chassis. I have no idea how it passed the crashtesting, but I'm not the FIA. Gonna have a helluva lot of downforce, that's for sure.
Seriously though, Pirelli has a problem on their hands. Take a look at what happened to Force India's Paul di Resta at the end of P2: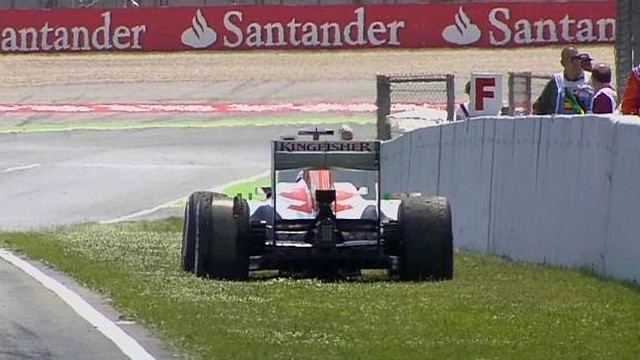 The left-rear tire completely delaminated. Fortunately the carcass stayed inflated, as it occurred as di Resta was on the front straight. He was able to keep the car under control and bring it to a stop just past pit-out.
I don't think I've ever seen that before. I've seen tires wear down to the canvas backing, sure, and of course we've seen plenty of blowouts where all you had left were the sidewalls, but I've never seen the rubber fall off the tire altogether. There is no way you can tell me that this is a good thing. I've been very calm with Pirelli, as they've just been doing what the FIA has asked them to do, tires running with short lifespans and all... but this just can't be allowed to happen.
Quals in the morning, Quals report sometime quite a bit later. See ya then!
Posted by: Wonderduck at 08:30 PM | Comments (3) | Add Comment
Post contains 276 words, total size 2 kb.
1
That first picture is pretty cool. It looks like they seriously mutated a motor cycle, and I can't imagine why they'd go to the effort.
Posted by: Steven Den Beste at May 10, 2013 10:39 PM (+rSRq)
2
Steven, it's a
Can-Am Outlander ATV
, with a couple of racks mounted on it to move the noses and the rear wing assembly around. Now, WHY they did this is a mystery, other than it's kinda cool...
Posted by: Wonderduck at May 10, 2013 11:36 PM (Za5eH)
Posted by: Pete at May 11, 2013 09:30 PM (RqRa5)
Comments are disabled. Post is locked.
23kb generated in CPU 0.03, elapsed 0.1085 seconds.
53 queries taking 0.088 seconds, 278 records returned.
Powered by Minx 1.1.6c-pink.