May 11, 2012
F1 Practice: Spain 2012
Lots of little things today from the world of F1, now centered wholly in Barcalounger, Spain, so let's get right to the news bits so I can crawl into bed and pass out before Duck U's graduation on Saturday.
First up, since this is the first time F1 has been in Europe this year, we've seen a proliferation of new parts appearing on the cars all up and down the pit lane. The biggest and most obvious change has to be McLaren. As you may remember, this is what the MP4-27 looked like at the pre-season rollout:
Well, here's what it looks like now:

No optical illusion here; the nose is substantially higher than it was. Of course, McLaren is trumpeting this as if it's the second coming of active suspension and ground effects. Well, actually, they aren't, but they do think that the simple act of putting the nose u[ a few inches will account for roughly 20% of their downforce improvement. Now, they didn't mention just how much improvement there was, but Jenson Button was fastest in P2 today. Then again, how big a shock is that?
What
was
a surprise was the man driving the Caterham in P1 today.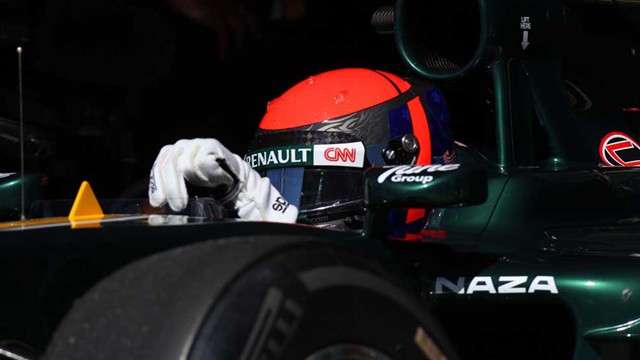 For the first time since American Scott Speed was unceremoniously booted from Toro Rosso on July 31st, 2007 (replaced by a young German named Seb Vettel), the Stars and Stripes are being represented in F1. Alexander Rossi of Auburn California got his first taste of a F1 weekend when he sat in for Heikki Kovaleinninninnie in the morning session. While he finished nearly a second behind The Red Menace, he wasn't out there for ultimate top speed. These practice sessions are more and more replacing testing, so he was basically told to go out and run laps at such-and-such a pace... and that's what he did. There's a school of thought that he'll be driving for Caterham next year... how cool would that be?
In "roll your eyes, big surprise" news from P2 today, Narain Kittylitter, out for most of P1 with an electrical fault, made it a grand total of three corners in his HRT before he suffered an electrical failure. Good to see that HRT is doing their level best to be the level best they can be.
Quals tomorrow, report sometime in the afternoon, after I get home from selling last minute cap'n'gowns to panicky Duck U Grads-to-be!
Posted by: Wonderduck at 07:47 PM | No Comments | Add Comment
Post contains 407 words, total size 3 kb.
Comments are disabled. Post is locked.
23kb generated in CPU 0.0147, elapsed 0.0676 seconds.
45 queries taking 0.0596 seconds, 275 records returned.
Powered by Minx 1.1.6c-pink.