May 07, 2010
F1 Practice: Spain 2010!
Other than Nico Hulkenberg leaving the nose of his Williams in a tire barrier, there wasn't a whole lot of interesting stuff occurring on track in Barcelona today. Red Bull was blindingly fast, McLaren was probably sandbagging, yadda yadda yadda.
However! This is the first European race of the season, which means that every team has put new bits and pieces onto their cars after lessons learned during the first four contests. While most of the cars weren't particularly or obviously different, Mercedes has made some serious changes to the MGP-W01. First off, they've gone back to their pre-season testing chassis layout and in the process, lengthened the wheelbase by moving the front suspension forward. This was done to make Slappy Schumacher happier, as he just couldn't quite get a handle on the car. The most visible change, though, was to the airbox. Let's take a look, shall we? Here's the first version of the car:
And now, the new version: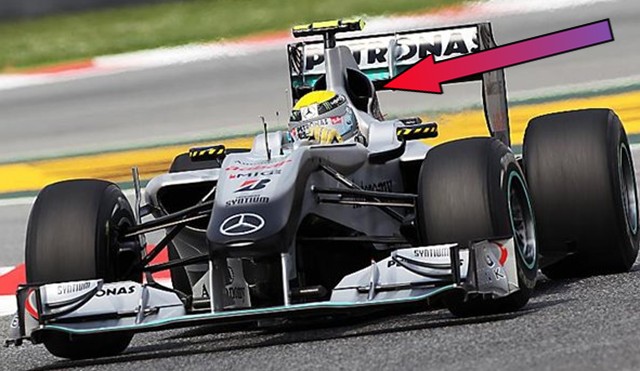 The bulbous air intake with the splitter on the inside is gone, replaced by an intake on either side of the "shark's fin." Not quite as visible is two smaller intakes, just below the top ones. Those are either for cooling purposes or for their inevitable "F-Duct" modification, copying McLaren's clever rear-wing stalling device that gives them such a straight-line advantage. Also not quite visible is that their "shark's fin" is now perfectly smooth instead of curved by the airbox. That's got to improve the airflow back to the rear wing immensely.
In other news, the news is that Ferrari has signed a contract option with Robert Kubica. From all reports, the team has to make the call by July 22nd. That would suggest that Felipe Massa will be a free agent after this season, since HWMNBN has a multi-year contract with the red team. Speaking personally, I believe this to be horrible news, since I actually
like
Kubica and it'd make me sick to see him with Ferrari.
In some good news, Sauber has finally gotten a sponsor!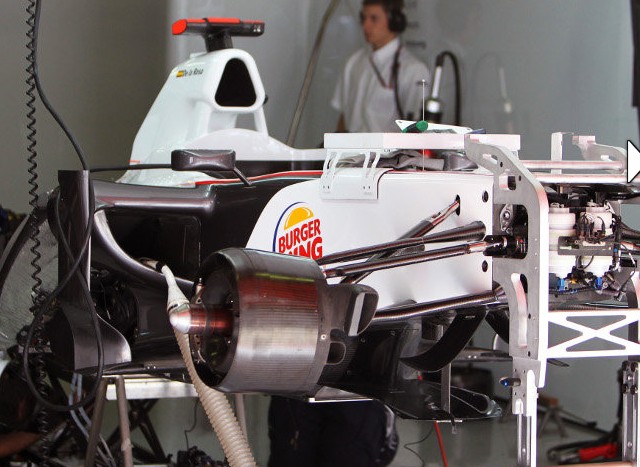 Yes, The King has come to F1. Dear merciful god in heaven, could we actually see McDonalds sponsorship in Hungary? Could Zsolt Baumgartner be far behind?
Quals in the morning.
Posted by: Wonderduck at 08:19 PM | Comments (2) | Add Comment
Post contains 374 words, total size 3 kb.
1
I like both Kubica and Massa, and while it may be a great career move for Kubica, it's got to be a kick in the butt to Massa.
The first thing I thought of when I saw the Burger King logo was that someone in that creepy king costume would show up next week in Monaco.
I've got my fingers crossed for a Zsolt sighting!
Posted by: Mallory at May 08, 2010 08:52 AM (WJ2qy)
2
Man, the spammers aren't even trying any more.
Posted by: Steven Den Beste at May 16, 2010 08:53 PM (+rSRq)
Comments are disabled. Post is locked.
20kb generated in CPU 0.11, elapsed 0.2051 seconds.
53 queries taking 0.1736 seconds, 219 records returned.
Powered by Minx 1.1.6c-pink.