April 08, 2011
F1 Practice: Malaysia 2011
Nothing particularly exciting to report from the 2nd Practice session, to be honest, so it's time to discuss some goings-on in the F1 world while I wait for P3 to begin streaming.
First up, if you didn't believe your eyes when you saw the picture of Renault's massive flat spot, when Grizzly Nick Heidfeld had a brake lock-up on him, here's more proof: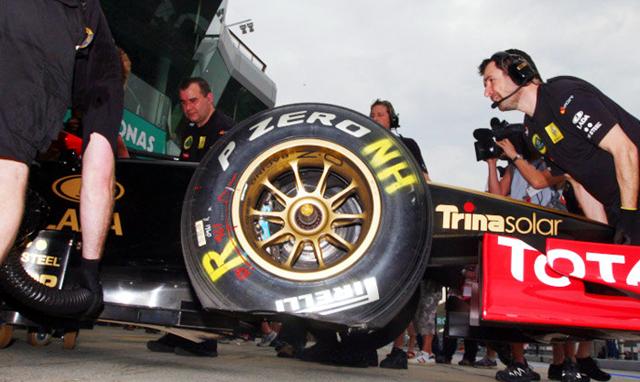 Would have ground the tire down even farther if the bottom of the car hadn't've stopped it. It turns out that the both Renaults had the same problem: defective uprights. The upright is the part that lets the wheel assembly attach to the suspension. It's what the brakes mount to, it's where the wheel hub sits, etc etc etc. On a street car, the wheels mount to the axle; on a F1 car, the point of contact is the upright. Renault thinks they had a bad manufacturing batch, which is why both cars had the same type of failure on the same day. It manifested itself differently, of course (Heidfeld's caused the brake to lock, Petrov's was more severe, causing a high-speed failure of the suspension), but the same part was to blame. Replacements were tested, installed, and both cars were back on track late in P2.
Custard d'Ambrosio's suspension failure was tracked to a
clevis bracket
that attached one of the suspension's rods to the body of the car. The damage done was severe enough that he never got into P2.
What I thought was a transmission problem for Ferrari early in P1 turned out to not be so. The team was doing aerodynamic testing of some piece or another, and required the cars to circulate at a specific speed all the way around the track... ergo, no upshifting. Allegedly.
Narain Kittylitter's smoking HRT turned out to be nothing more than a really bad oil leak. No blown engine, which is good news for the team. When Vitantonio Liuzzi's car came to a halt on track in P2, nobody was quite sure why. Turns out his gearbox got a little cornfuzzled when he took a curb a little too enthusiastically. That sort of thing can happen to any car at any time... the shock transmitted itself to the gear selector and in lieu of trying to engage two gears at once (bad, leads to a gearbox full of neutrals) it decided to engage nothing and go into petulant child mode (not great, but a lot better than a handful of metal shavings).
The tires really are having problems at this track. At one point during P2 track temps were well above 120°F, which improved grip but accelerated wear. The abrasive surface at Sepang is also causing the tires to wear faster; look for three stops for sure, barring weather. Speaking of weather, everybody is expressing surprise at the lack of rain so far, while commenting that every day the teams have been in Malaysia, it has rained at 4pm local time. Both quals and the race will be in progress at 4pm on their respective days.
Quals tomorrow morning, see you then!
Posted by: Wonderduck at 11:21 PM | Comments (1) | Add Comment
Post contains 520 words, total size 3 kb.
1
A picture that's sure to wind up on a "real or photoshopped" list.
Wow.
Posted by: Ben at April 09, 2011 04:15 PM (gze3w)
Comments are disabled. Post is locked.
24kb generated in CPU 0.011, elapsed 0.2987 seconds.
47 queries taking 0.2915 seconds, 277 records returned.
Powered by Minx 1.1.6c-pink.