October 10, 2008
F1 Practice: Japan 2008!
A bright sunny day over Fuji today, a dramatic change from last year's weather. Of course, nothing much happened in practice, as usual, but we did learn some interesting tidbits of trivia. For example, Sebastian Vettel and Alexander "Man-Mountain" Wurz are going to climb Mt Fuji Sunday night... AFTER THE RACE!
I remember being young. Sheesh.
Toyota's Timo Glock was fastest in P2. He probably had enough fuel left on board afterwards to get back to the pitlane, but not a whole lot more, but there you are. Toyota, on their home track (literally; Fuji Speedway is
owned
by Toyota, just like Suzuka is owned by Honda), in their home country (even though the team is based in Germany), set fast lap in both Practice sessions.
This should not be considered indicative of future performance.
What
should
be considered indicative of future performance is the humiliating pace set by Jenson Button's Honda: almost two seconds slower than Glock in P2. Yeesh. Is Honda the new Spyker/Midlands/Jordan, a laughingstock, a subject of ridicule? Well, yes. Of course, they have Ross Brawn, the #1 technical mind in the sport and the architect of Ferrari's domination (along with some guy named Schumacher) on their pitwall, but he joined the team too late to have any real say in how the car was going to be designed this year. Still and all, it seems unfathomable to think they'll make any splashes anytime soon.
Those green tires look stupid. To make matters worse, the white stripe on the "option" (or soft) tire disappears amongst the green stripes, so now you can't even tell what tire the cars are on. That was the whole point of the paint-in-groove concept in the first place!
Look for teams to be using the hard compound tire for the majority of the race, by the way. The softs get run ragged in just a handful of laps, particularly the rears. A lot of little fishtails out there, particularly on 100R and the Hairpin, and that plays hob with the rear rubber.
One last amusing bit: the main straight is nearly a mile long. They need FIVE cameras to cover the length of it: one at each end, and three spaced equally down the length, just to follow a car! By far, the longest straight in F1; only Indianapolis (which isn't on the calendar anymore) was close.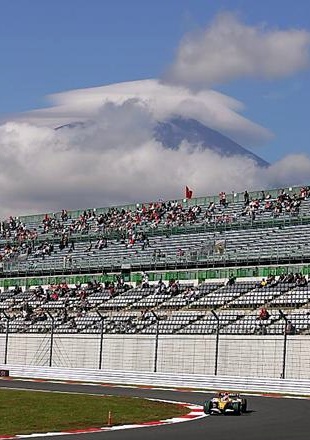 If you were wondering why it's called "Fuji Speedway",
there's your answer.
So, Quals tomorrow.
Posted by: Wonderduck at 01:05 AM | Comments (1) | Add Comment
Post contains 415 words, total size 3 kb.
1
Wow, you can't beat that scenery!!!
Hope the sun's still out on Sunday (or Saturday, as the case may be).
:-)
Posted by: Mallory at October 10, 2008 06:52 AM (3sife)
Comments are disabled. Post is locked.
23kb generated in CPU 0.0102, elapsed 0.1044 seconds.
47 queries taking 0.0972 seconds, 277 records returned.
Powered by Minx 1.1.6c-pink.