July 22, 2011
F1 Practice: Germany 2011
A gray day in the Eifel Mountains, which isn't unusual. Friday's practice sessions went the way they usually do... cars went out on track, ran laps, came back in, rinse, repeat. Nothing particularly exciting, which also isn't unusual. Except for Seb Buemi's wild ride in P1...
that
was exciting.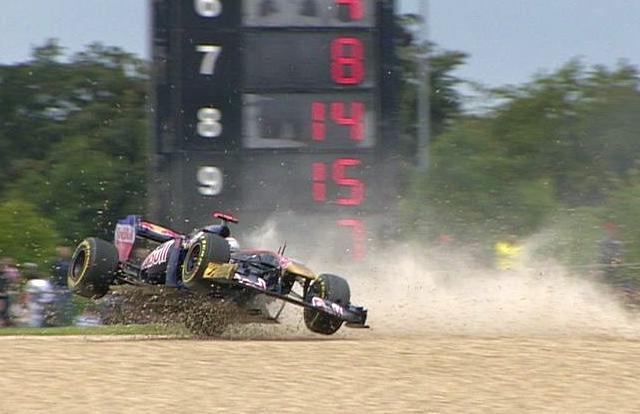 The Toro Rosso got sideways and went airborne twice... first when he hit the curbs, then again when the car landed, slid across some grass and an access road, then bounced in the kittylitter. It could have been a big wreck, but wasn't. Buemi got right out, though I'll bet his back'll be sore in the morning; F1 drivers sit directly on the floor of the chassis, and they don't exactly have much in the way of shock absorbers either.
In other news for the race weekend, Jarno Trulli has been quite vocal of late, criticizing his car's power steering up hill and down vale. For at least four or five races, he's been complaining about how it just isn't working right... which is not-so-veiled criticism of his team, as well. There's almost certainly been discussions behind closed doors between Lotus and Trulli, asking him to keep the complaints
behind
closed doors. For example, if there's been a problem on Heikki Kovaleinninninnie's chassis, we haven't heard about it. Yet Trulli has continued to moan and whine in public. Well, Lotus has reacted. Jarno is getting the weekend off, no reason given. In his place, F1U! is happy to announce that Cowboy Karun Chandok is back in the saddle! It's been over a year since he's been in a F1 race, but we have no doubt that he'll repeat his excellent performances on Sunday.
Meanwhile, more and more regulations for 2014 have been released. As we've already heard, the inline four-cylinder turbo engine is dead, replaced with a new V6 that'll be limited to 15000rpm. What's very new is that the engines will have to have an onboard starter! That's right, F1 cars will now have to do the same thing that road cars have been able to do for decades. Another interesting rule is that, when a car is in the pit lane, it will be allowed to run on electric power only. I assume that's between the speed limiter lines, but it may mean anywhere related to the pit lane... such as pit-in. We'll see. I'm neither excited nor offended by this; it's just the FIA being the FIA. As usual.
Speaking of the FIA, the marshals have done it again.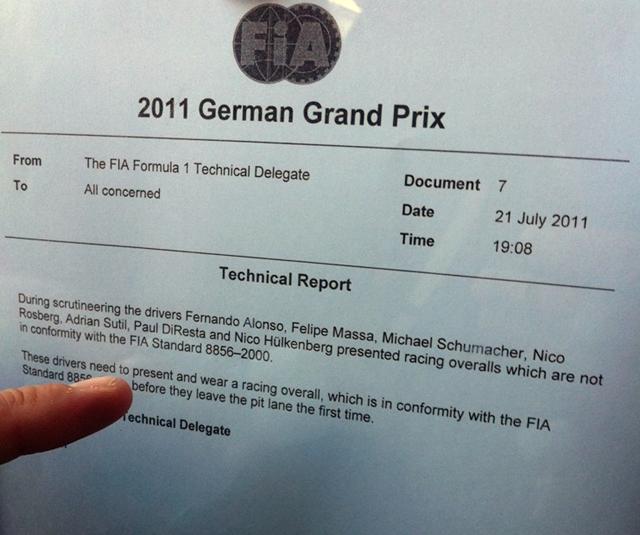 Good to know that they've solved all the other problems in F1.
Quals in the morning. See ya then.
Posted by: Wonderduck at 08:27 PM | Comments (7) | Add Comment
Post contains 444 words, total size 3 kb.
1
So when the drivers leave the pits, they'll be rolling, driving, and trying to start their engines. Sounds like an accident waiting to happen, due to driver overload.
And what if the engine kicks in late? Penalty? Or if the driver hits the starter a little too soon? Another penalty?
I think this is a really weird idea, and I don't understand why they're doing it.
Posted by: Steven Den Beste at July 22, 2011 10:08 PM (+rSRq)
2
I'm sure they're doing it because the FIA wants to give the appearance of going more green. That's the reason they were going to go to the inline 4-cylinder, after all.
Here's my guess at how they'll do the engine thing. It'll all be rigged to a single button on the steering wheel, the pit-lane speed limiter. You press the button, the electric motor kicks in and the gas engine is cut, though perhaps not turned off, just disconnected. When they leave the pits, they're still on the limiter. Then, as they cross the pit-out line, they plonk the limiter button again and the engine cuts back in.
HOW they'll disconnect the engine from the drivetrain in a way that pleases the FIA, I leave to you, my readers, to figure out.
Posted by: Wonderduck at July 23, 2011 01:07 AM (3tp4g)
3
So, er, everyone has absolutely reliable KERS and batteries and none of them ever fail during a race, right? And so nobody's going to be in the funny position of not being able to pit because their electrics are on the fritz, but being able to roll around until the rubber falls off the rims?
Posted by: Avatar_exADV at July 23, 2011 03:21 AM (mRjOr)
4
Sure, Av, but if I may? "So, er, everyone has absolutely reliable
gasoline engine
and none of them ever fail during a race, right?"
Posted by: Wonderduck at July 23, 2011 11:14 AM (3tp4g)
5
Overall-gate???
Who knew F1 had Fashion Police, too?
Posted by: Mallory at July 23, 2011 12:11 PM (WJ2qy)
6
The technical reg on the pit-lane engine cut-out calls for "no ignition, and no fuel delivery" so the gasoline engine will in fact be completely shut down in the pit lanes. So yes, it won't surprise me at all to see cars rolling to a stop shortly after pit out when they run out of KERS juice and the lump hasn't fired.
The concept that drivers are being called out for having a screen-printed tag on the neck of their suit instead of an embroidered one is just mins-boggling.
Posted by: David at July 23, 2011 01:14 PM (Kn54v)
7
Duck, oh, to be sure. But when your engine fails, you're out of the race. When your electrics aren't reliable, well, you can ask Vettel about that. (Weber too, for that matter...)
I'm just wondering how they're going to handle it from a safety perspective. If you get a car that has an electric problem, and thus can't cut the motor to pit and still make it back out of the pit, that's a hazard to all the other drivers. That guy's tires are still going to wear, until he goes off the track or slows down enough to become a mobile chicane even for HRT. But if you black-flag a driver the moment their electronics go on the fritz, Vettel sure wouldn't be in first place this season!
So I don't really know. You'd HAVE to allow for drivers whose electric drive has failed to continue the race (otherwise they won't admit that it's out). And you want those drivers to be able to pit, because otherwise they become a road hazard. And you can't exactly give them a drive-through penalty because driving through is precisely what causes the rule problem! ;p I don't know how they'd resolve it.
Posted by: Avatar_exADV at July 23, 2011 01:33 PM (mRjOr)
Comments are disabled. Post is locked.
28kb generated in CPU 0.03, elapsed 0.1137 seconds.
53 queries taking 0.0924 seconds, 276 records returned.
Powered by Minx 1.1.6c-pink.