July 23, 2010
F1 Practice: Germany 2010
If practice sessions are anything to go by, and they usually aren't, Sunday's race at Hockenheim is going to be all about two numbers: 3 and 2.
Three
is roughly the number of seconds faster per lap that a car shod in the Bridgestone super-soft tires can expect to be in relation to the hard compound rubber.
Two
is roughly the number of laps that the super-soft tires will give you before they give up and go south.
This disparity could very well make for some interesting racing come Sunday. Remember that a driver is required to start the race on whatever tire compound he used when he turns his fastest qualifying lap. Will someone make a bid for pole on the super-softs, get pole, but then have to change his tires after only a few laps? Or will someone, lets say Gandalf Kobyashi, run almost the entire race on the hards, then zip into the pits, come out on the stickies, and cause havoc in the standings? It's not impossible that we might even see two or three stops this race if the hards can't stand the gaff.
But then, as if intended to throw everything into a cocked hat, the teams are going to have to deal with the weather, too.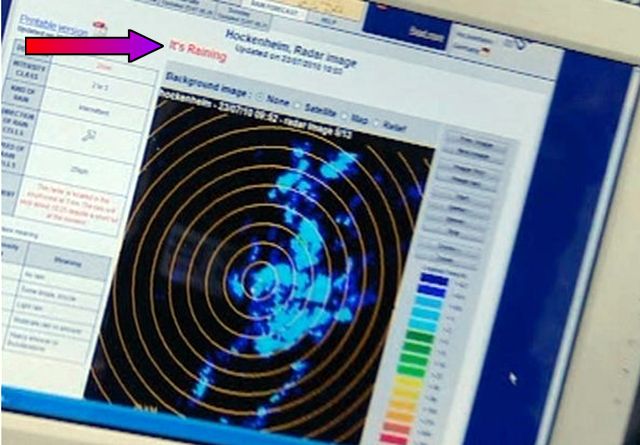 The FIA: Masters Of The Obvious

The Legendary Announce Team described it as "changeable," which doesn't make it sound like so much of a much, but we discovered something about Hockenheim today that I didn't know previously: it doesn't drain very well. Rivers of water were running across the track during most of P2, even though it didn't rain much at all during the session.
It rained quite a bit during the first practice session however, making the track treacherously slick. Lewis Hamilton discovered just how bad it was when he began skidding one way, deftly caught his McLaren, then had the car overcorrect underneath him and go galumphing over the curbs, through the grass and into the tire barrier on the outside of Turn 3. Unfortunately, he hit at a relatively shallow angle and the car wound up rotating around the point of impact, the left-rear wheel. In the process, it broke the suspension on three corners of the car, tore up the bodywork something fierce, damaged the rear wing and diffuser, tore off the nose, and generally beat the thing into a pulp. Reportedly, the undertray was ripped to shreds too, just to make things worse. However, and here's the important part, the actual chassis and monocoque weren't damaged. All the team had to do was hang replacement parts onto the framework of the chassis, scrape the gravel out of the cockpit, and the car was good as new... after a few hours of white-knuckled work by the McLaren mechanics, of course. Much to everybody's surprise, Hamilton got back on track with 15 minutes left on the clock in P2.
The 2008 World Driver's Champion wasn't the only person having problems with the track. Pretty much everybody had at least one or two moments where they did some agricultural driving, and by the time the practice session was over it looked like the track's dry line was about 10 feet to the outside of the curbing on some turns.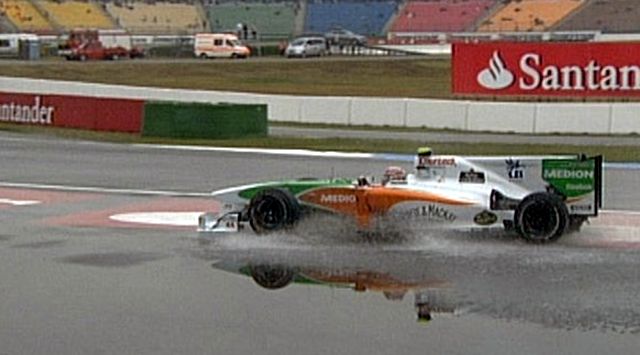 While it's not supposed to rain on Sunday, it IS expected to do so during the Quals session... which, along with the question about the tires, throws us another curveball. Will teams set their car up for the wet weather, hoping to improve their qualifying position, but compromise their setup for the race? Remember, once a car takes to the track at the beginning of Q1, it is in what is called
parc ferme
condition, meaning that they can't be worked on at all without petitioning Race Director Charlie Whiting. Whiting does not approve of such things unless it's a matter of a broken part, for example, and then it can only be exchanged like-for-like. This means no adjusting the setup from wet to dry before the race.
Conversely, a team could go for a dry setup, hurting their qualifying position (and making it easier to wreck the car!) but improving their speed on race day. Or, of course, they could go for an in-the-middle setup and screw themselves on
both
days... I don't expect anybody would do that, but it's an option.
So many questions hanging out there, all to be answered on Saturday morning! See you then!
Posted by: Wonderduck at 07:04 PM | Comments (6) | Add Comment
Post contains 747 words, total size 5 kb.
1
I know that the super-soft tires are slicks. Are the hard tires they have there also slicks?
Posted by: Steven Den Beste at July 23, 2010 08:10 PM (+rSRq)
2
Yes, all F1 dry weather tires are slicks. Weather tires come in two flavors these days. Intermediates have five equally spaced grooves running around their surface, and Full Wet tires (also known as 'Monsoon Tires') are treaded much like a standard road car tire.
Posted by: Wonderduck at July 23, 2010 09:09 PM (iJfPN)
3
The question was whether the hard tires available to the teams are slicks or not. Are they set to choose between soft slicks and hard slicks, or between soft slicks and hard semi-treaded or fully-treaded tires?
Posted by: Steven Den Beste at July 23, 2010 09:27 PM (+rSRq)
4
As I said, all F1 dry weather tires are slicks. Maybe back in the old days, when tires were skinny and the drivers were not, they may have been treaded, but nowadays the only treaded tires you'll find are those used when there's water on the track.
As recently as 2008, dry tires had grooves cut in them to reduce the contact patch, and thus traction and thereby slow the cars, per the FIA's safety initiative, but they were still slicks when it came right down to it... just with maybe 1/5th of the surface area cut away.
Posted by: Wonderduck at July 23, 2010 10:50 PM (iJfPN)
5
Yes, I understand all that. I understand that there are dry tires and wet tires. What I want to know is which they have in Germany right now to put on their cars. Will they be forced to drive in the rain on slicks, if it rains? What did Bridgestone deliver to the track?
Posted by: Steven Den Beste at July 23, 2010 11:21 PM (+rSRq)
6
Ah, I understand. Along with the two different compounds of dry tires, the tire company will always bring multiple sets of intermediate and full wet tires for the teams as well. I assume they're required to do so, even at a place like Bahrain or Abu Dhabi, even though the chance of a wet race at either track is somewhere between slim and "are you kidding me?"
If they do wind up qualifying on rain tires tomorrow, be it the inters or the full wets, and the race looks like it'll be started in the dry, Charlie Whiting does have the option of throwing up the "change in conditions" flag, which allows the teams to put on dry tires without penalty. Conversely, if Quals goes off in the dry but it's raining on race day, the teams may be
required
to change to inters or wets in the name of safety.
Posted by: Wonderduck at July 24, 2010 12:38 AM (iJfPN)
Comments are disabled. Post is locked.
28kb generated in CPU 0.04, elapsed 0.1892 seconds.
47 queries taking 0.1634 seconds, 271 records returned.
Powered by Minx 1.1.6c-pink.