August 21, 2009
F1 Practice: European Grand Prix @ Valencia 2009!
Wow, it was good to see the F1 Circus back on track. Lots of interesting stuff today, so lets get right to it.
For the first time in modern memory, we have a decent chance of seeing a non-penalized, still-running Ferrari finishing last in a Grand Prix. Luca Badoer, replacement driver, was over three seconds/lap slower than the fastest time set in P1, good for dead last in the session. In P2, he was 18th, but only because Lewis Hamilton's McLaren had a rather impressive slide that took him around two corners sideways only three laps into the second session. When his front suspension went over a curb, something broke and the team apparently didn't have a replacement immediately at hand. Badoer probably would have been 19th otherwise, probably not what Ferrari had in mind. He only managed to beat out NKOTT.
Oh, and he got
four
three separate penalties for speeding in the pit lane, to boot. At least he was fast SOMEwhere.
Meanwhile, Lettuce Grosjean and his hair, the new New Kid On The Track, managed to bring his Renault home in a neat 13th. His teammate, HWMNBN, got the home crowd excited with the only sub-1:40 lap of the day, for the fast lap honors. Just before he did that, however, he managed to screw up the final turn, locking up his brakes and slithering into the BMW of Grizzly Nick Heidfeld, who had wisely (if uselessly) moved as far away as possible from HWMNBN's racing line. The front-right tire of the Renault got in the way of the left-rear of the BMW, with the inevitable result occurring: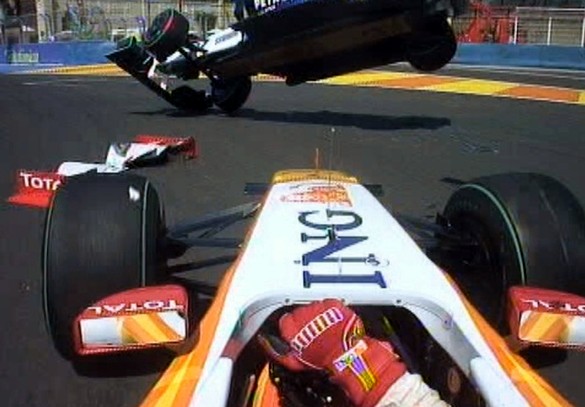 Liftoff! We have liftoff!

Heidfeld's Beemer was rather broken upon landing, and stayed in the pits for the remaining 15 minutes or so. HWMNBN at least had the decency of cleaning up after himself, running over his front wing and dragging it into the pit lane. Awfully nice of him.
In an e-mail to me, Official First Reader of The Pond Mallory asked me if the Legendary Announce Team's repeating of something Ferrari team boss Luca di Montezemelo said was true. I'm afraid to say that yes, it is true. See, di Montezemelo stated a week or two ago that he'd like teams to have the option of entering THREE cars in a race, as opposed to the current practice of two. While the LAT suggested that would mean a potential 39 car field, that's not what di Montezemelo was actually talking about. Instead, he wanted to actually limit the number of teams to eight or fewer, so as to do away with new teams altogether. Of course, this would also raise operating costs (which is against the wishes of the FIA's cost-cutting measures) by at least a third. Also of course, there aren't many teams that could
afford
running three cars; Ferrari for sure, and perhaps McLaren and Toyota could do it... maybe. Gee, who would win the Constructor's Championship?
If there was a 39-entry field, though, we'd see a return of the pre-qualifying period, where the fastest 26 or 28 cars only would be allowed into quals. I'm fine with that idea, but only if we really had that many discreet entries.
I'm sure di Montezemelo doesn't believe that would ever happen, though.
Quals in the morning!
Posted by: Wonderduck at 10:42 PM | Comments (3) | Add Comment
Post contains 558 words, total size 4 kb.
1
I'm not in the slightest bit surprised that Badoer didn't do very well. As I understand it, this is literally his first time on a track in an F1 car. It would have required a miracle, or blatant cheating, for him to do well.
Posted by: Steven Den Beste at August 22, 2009 12:03 AM (+rSRq)
2
You might be surprised to know that Luca Badoer has MORE miles under his belt in F1 cars than any two drivers on the grid. As Ferrari's test driver for the past 10 years, he's run over 131000km behind the wheel of F1 cars, just in testing alone. To put it another way, Slappy Schumacher was a testing fiend when he was a driver. Whenever he could get behind the wheel of his F1 car between races, he did.
Even with his long career, even with all the testing he did, Schumacher is still over 30000km behind Badoer in terms of distance run behind the wheel.
The problem comes with the fact that he hasn't actually
raced
a F1 car since his stint with Minardi back in the '90s, and hasn't turned a lap in the F60 (before today) since February. That's because of the in-season test ban, of course, and the car now is not the same as it was six months ago.
So he's either the most experienced driver on the grid, or the rustiest. Or both.
Posted by: Wonderduck at August 22, 2009 12:44 AM (3IJ3A)
3
Thanks for clarifying the possibility of a third car for Ferrari. :-)
Also, thanks for providing some background about the Luca Badoer choice. It had really surprised me, as it would have made more sense to put someone from GP2 in the seat. Oh well, guess Luca deserves a chance after all the time he's spent behind the wheel.
Posted by: Mallory at August 22, 2009 10:08 AM (WJ2qy)
Comments are disabled. Post is locked.
26kb generated in CPU 0.0128, elapsed 0.0909 seconds.
47 queries taking 0.0816 seconds, 279 records returned.
Powered by Minx 1.1.6c-pink.