June 11, 2010
F1 Practice: Canada 2010
It's no secret that Friday practice sessions aren't really very exciting. I watch them mostly to get myself refamiliarized with the layout of the circuit and how the cameras are placed, so I'll know where we are at any time during the broadcast ("Ah, there's that Allianz sign with the small tear, this is Turn 5"). But, by the Holy Shifter of St Fangio the Quick, was this a bloody
dull
practice! Seb Vettel had the fastest lap, followed by HWMNBN and Nico Rosberg, but McLaren's duo of Hamilton and Button could only manage 9th and 11th, respectively.
The biggest news out of the session was the track itself. Over the past two years, the organizers resurfaced the Circuit Gilles Villeneuve, with the result that it's
incredibly
slippery. Lewis Hamilton went so far as to say that it was like being on an ice rink. Of course, part of that is because the track is only used for a few race weekends a year. The other part is that it's been raining all week in Montreal, and whatever rubber that's been laid down on the surface has been washed away. The drivers are discovering that you have to allow three laps minimum to get the tires up to racing temperature when at some places, like Monza or Turkey, they're ready before your first lap is done. The Legendary Announce Team's new voice from the pits, Will Buxton, said that he saw a Toro Rosso come in after five or six laps and the tires still looked brand new.
Low heat equals low grip. Low downforce settings on the car (Canada is second only to Monza in the low downforce category) also equals low grip. Combined with a slippery surface, we saw a lot of cars wobbling all over the place. And don't think it's going to get any better as the weekend goes on. We're looking at rain both Saturday and Sunday. Sweepers, man your brooms, there's gonna be a lot of carbon fiber scattered around the Ile Notre Dame after the race.
Finally, I wanted to show y'all what I was talking about when I mentioned that the cars came awfully close to the Wall of Champions. How close?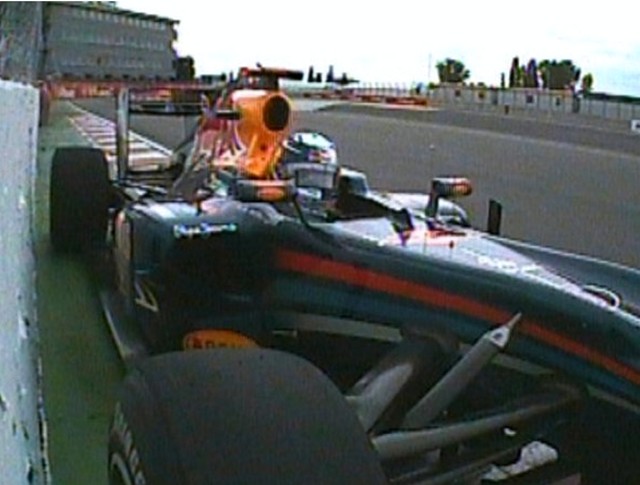 About that close.
For Montreal, that's a lot of run-off space, by the way. Most of the circuit is lined with walls, much like Monaco. There's about a foot of space between the edge of the track to the walls; if someone hits them, you get a ping-ponging effect that almost always guarantees a Safety Car. In fact, this is the place the Safety Car was invented.
Quals tomorrow afternoon via tape delay, thanks to ARCA and Craftsman Truck Series races. See you then!
Posted by: Wonderduck at 04:38 PM | Comments (5) | Add Comment
Post contains 458 words, total size 3 kb.
Posted by: Steven Den Beste at June 11, 2010 05:57 PM (+rSRq)
Posted by: Wonderduck at June 11, 2010 08:56 PM (iJfPN)
Posted by: Steven Den Beste at June 12, 2010 02:01 AM (+rSRq)
Posted by: David at June 12, 2010 01:20 PM (rlE2m)
Posted by: Wonderduck at June 12, 2010 02:43 PM (iJfPN)
Comments are disabled. Post is locked.
28kb generated in CPU 0.05, elapsed 0.2462 seconds.
47 queries taking 0.2161 seconds, 270 records returned.
Powered by Minx 1.1.6c-pink.