August 28, 2009
F1 Practice: Belgium 2009!
A beautifully sunny afternoon at Spa-Francopants for Friday's Second Practice session. Quite the change from the first practice session, where it poured down buckets. Ah, that lovely Spa weather... it's kinda like the weather we get here in the Midwest: don't like what you've got? Wait a few minutes, it'll change.
For those unfamiliar with the layout of Spa-Francophone, here's a quick lap around courtesy of Kimi Raikkonen and ITV, from 2007 or 2008:
Note the elevation map shown at the beginning...
There are rollercoasters with fewer dips and hills than Spa.

Second practice was fun to watch, simply because of the track. While nobody was particularly troubled, nobody seemed to have a firm handle on the beast either. Everybody save McLaren had loads of wing cranked off, so all the cars could be described as "squirrely". The McLarens, twitchy at the best of times, had so much wing dialed on that the Legendary Announce Team declared it "a barn door."
Well, everybody'll have farm implements on their cars tomorrow, as Lewis Hamilton had fast lap of the session, though only .016 seconds ahead of Timo Glockenspiel's Toyota. A win, a second place, and now this? Yup, McLaren's back.
Down at the other end of the timesheet, the Marc Gene watch continued as Luca Badoer was, again, embarrassingly slow, over two seconds behind Hamilton, and nearly a second behind 19th place. Further endearing himself to the other drivers and teams, his car shed a wheel spat early in the session, bringing out a red flag as the debris was sitting dead-center in Blanchemont. No, it wasn't his fault, but it still happened to Capitano Lento.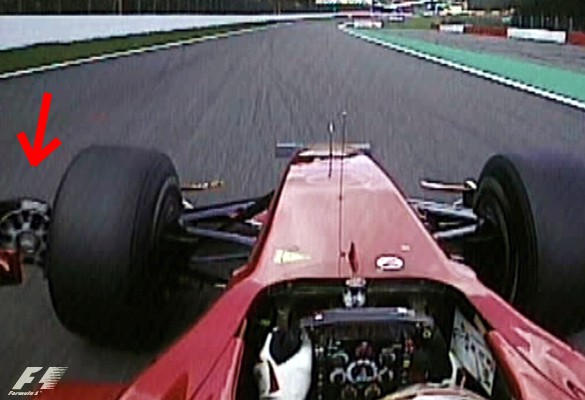 So, enjoy your Badoer while you can, because he probably won't be around much longer. Drivers rumored to be replacing him include the aforementioned Gene, Nico Hulkenberg aka the driver with the name most made for F1Update!, HWMNBN (with some weird contract finagling), and the dearly departed SeaBass, late of Toro Rosso.
Quals in the morning, with any luck! See you then.
Posted by: Wonderduck at 08:40 PM | Comments (1) | Add Comment
Post contains 342 words, total size 2 kb.
1
What's the weather forecast for the weekend?
Posted by: Steven Den Beste at August 28, 2009 11:45 PM (+rSRq)
Comments are disabled. Post is locked.
23kb generated in CPU 0.0098, elapsed 0.0614 seconds.
47 queries taking 0.0554 seconds, 277 records returned.
Powered by Minx 1.1.6c-pink.