April 20, 2012
F1 Practice 2: Bahrain 2012
Despite growing tensions and serious problems showing their ugly face, we have Formula 1 racing in Bahrain this weekend. And before you race, you practice... even though it's clear that most of the citizenry on that island nation don't want it, the teams don't want to be there, and the international community is unhappy about it.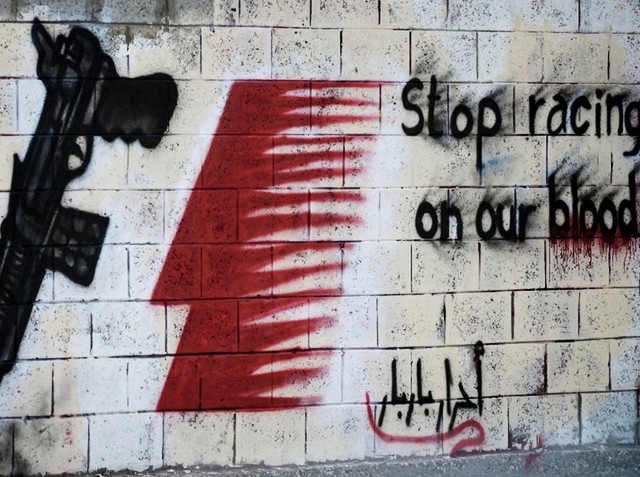 When you get graffiti that clever, you know there's a serious problem... or the art students are rioting, one of the two. In this case, there's a serious problem. The government has prevented journalists from Sky News, the AP, Agence France-Presse, CNN, and Reuters from entering the country to report on the unrest, while allowing sportswriters to cover the race. There was a 10000-person protest on Friday just north of the track. A protest group called "The Coalition of the Youth of the Feb 14 Revolution" has called for "three days of rage" during the F1 weekend. The police/security forces are out in force, and have a heavy presence at the Bahrain International Circuit.
On Wednesday, four Force India mechanics were caught up in a protest that turned into a violent clash with the police. The explosion of a molotail caught their van, though they were able to escape without damage or injury. Two of the mechanics subsequently decided they had had enough of the "Peaceful Kingdom of Bahrain" and have returned to England. During Friday's practice sessions, Force India decided they were best served by not running during P2 and getting back to the hotel... for "logistical reasons." If one were to read "logistical problems" as "security fears", you'd be closer to the mark. They'll be there for Quals and the race, but Nico Hulkenberg became the latest driver to come out and openly question why they're in Bahrain. "
We shouldn't have been put in this position. Whether it is right or not I don't really know. It's difficult to say. I am not a politician, I am a Formula 1 driver, but it should not really be happening should it?
" Ph.Duck points out that there's a huge political aspect here, as India and Bahrain are apparently long-time close allies.
Hacker group
Anonymous
promised to turn the official F1 website "into a smoking crater in cyberspace." Shortly thereafter, it was DDOS'd into oblivion for a few hours.
Bernie Ecclestone came out and showed his thoughtful, calm side when he said to the press "I think you guys want a story, and if there isn't a story you make it up as usual. Nothing changes. I can't call this race off. Nothing to do with us. The national sporting authority in this country can call the race off. You can ask the FIA if they can."
I'll admit to feeling sick about this race weekend. I won't be comfortable until it's completely over, the teams are on the planes back to England, and the sport has moved on towards Spain. Until then, I'll be worried for the safety of the drivers, mechanics, and team members. The nightmare, of course, is a protestor managing somehow to get a RPG close enough to take a shot, likely at a McLaren (which team is roughly half-owned by a Bahraini investment corporation). A molotail would also ruin someone's whole day as well. Hell, a thrown water bottle could kill a driver... one of the worst moments of the 2005 US Grand Prix fiasco was when a spectator, in a moment of anger, displayed an arm better than Nolan Ryan's and put a full water bottle within a few feet of Rubens Barrichello's Ferrari. So many things could go wrong that I barely want to
watch
this thing. *shakes head* F1U! will be here though, fingers crossed and hoping it all goes well.
Quals in the morning.
Posted by: Wonderduck at 08:55 PM | No Comments | Add Comment
Post contains 633 words, total size 4 kb.
Comments are disabled. Post is locked.
24kb generated in CPU 0.02, elapsed 0.1723 seconds.
45 queries taking 0.1521 seconds, 261 records returned.
Powered by Minx 1.1.6c-pink.