February 07, 2011
F1 Pr0n: Virgin MVR-02
It's time for the second of the "new" teams to debut their car! Ladies and gentlemen, the Virgin MVR-02: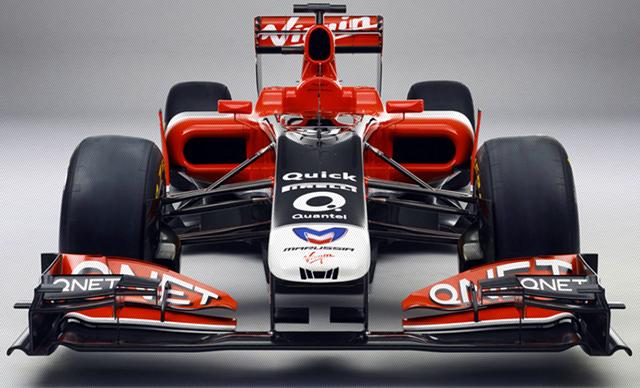 As with last year's car, this one was again designed and tested entirely in a computer, using Computational Fluid Dynamics (CFD) software. No wind tunnels for these guys, no sir. One could say that the CFD technique worked acceptably last year, though the team ended up dead last in the championship standings, behind even lowly HRT. To be fair, that wasn't so much the fault of the car design as it was the innards... it seemed like every race, one or both of the cars were breaking down due to a hydraulic failure or the gearbox turning itself into a wide selection of Neutrals. The chassis itself was fairly quick, all things considered. However, last year the body was built by Dallara and reminded me of another Dallara product, the IndyCar chassis. The needle-nose in particular stood out. Well, this year the team is doing the building on their own, and the nose immediately leaps out as being different. Much wider, though still lower than everybody else.
So the computers are suggesting that everybody else, with their high nose, is wrong. The rest of the chassis is pretty conventional. Nothing leaps out at you and says that Virgin is taking a risk here, though Nick Wirth, team technical director, says that they looked at using the Renault forward-facing exhaust. They decided not to use it, mostly due to the costs involved.

Y'know what? This might just be a generic F1 car. That's not a bad thing, by the way. "Generic" is a huge step up from "Dead Last" like last year. "Generic" is also a pretty solid strategy for a new team. If you make radical changes all over the place, you might never figure out which ones work... and which don't. Virgin is claiming that they'll be playing with the Toro Rossos and Saubers of the world this season... that'd be a heckuva improvement, and I wish them luck with that. That'd mean they'd be consistent point scorers in 2011, quite the leap in one year. It took Force India three years to get to that point, after all. Well, we'll see soon enough.
Posted by: Wonderduck at 08:00 PM | Comments (3) | Add Comment
Post contains 378 words, total size 2 kb.
1
To my unpracticed eye, the side air scoops look small.
Posted by: Steven Den Beste at February 08, 2011 01:59 AM (+rSRq)
2
Wow, it certainly is eye-catching. Love the color, too.
Posted by: Mallory at February 08, 2011 01:28 PM (WJ2qy)
3
CFD = Complete Fucking Disaster
Posted by: Thomas at February 09, 2011 10:40 AM (oTjSt)
Comments are disabled. Post is locked.
23kb generated in CPU 0.03, elapsed 0.1208 seconds.
53 queries taking 0.099 seconds, 272 records returned.
Powered by Minx 1.1.6c-pink.