March 24, 2017
F1 Pr0n: The Cars 2017
After the
debacle
learning experience that was my last attempt at this post, I gave it another shot last night. After about 20-25 minutes of work, my internet connection went out. In this case, however, it wasn't my provider's fault. Instead, it was like my ethernet card forgot how to ethernet. I wound up having to create a new network altogether, which wound up being deathly slow because it didn't understand the concept of IPv6. After exchanging a series of text messages with Ben,
the lovely and talented proprietor of

Midnight Tease
, who
happens to be the inventor of the cable modem
can create networks with the power of his mind
understands Windows networking, everything... just started working again. Unfortunately, by then it was stupidly late and I still had to work the next morning. Which is why this F1 Pr0n post is happening just a few hours before qualifying for the first race of the season. I'm half expecting a meteorite to hit my monitor while I'm working on this post now.
So. The cars. Sure, we talk about the drivers, the tracks, the glamour and glitz, but the real reason we watch Formula 1 is the cars. There were a bunch of changes in the tech regs for 2017... the cars are wider, as are the tires. The rear wing is wider
and
lower. The dorsal fin has returned, as have aerodynamic fiddlybits. And the upshot of all of this is that the preseason pundits prognosticate the cars will be a full five seconds per lap faster than they were in 2016. What does this mean? Well, Lewis Hamilton's 1:24.220 fast lap in Practice 1 compares quite nicely to Australia's lap record of 1:24.125 set in 2004. By a car with a V10 engine that rev'd up to 19000 rpm,
which sounds something like this
. Oh, and the 2004 cars are generally considered to be the fastest ever. So, guess the new tech regs worked! Wanna see the results?
Mercedes W08
Remember when I said that the dorsal fin was back? How better to demonstrate that than with a car that... doesn't have one. *sigh* However, the new Mercedes
does
have a mini-wing in front of the rear wing, that counts for something, right? You can see the new aero pieces there on the side, where the letters "AS" are, and forward.
For the record, there are no other cars running a tiny dorsal fin/mini-wing combination, just Merc. Which makes you wonder who's right... the rest of the grid, or Mercedes? Since they're the reigning world champions, its kinda hard to bet against them on this...
Force India VJM10
All right, let's get this out of the way now: yes, it's pink. Sponsor BWT coughed up the cash, and Force
Pepto
India, never overly afflicted with money even when team owner Vijay Mallaya wasn't being hunted by Indian officials for... I dunno,
nonrepayment of loans
, I guess?... jumped at the chance. McLaren's new boss was asked how much it take to make their cars pink, and his response was "More than Force India got." The fiddlybits around the cockpit are smaller and fewer than on the Mercedes, and the VJM10's dorsal wing is, essentially, the base model.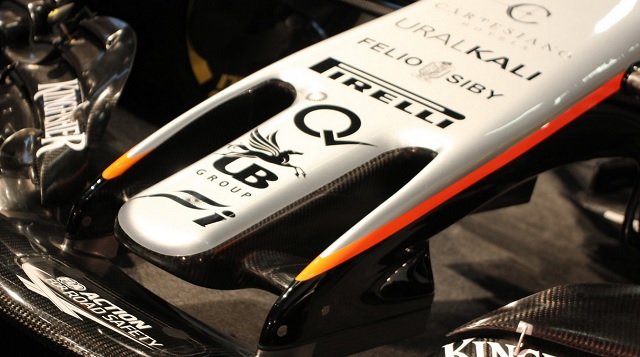 One thing worth noting is the car's nose... I can only assume that the little tunnels created by this fork design spit cleaner air back to the underside of the chassis. It's an interesting idea, one not being echoed by anybody else. Again, take that for what it's worth.
Ferrari SF70
It's hard to see, but there's a tiny t-wing at the end of the dorsal. The fin is shorter than the Force India's, but nicely swooshed under the t-wing. This picture gives you a good idea of how low the rear wing is now. Not much in the way of aero doohickies, and what there is seems like just one piece. Hasn't anybody at Ferrari noticed that their livery is starting to look like a NASCAR racer, what with all the sponsor stickers and all?
Haas VF17
Now this is what a F1 car should look like, all raked and swept back and... the VF17 just
looks
fast. Certainly it looks faster than the Ferrari, from whom HaasF1 has some tech sharing.

You can't see it in either picture, but there's a Ferrari-style t-wing on the dorsal fin. In fact,the team was ordered to remove it during one of the practice sessions; it was making the fin shake something fierce. Interesting to compare the aero fiddlybits on this, only the second iteration of the Haas designs, to the Mercedes W08. HaasF1's stated goals are more points this season. If looks had anything to do with it, they'd be in the running for the championship.
Scuderia Toro Rosso STR12
Wait, I've got a great idea! Let's have the livery of one Red Bull F1 teams
look like a can of Red Bull
! Truly, they are marketing geeeeniuses over there in Austria. One thing STR has always managed to do is have a tidy-looking chassis, and reportedly the STR12 was drawing much attention from the other teams during preseason testing. Now that they've got the new-spec Renault power-unit in the back, instead of the 2015 Ferrari they ran last year, they may start to put up good showings... finally.
Red Bull RB13
It looks simple. Plain, almost. But the Red Bull chassis have proven to be the cream of the crop, aero-wise, year after year. The new tech regs appear to have been written for Red Bull's pleasure, that's for sure. They've got to do better than two wins in 2017. That matte finish is awfully sweet-looking.
While we're here, let's go side-by-side for a comparison between the old cars and the new. You can definitely see the wider, more aggressive, look from the 2017. The wider tires are obvious here, too. Of the two, I know which one I prefer... here's a hint: it isn't 2016.
McLaren MCL32
All around the world, F1 geeks saw the return of McLaren Orange as A Good Thing and made
all sorts of excited noises
. Me, I was pleased, but I wish they had gone all orange like in the past.
If you're gonna do it,

do it
. From all reports, the basic feeling is that nobody quite knows how the MCL32 is going to run. Testing was a failure because the Honda power-unit was cranky, so the team never got the sort of data they needed to fine-tune the car.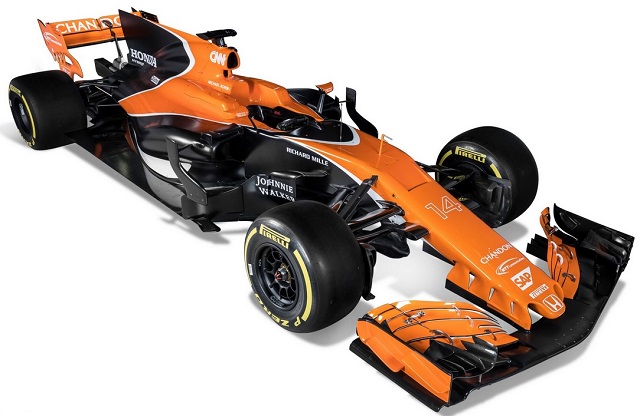 One feature that I neglected to mention earlier is that the front wing is now raked; you can see that very clearly here. You can also see just how close to pure sculpture a F1 car really is when you look at the nose assembly. Man, that's pretty.

Williams FW40
This was actually the first car to debut, and as it turns out, it was a pretty good baseline to see what the rest would look like. Can't say I'm a fan of the way the dorsal fin just chops off, though. I'm sure Williams is concerned about my opinion.
Renault Sport RS17
The back half is pure Batmobile. I'm not sure what the front is. The aero fiddlybits stand out quite nicely here. I've been looking at this picture for a while now, and I'm not at all sure it isn't a render.
Sauber C36

On one hand, it's a beautifully clean look. Of course, it's clean because they don't have any major sponsors and are desperately in need of money. It's depressing to think that this last tie to the old privateer days will probably end up in last place. But it'll happen in
style
. Too bad Peter Sauber isn't still involved on a day-to-day basis, because then it'd happen in
class
, too.
So there you have it: the 2017 cars. The new season is only hours away...
Posted by: Wonderduck at 11:59 PM | Comments (1) | Add Comment
Post contains 1321 words, total size 10 kb.
1
GotDAMN that Haas is pretty. The fins seem to be a mixed bag overall, and the idea that there might be a vibration (harmonic resonance?) issue is a bit worrying.
Still, here's hoping for good competition this season.
Posted by: GreyDuck at March 25, 2017 09:24 AM (rKFiU)
33kb generated in CPU 0.03, elapsed 0.2171 seconds.
49 queries taking 0.1879 seconds, 261 records returned.
Powered by Minx 1.1.6c-pink.