February 07, 2012
F1 Pr0n: Red Bull RB8
While the boys from Milton Keynes debuted their 2012 challenger yesterday, it wasn't much of a much. Instead of actually showing the car in any way, they released a couple of renders and a crappy video. However, with today being the start of Winter Testing in Jerez, Spain, we got to REALLY see the RB8 for the first time today. Or, at least, we did once it finally took to the track some four hours late. Seems the delivery of some important part of the car was delayed by fog at the airport. Whoopsie.
Well,
that's
different. Red Bull's solution to the platypus nose is to hollow it out... which makes sense, once you think about it. That vent is certainly being used to cool the driver, the electronics, or both. It probably does away with a lot of the drag caused by the stairstep, too... or at least removes much of the disturbed airflow from where it'd do the most damage, aerodynamically. The sidepod inlets are smaller in comparison to
last year's runaway winner
, though not dramatically so.
In fact, there aren't all that many changes from the RB7 (above, bottom). I mean, beyond the obvious platypus nose. The airbox cover doesn't have the thin fin any longer and the verticals on the rear wing are now square with dangling "fingers", as opposed to the curved cut of last year's car. The sidepods don't look as high, but they also don't seem to slope down as far. So, not many obvious changes, but that shouldn't be a surprise... I mean, it's not like the RB7 wasn't the best car around in 2011 or anything. As I mentioned last year, any changes are probably under the skin.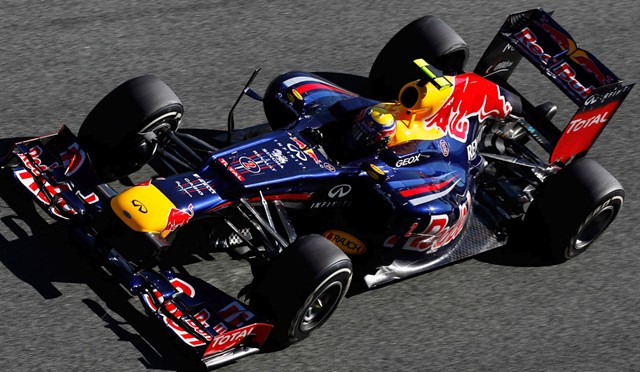 After looking at the slot in the nose, I think we've finally figured out where Mark Webber and Seb Vettel have to slide their timecards. That nose might just be the worst of the bunch... what is it that it reminds me of? Oh... oh yeah, I've got it.

Posted by: Wonderduck at 08:17 PM | Comments (2) | Add Comment
Post contains 341 words, total size 2 kb.
1
And these days it seems as if their exhaust systems are also as baroque as the one on Akagi.
Posted by: Steven Den Beste at February 07, 2012 08:24 PM (+rSRq)
Posted by: Wonderduck at February 07, 2012 10:22 PM (ZNgWw)
Comments are disabled. Post is locked.
23kb generated in CPU 0.02, elapsed 0.1071 seconds.
53 queries taking 0.0895 seconds, 271 records returned.
Powered by Minx 1.1.6c-pink.