February 08, 2011
F1 Pr0n: miniMegaPr0n 2011
Two teams debuted their challengers today, and since neither of them were kind enough to provide me with the usual low-nose-side-front-quarter views of their steeds, I've decided to lump them both together in a sort of miniMegaPr0n. So without further ado, let's take a look at the 2011 Force India!
Sort of a big, chunky kinda nose on this one. Ferrari-style sidepod inlets, Lotus-style split intake above the driver's seat, Red Bull-style high nose, McLaren-style flat forward section... it's a Frankencar!

I kid, of course. I'm sure nothing here is copied from other designs, it's just the way F1 cars look these days. Is it just me, or is the very front of the underside of the nose... hollow? Covered with a smoked-glass-like thing? Like a sensor pod on a jet plane or something? It's hard to tell, but it'd make for some hellacious camera shots if that's what's going on there! Force India is talking seriously about contesting for fifth place in the constructor's championship in 2011. If that happens, that'd be a huge step for the fourth-year team that's shown occasional flashes of brilliance. For it to occur, Vijay Mallya will have to pour a lot of cash into the team over the course of the whole season. If you remember, Force India started out quite strongly, but as the bigger teams developed their cars, they couldn't keep pace. It'd be cool if they could... I'd love to have a team to root for again. Also in passing it turns out that FI has decided on their driver lineup for 2011 but forgot to make a formal announcement: Adrian
F'n
Sutil and rookie Paul di Resta, with Nico Hulkenberg as reserve driver (for now). Di Resta, a Scotsman, was the team's reserve driver last year and won the DTM championship as well. So yeah, he's got that going for him, which is nice.
Onto last year's winner of the ugliest car of the year award, HRT!
HOT DAMN! Now
that's
what a race car should look like! Except for all the begging for sponsorships going on that is... "Your Logo Here"? "This Could Be You"? "This Is A Cool Spot"? Guys, I understand how desperate you are for cash, but geez.... To be honest though, the checkered flag really should be replaced with a blue flag... truth in advertising, y'know? Helluva nose on the HRT F111... actually, come to think of it, didn't the
F-111 Aardvark
have a droopy nose, too? Throw in the movable (rear) wing, and I'm more and more amused by the comparison. I wonder if it can do a dump-and-burn?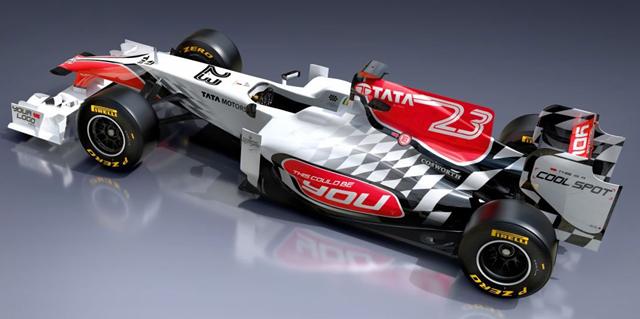 Darn it, I really want to see a nose-on picture of this beast now. It'll be taking the track at the third test session in a few weeks, hopefully we'll get some good pics then, as opposed to these, which I'm almost positive are really good computer renderings. I wonder what their cost schedule is for some of those sponsorship locations? I might have to put up a tip jar, see about getting a rubber duckie on the car for a race. Now that'd make it the single coolest livery of all time! Still no idea who their second driver is going to be... "This could be you" takes on a whole different meaning all of a sudden.
Posted by: Wonderduck at 08:30 PM | Comments (4) | Add Comment
Post contains 558 words, total size 4 kb.
Posted by: Steven Den Beste at February 09, 2011 10:06 AM (+rSRq)
Posted by: Avatar_exADV at February 09, 2011 02:17 PM (mRjOr)
Posted by: Mallory at February 09, 2011 02:26 PM (WJ2qy)
Posted by: Wonderduck at February 09, 2011 10:54 PM (W8Men)
Comments are disabled. Post is locked.
25kb generated in CPU 0.0119, elapsed 0.2927 seconds.
47 queries taking 0.2852 seconds, 280 records returned.
Powered by Minx 1.1.6c-pink.