February 01, 2010
F1 Pr0n: Mercedes MGP-W01
Mercedes brought out their 2010 steed today, and it's pretty clear why they didn't want to roll their car out first. It's got some interesting things in it, things that we haven't seen before!
No glamour pics, I'm afraid. Reportedly, this chassis has been worked on (as the Brawn BGP-02) since the 2009 "summer break", so they've already filed off the rough edges. It's a high nose (though not as high as some), with a serious nod to last year's Red Bull RB5 in that it copies the "V-nose" concept. You'll note the raised edges, which in the MGP-W01 run all the way back to the cockpit. The sidepod openings are huge in comparison to those in the McLaren or Ferrari. The really innovative bit, however, is the air intake above the driver's head. The structure serves two purposes on a F1 car: it gets air to the engine (ergo the name) and it acts as a roll bar to protect the driver in case the car ends up upside down. In the past, the entire thing has been protective, built up out of carbon fiber to meet the required strength. In the Mercedes, however, there is a thick vertical support on the centerline of the airbox that serves the same purpose. The inlet is, in effect, split into two and is considerably larger as a result.
The dorsal fin is a blend of both the Ferrari and the McLaren. It's short, like the Ferrari, but it's as sharp as the McLaren. Seen from this angle, one notes the serious droop to the nose. The sidepods look quite bulky. Note the complete absence of bodywork around the rear suspension.
It all looks rather sparse from this angle, and the knife-edge fin is clear. The lack of bodywork around the back is obvious here.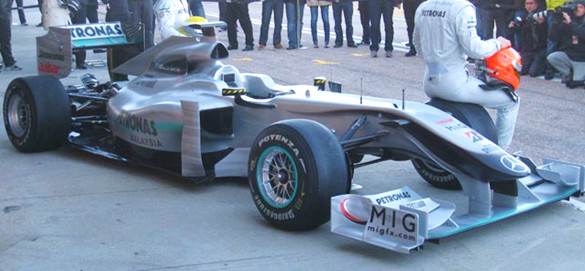 It's an interesting design, quite different in comparison to the others. Almost blocky, though it's hard to call anything as sculpted as a F1 car "blocky." One gets the feeling that the aero team has been sweating blood for the past eight months on this one.
Posted by: Wonderduck at 09:44 PM | Comments (1) | Add Comment
Post contains 353 words, total size 2 kb.
1
No cookie cutter cars this season. Great look on the Mercedes.
Posted by: Mallory at February 01, 2010 10:54 PM (WJ2qy)
Comments are disabled. Post is locked.
19kb generated in CPU 0.02, elapsed 0.087 seconds.
53 queries taking 0.0687 seconds, 218 records returned.
Powered by Minx 1.1.6c-pink.