February 01, 2012
F1 Pr0n: McLaren MP4-27
McLaren has always seemed to have been of two minds when it comes to their F1 cars. Either they're a little boring or they're completely goofball. Last year's MP4-26 went full goofball, what with the L-shaped air intakes on the sidepods and all. For 2012, it looks like the team from Woking has gone button-down collar and pocket protector on us. Ladies and gentlemen, the MP4-27.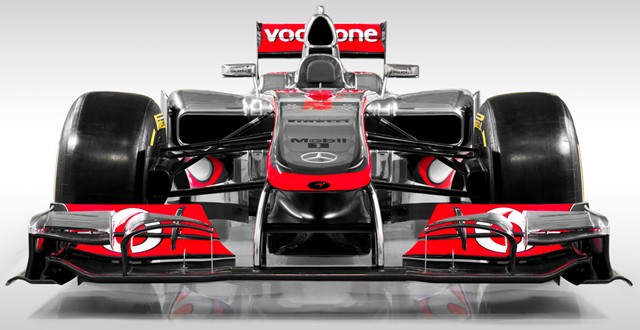 The first thing that leaps out at you is... the more or less normal looking nose. As we'll see in the next picture, all is not as it appears, though in comparison to the
Lotus
Caterham, it's boring. The air intakes on the sidepods are back to something a little more staid than last year, though they are somewhat... elongated. The section directly under the nose is a little busier than
last year
.
As with the Caterham before it, the MP4-27 has teeny sculpted sidepods, clearly to steer more air towards the back. As mentioned earlier, the nose doesn't have the stonking great stepdown like the CT01, but it does rather plummet. It's a graceful plummet, but compare it to the MP4-26, and you'll see the difference:
The rear wing of the new car also has... fingers at the bottom of the rear wing assembly. These started to appear on the cars last season, and I'm sure there's something good aerodynamically involved with them, but I'll be switched if I can figure out what it is. I'm not the big brain though, as anybody who's read The Pond could attest to.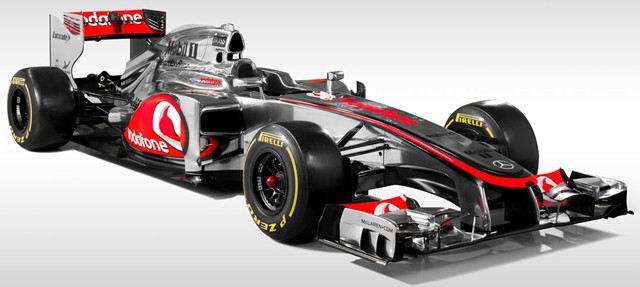 No matter how fast the MP4-27 goes, there is one thing you can say about it: it sure is purty. I think they need to go back to the silver rims though. The black just doesn't work.
Now for the best thing of them all: the annual McLaren centerfold! Just click "more" for some sweet sweet Glare On Wheels action, sans staples!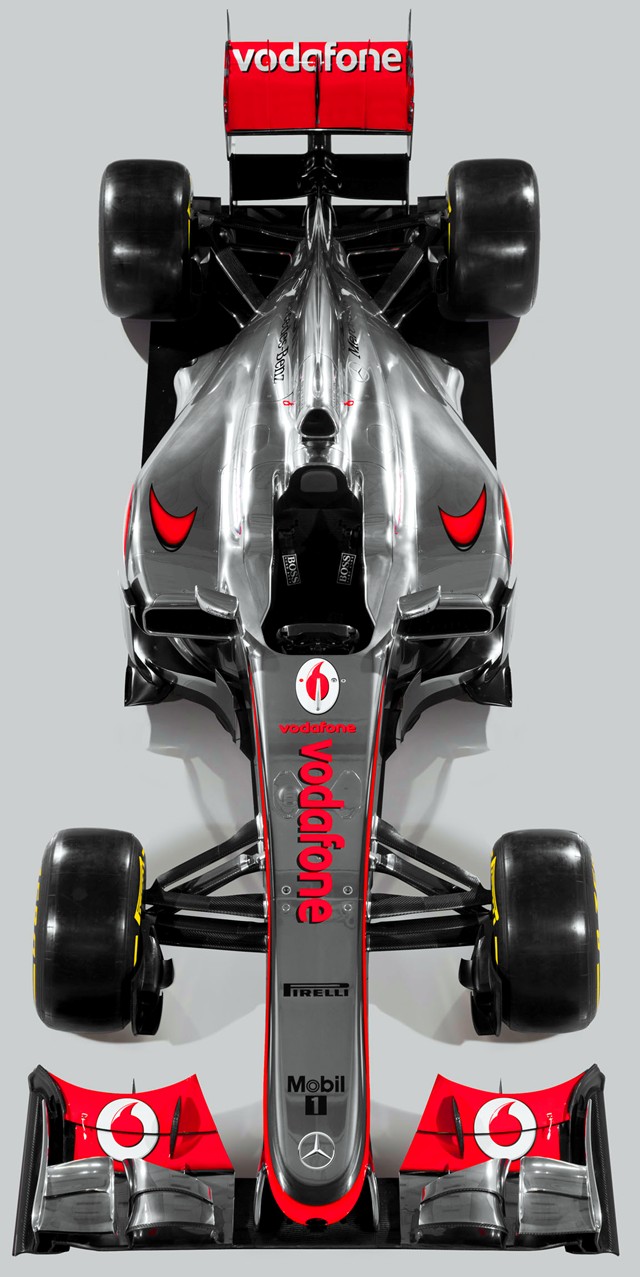 Aw yeah. Bow-chicka-bow-wowwwwwww!
Posted by: Wonderduck at 08:36 PM | Comments (5) | Add Comment
Post contains 326 words, total size 2 kb.
Posted by: Steven Den Beste at February 01, 2012 09:14 PM (+rSRq)
Posted by: Steven Den Beste at February 01, 2012 09:16 PM (+rSRq)
Posted by: Wonderduck at February 01, 2012 09:53 PM (DxepM)
Posted by: flatdarkmars at February 02, 2012 01:52 AM (I55Es)
Posted by: David at February 02, 2012 02:14 PM (+yn5x)
Comments are disabled. Post is locked.
25kb generated in CPU 0.0197, elapsed 0.5396 seconds.
47 queries taking 0.5298 seconds, 281 records returned.
Powered by Minx 1.1.6c-pink.