February 03, 2011
F1 Pr0n: Lotus T128
The chassis I've most been looking forward to hit the track for the first time on Wednesday, and again today. Let's take a look at the new car from Lotus: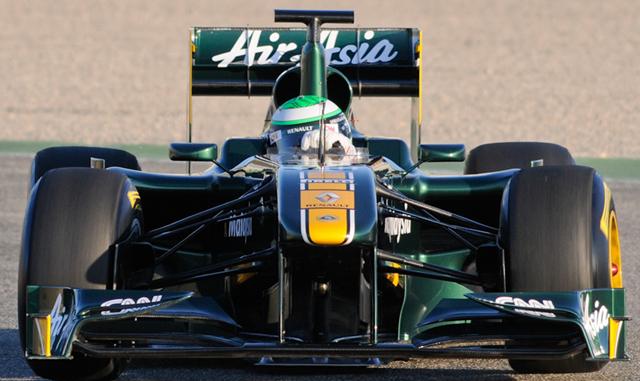 Last year, the T127 was very much a throwback car, all slab-sides and table-flat. None of the aerodynamic swoops and curves we've come to expect from a F1 car there! Now, however, they seem to have jumped right into something more like the old teams. The big surprise is the air intake over the driver's head... they're using a split inlet, like the one Mercedes started 2010 with. I'm unsure as to what the advantage of using such a thing is, while there is at least one known disadvantage, namely unsettled and unbalanced airflow in a turn. When the car turns, the side opposite the direction of the turn gets less air, and in some cases airflow may be blocked altogether. Perhaps the Lotus engineers don't think this is a problem, or the lessened drag caused by a blanketed air duct balances the reduced airflow, or the whole problem is overblown in the first place. Still, Mercedes dropped it fairly quickly.
Lower nose than most of the other cars this season, though it's a sharp dropoff. The body surely isn't as slab-sided as it was last year, though it still seems less swoopy in the sidepod area. I suspect the biggest improvement to the car will not be in the aerodynamics, but in the Renault engines they'll be running for 2011. No knock on Cosworth, they did a great job last year, but the Renault is a definite step up, and will probably be enough on its own to keep Lotus as the best of the new teams. Will it be enough to let them play with the established teams? Well, if any of the newbies are going to, it'll be these guys. I'm sure they're aiming for points this year.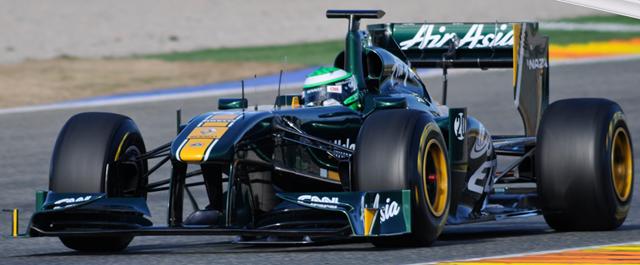 According to the team, the T128 has been designed up from scratch, using none of last year's car as a basis. It certainly looks more modern, but I wonder if that's a good way to go. The good teams got that way by building on the experiences of their previous seasons, for the most part keeping the good parts of the older designs and improving the not-so-good parts. Evolution, in other words, not revolution. To be sure, evolving a bad car isn't exactly an easy thing to do, but at least they'd have some running data to work off of. If this one was indeed begun from scratch, they'll be back at square one again. Guess we'll see... they get paid a lot more than I do to do this stuff, so they must have a better handle on it, right?
Posted by: Wonderduck at 10:47 PM | Comments (1) | Add Comment
Post contains 466 words, total size 3 kb.
1
Beautiful car.
Aren't those the Green Bay Packers colors? Sorry, in a Super Bowl frame of mind. ;-)
Posted by: Mallory at February 05, 2011 02:43 PM (WJ2qy)
Comments are disabled. Post is locked.
20kb generated in CPU 0.03, elapsed 0.1246 seconds.
53 queries taking 0.1095 seconds, 218 records returned.
Powered by Minx 1.1.6c-pink.