February 22, 2016
F1 Pr0n: Haas VF-16
If you're a fan of Formula 1 coverage here at The Pond, you have this car to thank for 2016. To be blunt, I was leaning towards giving up on writing about F1 unless something important occurred... but then Haas F1 Team joined the grid. Why does that matter? Because they're an American team, based in Kannapolis, NC, with a "forward base" in Banbury, England for the European leg of the season. Yes, I'm rooting for the team on strictly nationalistic grounds, and that's what is keeping me interested in F1 this year.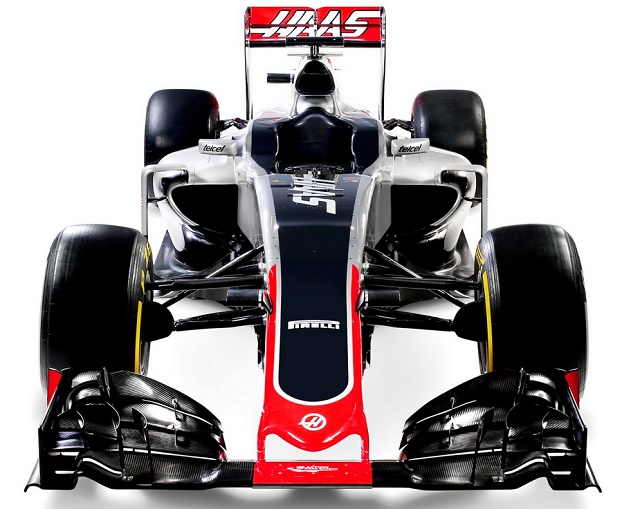 The livery is based on that used by "parent company" (i.e., both are owned by Gene Haas)
Haas Automation's machine tools
. Indeed, the car's "VF" designation comes from them, too. The first machine design they sold was called the VF-1, short for "Very First". As an aside, the Navy fighter squadron VF-16 flew off the second USS
Lexington
(CV-16) and were known as "The Fighting Airedales."
The overall design is reminiscent of both the 2015 Ferrari SF-15T and the SF-16H. This should come as no surprise to anybody, since the two teams have a very close technical partnership. Not only is Haas using the 2016 Ferrari powerplant, they also purchased as much as the tech regs allowed from the Italian team. Thus the suspension and gearbox, as well as incidental parts (like brake ducts) are also Ferrari-made. The rest of the design is all Haas, however, and was produced by Dallara for the team.
There's an interesting wrinkle on the nose just behind the suspension mounts. The general school of thought at the moment is that its for some aspect of the suspension, but nobody knows for sure. The tip of the nose is more Mercedes than Ferrari, as it has no proboscis. Obviously there's no way to compare the design with prior Haas cars, but it can be said that it's not quite as refined as, say, the Ferrari bodywork. The sidepods are a little larger, the rear of the car is not as tightly packaged, that sort of thing, but you'd expect that from a first-year design. You don't take as many risks on your initial go-round.
Haas F1 wants points in its initial season. Normally I'd think that was impossible, but for Haas, maybe not. Unlimited windtunnel testing for the past year, plus the partnership with Ferrari, has presented the team with unprecedented advantages over prior new teams like HRT or Virgin. Let's see if they have taken full advantage... testing starts on Monday!
Posted by: Wonderduck at 12:41 AM | Comments (9) | Add Comment
Post contains 424 words, total size 3 kb.
Posted by: Steven Den Beste at February 22, 2016 01:20 AM (+rSRq)
Posted by: Wonderduck at February 22, 2016 08:26 AM (KiM/Y)
Posted by: Ben at February 22, 2016 09:00 AM (DRaH+)
Posted by: Ben at February 22, 2016 12:37 PM (LO5Qy)
Posted by: Steven Den Beste at February 22, 2016 03:06 PM (+rSRq)
Posted by: Wonderduck at February 22, 2016 06:52 PM (KiM/Y)
Posted by: Ben at February 22, 2016 07:18 PM (DRaH+)
Posted by: flatdarkmars at February 22, 2016 08:02 PM (Ykyrg)
Posted by: Pete Zaitcev at February 22, 2016 11:41 PM (XOPVE)
30kb generated in CPU 0.0273, elapsed 0.1247 seconds.
49 queries taking 0.1049 seconds, 287 records returned.
Powered by Minx 1.1.6c-pink.