February 03, 2012
F1 Pr0n: Force India VJM05
We've had two rollouts to date, and the score is one normal nose (MP4-27), one platypus nose (CT01). The question is, which way would Force India's fifth design, the VJM05, go?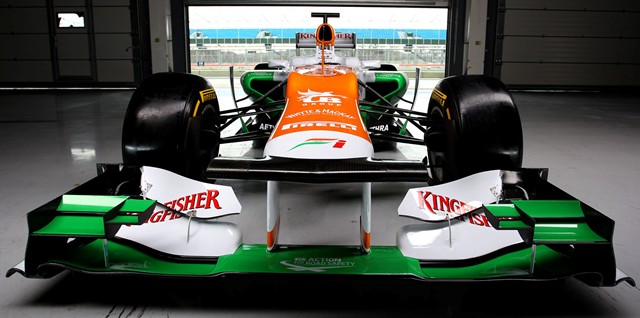 Platypus. Definitely platypus. The people who know these things say that Force India used the same wing for two years, with the team issuing upgrades and developments at various points over those seasons. It appears that the VJM05 is rockin' a new, more complex, front wing that some suggest will be flexi-bendy, like the Red Bull's. If they can pull
that
off, it'll be a major coup. Remember, Ferrari couldn't make it work, ending up with something that flapped like a hummingbird's wing. This had a rather unfortunate effect on the structural stability of the car.
The sidepods are longer than the McLaren's, but seem to have a bigger undercut to them. Other than that, the chassis seems to be fairly conventional. Smooth airbox.
The platypus nose looks hideous in this picture. Unlike the CT01, this one has a rounded nose, again similar in appearance to the Red Bull designs. Though we can't see it in these shots, I gather that the underside of the nose is also rounded, better to shed air in the direction of the underside of the car and increasing the downforce. The, for lack of a better term, "barge boards" just to the outside of the sidepods seem much more prominent than they do on the other two chassis that have been rolled out thus far. I'm sure they're perfectly legal, but I'll be switched if I like 'em. The nicest rule change in the past five years was the one that got rid of the proliferation of such things; these bring back unpleasant memories.
I suspect this is a make-or-break season for Vijay Mallya's team. It's been five years without a win, only one podium and just one pole, both of which look like flukes. There are reports that Mallya's financial empire is showing cracks; Kingfisher Airlines paid their salaried employees late four months running, for example. If this is truly the case, one could reasonably assume that F1 would prove to be something totally disposable... unless good things start happening in a hurry. We'll see how the VJM05 does down the road!
Ferrari's rollout will be covered tonight.
Posted by: Wonderduck at 09:24 AM | No Comments | Add Comment
Post contains 391 words, total size 3 kb.
Comments are disabled. Post is locked.
20kb generated in CPU 0.03, elapsed 0.0874 seconds.
51 queries taking 0.0711 seconds, 216 records returned.
Powered by Minx 1.1.6c-pink.