February 09, 2010
F1 Pr0n: Force India VJM-03
Force India was my choice for "most improved" team last year, so I've been eagerly awaiting their 2010 charger. Would they make radical changes? Gently evolve? Leave the car be?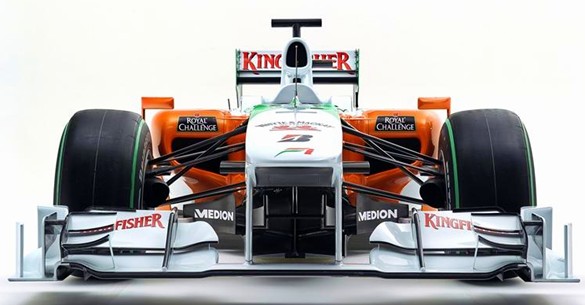 The answer turns out to be "evolve." Nothing shocking here; the only real changes are those prescribed by the rule book.
Gentle slope to the sidepod, a high, almost straight nose, interesting hole under the air intake (look below the T-camera mount) that I don't think we've seen before. The dorsal fin is different from that of everybody else, with that big cutout. Wonder how that'll work... seems like it'd cause some confused air right in front of the rear wing, but I'm hardly an aerodynamics genius.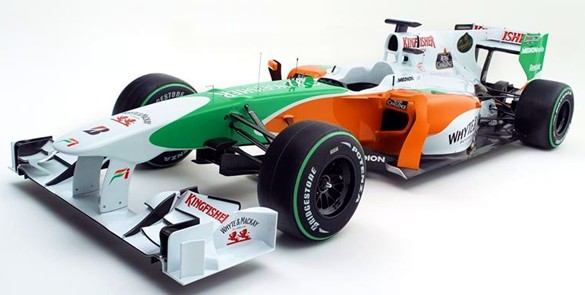 The thing that makes me go "hmm" and wonder if they're onto something here, though, is right beneath the nose-mounted camera. Black, looks like an I-beam, directly under the front suspension. It isn't part of the barge board, nor is it the brake cooling duct. Obviously it's there to channel airflow, but why? It doesn't seem like it'd be doing anything in that location, really, other than direct air around the outside of the "snowplow" undertray. Potentially interesting stuff, particularly if it really
does
do something worthwhile.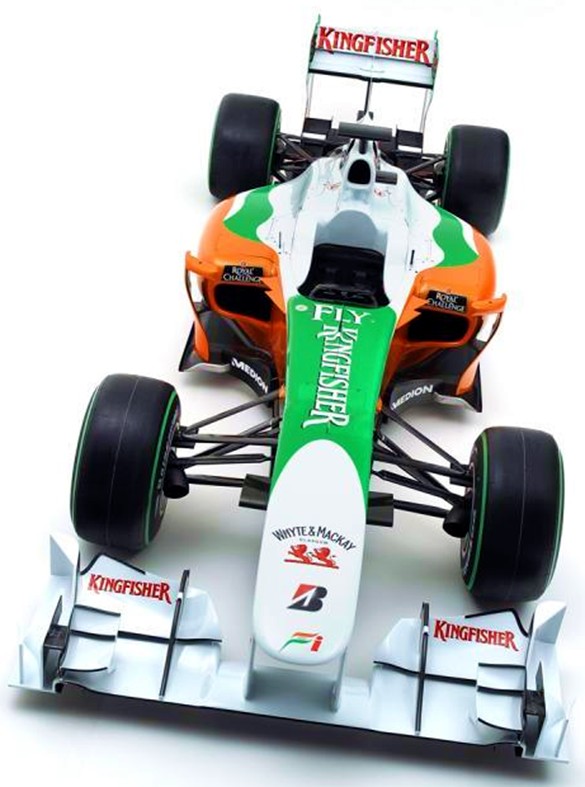 Seen worse looking cars.
Posted by: Wonderduck at 08:10 PM | Comments (6) | Add Comment
Post contains 213 words, total size 2 kb.
Posted by: Steven Den Beste at February 09, 2010 08:37 PM (+rSRq)
Posted by: Wonderduck at February 09, 2010 09:32 PM (G8/ak)
Posted by: Pete Zaitcev at February 10, 2010 12:25 AM (/ppBw)
Posted by: Wonderduck at February 10, 2010 07:12 AM (G8/ak)
Posted by: Mallory at February 10, 2010 09:11 AM (WJ2qy)
Posted by: le-reve at February 12, 2010 08:41 AM (Y8guG)
Comments are disabled. Post is locked.
24kb generated in CPU 0.0212, elapsed 0.6599 seconds.
47 queries taking 0.653 seconds, 282 records returned.
Powered by Minx 1.1.6c-pink.