November 19, 2008
F1 Pr0n: Barcelona Testing!
So while the season is done, F1 never really rests. The past three days have seen the teams congregate in Barcelona, Spain, for the first round of Winter Testing. Partially this is so the teams can work out prospective new drivers, like Bruno Senna and...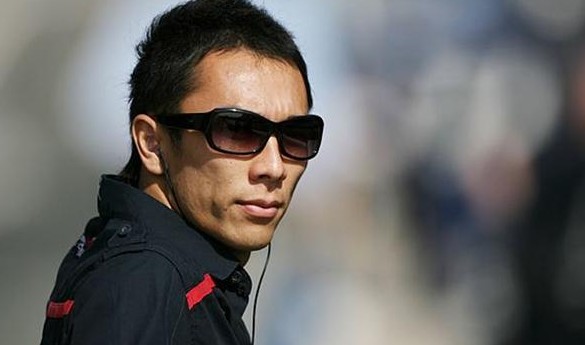 ...I'm sorry, I can't restrain myself. SUPERSATO!!!!!11!eleventy1111! He's up for a seat with Toro Rosso, one of three going for two drives,
and the only one with F1 experience
. If there's any justice in the world, he'll be back in 2009.
But that's not the IMPORTANT news coming out of Barcelona. Y'see, here's what F1 cars look like now: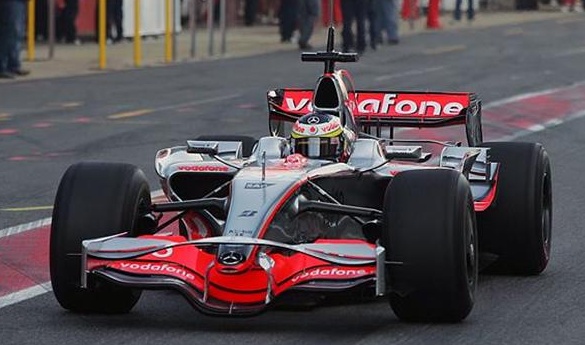 McLaren's MP4-23
Yeah, we've seen it a gazillion times, right? Well, things are gonna change a little bit in 2009, and BMW brought their version of the new car out...



BMW's "Interim" 2009 car

See what happens when the FIA changes a few rules? No aerodynamic fiddlybits. Rear wing has to shrink. Front wing can't be wavy. That rear wing just looks... weird.
Note the slick tires on the 2008 Renault. That's another change to the rules; no more grooved wheels, it's all smooooooth. More rubber on the road means more traction, particularly at low speeds.

BMW's "Interim" 2009 car again

Yeah, big difference on that front wing. Interesting that the interim version of the nose has guy wires on it!
You really want to see the effect of the new aerodynamic rules? Here's the 2008 Renault again:
I chose the Renault intentionally, as it always seemed to be sprouting another set of tiny winglets every week. I count at least five sets, not including the front and rear wings. Now here's the BMW:
Let's see... I count... NONE. It's a nice, clean appearance that just looks really good. I can't get used to the nose/rear wings, though. They just look
wrong
.
There'll be more changes, of course. But until the real cars roll out in January, let's just enjoy these, shall we?
~TAKU~!
Posted by: Wonderduck at 11:26 PM | Comments (6) | Add Comment
Post contains 334 words, total size 3 kb.
1
Seeing slicks is the strangest thing of all for me. While that'll make for a faster race on dry, it'll also mean that if there's
any
wet at all, there'll be lots and lots of accidents.
Posted by: Steven Den Beste at November 20, 2008 01:37 AM (+rSRq)
2
I agree. Those front and rear wings look weird. Maybe if they find a different way to attach them they'll look better.
And a big YAY! for Sato!
Posted by: Mallory at November 20, 2008 07:52 AM (3sife)
3
What happened to Webber? Did someone else hire him away?
Posted by: Steven Den Beste at November 20, 2008 11:56 AM (+rSRq)
4
No, Webbo is still with Red Bull. He'll be teaming with Driver of the Year candidate Sebastian Vettel, who'll be replacing David Coulthard's Chin.
SeaBass is fighting with TAKU~! and Sebastien Buemi for the two Toro Rosso seats... and what is it with Toro Rosso and drivers named 'Sebastien/Sebastian' anyway?
Having typed that, I realized I made an oops up in the text. Duh.
Posted by: Wonderduck at November 20, 2008 03:51 PM (hplPV)
5
Then that's how I got confused: "Toro Rosso" isn't the same team as "Red Bull".
Posted by: Steven Den Beste at November 20, 2008 04:05 PM (+rSRq)
6
Correct. They're both owned by Dieter Materschitz, the 'creator' of Red Bull energy drinks, though, and are essentially the "A" team (Red Bull) and "B" team. The junior team has had a lot more success than the big team, however, which I find amusing.
Posted by: Wonderduck at November 20, 2008 06:29 PM (hplPV)
Comments are disabled. Post is locked.
25kb generated in CPU 0.03, elapsed 0.1418 seconds.
47 queries taking 0.1236 seconds, 258 records returned.
Powered by Minx 1.1.6c-pink.