February 21, 2016
F1 Pr0n: 2016 miniMegaPr0n Part I: Ferrari, McLaren, Williams, Mercedes
With preseason testing starting up at Barcalounger on Monday, many of the teams finally got around to officially showing us what their cars were going to look like this weekend! With this post, I'll touch on the Big Four of Ferrari, McLaren, Williams and Mercedes. The fifth team that debuted on Sunday will get their own post.
Once testing begins, we should see almost all the rest of the cars, and we'll deal with them in Part II. So what will the high-powered steeds of Formula 1 look like this season? Let's get to lookin'!
Ferrari SF16-H
The first thing I noticed right away when I first saw the SF16-H was all the white! It's been a very long time indeed since the team has used white on the main body of the livery. I'll be honest, it's a refreshing change from the mostly-red-some-black they've been using. Yes, I've taken them to task in the past for using a little white stripe, but a duck can change his mind, can't he?
The most obvious physical changes to the chassis include the return of a proboscis-style nose and raised cockpit side bolsters. In both cases, these conform to new tech regulations. Interestingly, there's now a dip just where the airbox ends and the engine cover begins, just behind the so-called "T-Bar" camera mount. Undoubtedly it's there for aerodynamic reasons, but amusingly none of the websites that study such things can agree on exactly
what
benefit it's providing. Less obvious changes include a return to push-rod suspension on the front wheels after the team claimed for years that they got a aero boost from pull-rod. Like most of this season's chassis, it's much more compact at the rear... the designers are now experienced in how much room is needed for the new power unit's cooling requirements, and have designed down to it. Ferrari says they're putting all their hopes for a championship on the SF16-H, so they seem to believe they've got something special here... I mean, moreso than usual.
McLaren MP4-31
Last season, McLaren decided that it was time to do away with the infamous "glare on wheels" livery and shifted to a black one. Somehow, they've managed to go even
blacker
with the MP4-31, a color scheme that lets no light escape. Hopefully the Black Hole of Woking won't suck quite as much as it did last season...
The changes from last season's chassis are quite small. The nose proboscis is a little less wide, for example. The airbox support has changed from twin pillars to a single small post, which will save weight high on the body, but reportedly played hob with crash testing. Otherwise, however, the bodywork is little different.. not surprising, as McLaren's problems last season had little to do with the aero and much to do with a Honda engine that would have been more appropriate in an Civic. Some reports say that Honda's figured out the problems and are up 200hp over last year. While that seems slightly less likely than Andre the Giant in his prime fitting into a F1 car, I suppose it's possible. We'll see once testing gets rolling.
Mercedes W07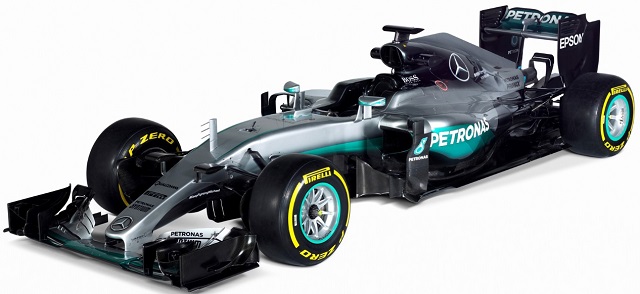 The World Champions have more black and less teal in their livery, a change that is welcome indeed... I hate teal. The color divides are sharper as well; last year they just sort of blended into one another like airbrushing.
As for the chassis itself, if the McLaren changed but little because it was good aerodynamically, the W07 has changed even less. And why not? It was clearly the best design on the grid last season, and other than the raised cockpit sides and a slightly smaller dorsal fin, there's no real difference to be noted. The nose doesn't have the proboscis, but that's totally legal as well, as long as the crash structure extends to a certain point. The sidepods are smaller than those on the W06, as the team has apparently moved the oil coolers to the airbox... something first done by Toro Rosso last year. There are some hints in the media that the most complex changes are under the skin of the Merc and thus invisible, but without the team coming out and confirming that, we have no way of knowing for sure. Probably still the odds-on favorite to win the Championship again, though more will be known soon.
Williams FW38
When your livery is the best on the grid, why mess with it?
As far as the body itself goes, what we're looking at is probably
not
the design that will take the grid in 2016. Deputy Team Principal Claire Williams said "the car you see here is not the finished product". To be fair, the FW37 was a pretty decent piece of kit, let down only by its low-speed handling. How will they fix that? Damned if I know... that's black-magic kind of stuff. The only obvious difference between this chassis and last year's is that the sidepod openings are a different shape: D-shaped as opposed to 2015's P-shaped inlets.
So that's the Big Four. The rest should be appearing shortly, so watch for a post on them coming soon!
Posted by: Wonderduck at 11:14 PM | Comments (2) | Add Comment
Post contains 875 words, total size 6 kb.
1
To my uneducated eyes, it looks like the Ferrari front wing is smaller and less elaborate than the McLaren front wing or the Mercedes front wing.
Posted by: Steven Den Beste at February 22, 2016 12:37 AM (+rSRq)
2
That may be the case, at least as complexity goes. However, don't read anything into that; these wings are almost certainly going to be radically different by the time they hit the grid in Australia a month from now.
Posted by: Wonderduck at February 22, 2016 12:44 AM (KiM/Y)
30kb generated in CPU 0.0119, elapsed 0.0704 seconds.
49 queries taking 0.0637 seconds, 280 records returned.
Powered by Minx 1.1.6c-pink.