February 04, 2015
F1 Pr0n: 2015 MegaPr0n
Amazingly, while I've been off being disinterested in pretty much everything the world of Formula 1 hasn't slowed down one whit. The first round of pre-season testing at Jerez is almost finished, and that's swell. We've gotten to hear the new Honda engine, which is cool as heck, but the first test session is often spent working out the kinks and trying to keep the cars running on track.
Unless you're Mercedes this year, who seem to be so confident that they spent a few hours on Tuesday running on Intermediates to see how long they'll last on a dry track. This while McLaren was happy to average less than 10 laps per day in their revamped car.
But the really big thing about the first round of tests is that we finally get to see the new cars... and that's what we call F1 Pr0n around these-here parts! Shall we take a look?
McLaren MP4-30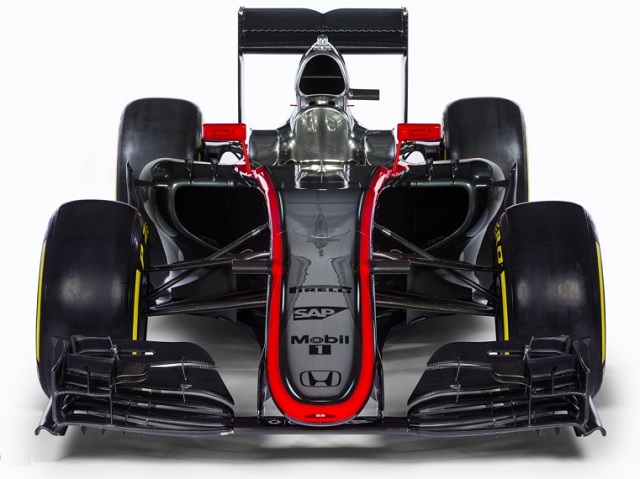 Last year at this time, we were talking about
the various proboscis
sported by the cars, and just how... um... less than attractive they tended to be. No worries this year, as those have been mostly legislated away. There's still some variety to the noses, though. McLaren has chose to use a long, low, sloping nose that extends past the front wing. We'll see this style again.
The team says that this isn't the final livery, and I hope that's the case. The lack of title sponsors is... disturbing. That this is looking to be the team's second year without a major sponsor is even more disturbing. If a legendary name like "McLaren" can't pull in a big name sponsor, what does that say for the chances of smaller teams?
I kinda wish they'd step away from the pewter and black. The meatball fan in me is screaming "bring back
McLaren Orange
!" Is that too much to ask? It is? Okay. Can they at least make up their mind with the red, then? Extend it to the rear of the car, have a red line separating the pewter and black. That'd look great. Speaking of red...
Ferrari SF15-T
Same basic nose style as the McLaren. There seems to be less sculpting to the front of the car up towards the cockpit, but that might be an optical illusion. I am fairly certain that the sidepod openings for the radiators are smaller than on the McLaren.
Ferrari is saying that the rear of the car is more tightly packaged as opposed to
last year's F14T
, and at least upon first glance it looks that way. The sidepods seem rounder, too. More cooling?
Rear wing has almost no cutout to it. I don't know what that means, but it's the truth. All in all, it's a Ferrari. Hopefully for the team and the sport, it'll be somewhat better than last year's car. No more Alonso to make it look good, remember!
Sauber C34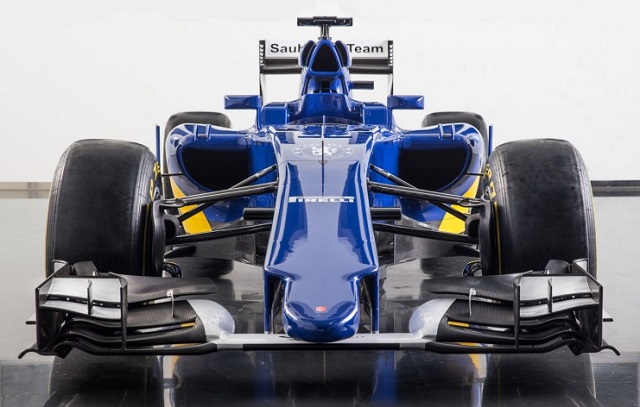 The second style of nose that we'll be seeing. It's sort of a cross between the proboscis and the long flat nose of the McLaren and Ferrari. Those sidepod inlets look tiny.
Big props to the team from Hinwil for getting away from the current trend of grays and blacks! Sure, that's because Banco de Brasil is their new sponsor, but still! It's a lot better looking than
last year's car
.
Front wing endplates are narrower than last year's, I notice. Sidepod has much less sculpting and undercut than in the past All in all, a nice looking car. I'd love to have an entire field of bright cheerful racers!
Williams FW37
A variant on the Sauber's nose, a little stub as opposed to a bigger stub. I think I'm only going to point out the radiator inlets if there's something unique about them from now on: "wow, those are big," that sort of thing.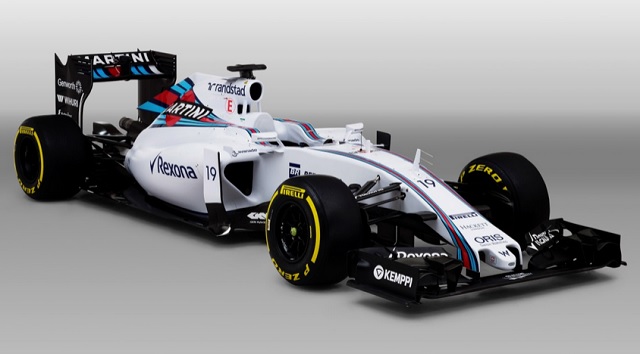 Remember when the cars had thousands of
winglets and bargeboards and aerodynamic gewgaws
strewn about them in haphazardly random locations? I'm really glad those days are gone.
Seriously, the best darn livery on the grid right now. So clean, so tidy, so sharp. Of course, it helps when you've got the classic Martini logo to work with, too.
Mercedes W06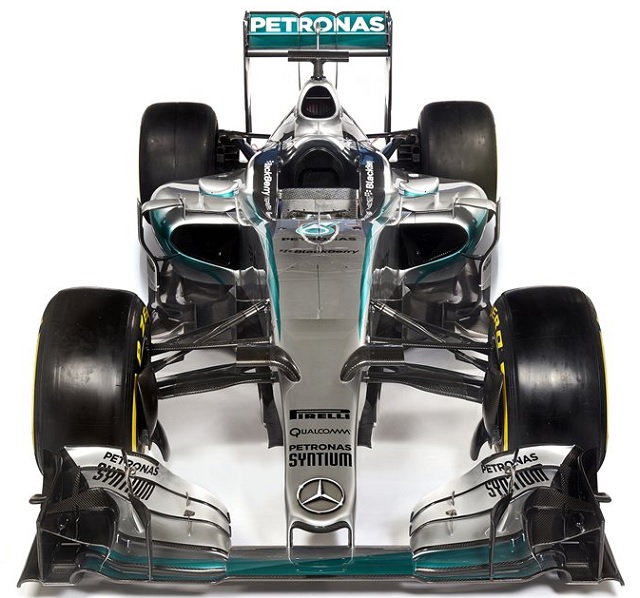 Sure, Mercedes, be all different and don't give us a low-angle nose shot. That's fine. Be different. Of course, they
are
the double World Champions, I suppose they can get away with it, can't they? A different type of nose from the others, narrower and shorter, not even extending past the front wing. I wonder what they know (or think they know) that's different from the other teams?
That sea-foam green. I dunno. At least there's
less of it
than last year. Dear god, that front wing is just artwork... curved, arched, layered, and free-standing. That's just pretty stuff right there.
Seriously, Mercedes, is it too much to have your car face the same way as everybody else? Oh look... silver AND black. How original.

Toro Rosso STR-10
Toro Rosso has never gone in for all that there "studio shots" stuff, preferring to let the media do the photographic work for them. Unfortunately, that means no good nose shot. Big undercut to the sidepods, and a standard McLaren/Ferrari nose.
I don't see anything here that makes me sit up and go "wow, that's different or new." That's not a bad thing usually, but Toro Rosso had a less-than-stellar year. That's
probably
down to the Renault engine being a dog, but one would think they might want to go for something a touch more... radical? I wonder what sort of R&D budget they get from Red Bull...?
Lotus E23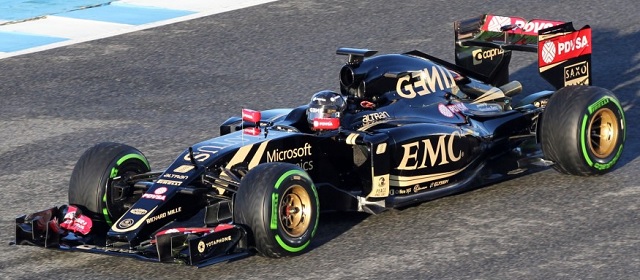 Last year, Lotus brought the innovative
dual-tusk nose
. The problem was, of course, that it didn't work very well, and indeed pointed out that the rest of the car was kinda lopsided, too. It was Will Buxton who pointed out that the exhaust on the E22 was off-center, and the entire back was a touch askew as well. Nothing like that this season! The nose is McLaren-style, sidepods are mostly straight, the entire chassis is pretty conventional. After the debacle of last season, that's a good thing. Now if the Renault engine puts out more horsepower than the 4-cyl in my Camry, maybe the team will return to form.
I'm sure you've been wondering where Red Bull is. I'm saving them for last because of their testing livery. Ladies and Gentlemen, may I present the...
Red Bull RB11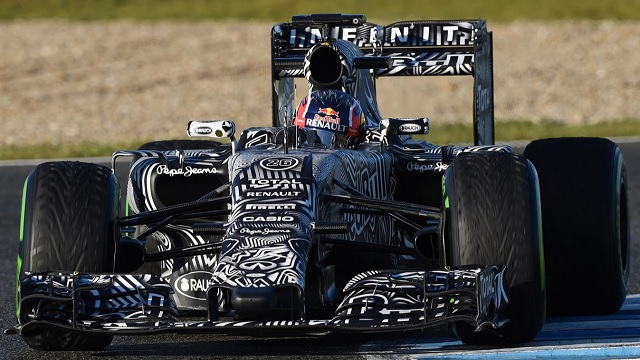 Livery by
Keith Haring
. This is actually a camouflage design to prevent the other teams from getting a clear look at their bodywork. It's a trick used a lot in the car industry to
disguise new features on prototypes,
but there's some talk out there that it's for a more nefarious purpose.
To whit, some think that Red Bull is running a cosmetically-modified
RB10 chassis
because the actual RB11 is behind schedule. The only way you could tell would be to get up close to it, and this eye-searing livery prevents that as surely as a shot of pepper spray to the ocular region.
No, it's really to prevent cameras from picking up much in the way of detail. As it was, I had to massage the side shots with a 'shooping program to bring out what details I could... I'll bet that autofocus cameras weep in despair. It's a Mercedes-style nose, though shorter with a little extension to make it all legal. As much as it pains me to say it, I want Red Bull to do well. Anything to challenge the Mercedes domination is okay with me.
So there we are. Those are the announced cars. Right now, we're waiting for Force India and Marussia to show up, and there's some question as to whether Marussia ever will. We shall see. We're six weeks from Australia!
Posted by: Wonderduck at 11:39 PM | Comments (7) | Add Comment
Post contains 1310 words, total size 10 kb.
Posted by: flatdarkmars at February 05, 2015 07:37 AM (h7xWz)
Posted by: GreyDuck at February 05, 2015 08:27 AM (AQ0bN)
Posted by: Wonderduck at February 05, 2015 01:31 PM (jGQR+)
Posted by: Siergen at February 05, 2015 04:54 PM (/CwtH)
Posted by: Steven Den Beste at February 05, 2015 09:03 PM (+rSRq)
Posted by: Steven Den Beste at February 06, 2015 03:27 PM (+rSRq)
Posted by: GreyDuck at February 07, 2015 10:30 PM (AQ0bN)
37kb generated in CPU 0.06, elapsed 0.2159 seconds.
49 queries taking 0.1813 seconds, 274 records returned.
Powered by Minx 1.1.6c-pink.