September 13, 2017
F1 on TV: Singapore 2017
It's a good thing that Formula 1 cars don't tend to leak fluids very much. Singapore takes a dim view of littering or mussing the appearance of their city-state, and really... do we need to see Lewis Hamilton getting caned? Don't answer that. Here's the track map for the 2017 Grand Prix of Singapore:
This track has two party tricks, of course. First, it's a street circuit, running around and through the Marina district of Singapore. Unlike Monaco though, it actually has some legitimate straightaways that allow a car to stretch its legs. The circuit is also wide enough to let a couple of cars next to each other at some points. The other party trick is that it's a night race, the site of the very first in F1 history. There's some hassle involved with that for the teams, but it's all worthwhile when you get to see the cars under the lights.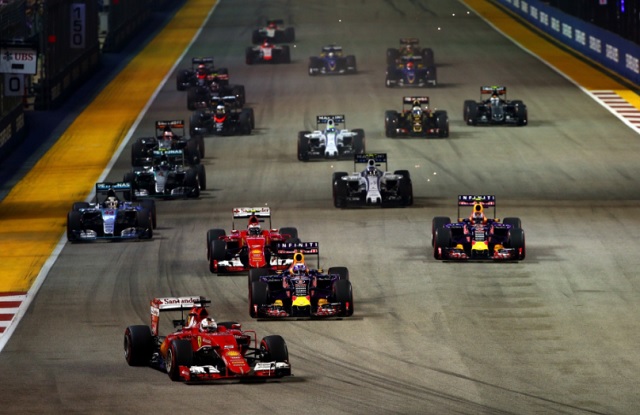 We all know that I'm not a huge fan of Ferrari, but under Singapore's lights I'll be damned if that red doesn't just look gorgeous.
Speaking of gorgeous, the Legendary Announce Team will be on the job as usual! Here's their broadcast schedule:
Practice 2: 730a - 9a live on NBCSN
Quals: 8a - 930a live on CNBC
2017 Grand Prix of Singapore: 7a - 930a live on NBCSN
All times are allegedly Pond Central. And, of course, sometime afterwards there'll be a F1Update! of some quality level that is, as of yet, undetermined. See ya then!
Posted by: Wonderduck at 08:12 PM | Comments (2) | Add Comment
Post contains 259 words, total size 2 kb.
1
Bob Varsha is back for this one!
Posted by: flatdarkmars at September 15, 2017 07:26 AM (zLeyl)
2
...and so is the FDM, it appears. Welcome back, don't remember seeing you around of late!
Posted by: Wonderduck at September 15, 2017 07:41 AM (1zQhi)
25kb generated in CPU 0.0115, elapsed 0.1801 seconds.
49 queries taking 0.1719 seconds, 280 records returned.
Powered by Minx 1.1.6c-pink.