October 25, 2017
F1 on TV: Mexico 2017
The races haven't been great since Formula 1 returned to Mexico in 2015, but the spectacle has been real! Let's take a look at the track map for this new old track.
The teams tend to load up on downforce here despite the two ridiculously long straights... there's a lot of turns to be contended with... and yet, that downforce
still
doesn't slow the cars down a whit. Part of the reason for that is Mexico City itself: it's 2200m above sea level, more than 700m higher than the next circuit (Brazil), and some 2197m above Abu Dhabi. Because the circuit is so high, there's a corresponding thinning of the air. That means less aerodynamic drag, and while that also means less downforce, it's not like a F1 car doesn't have oodles to spare. The engines have to work harder here, too, because of the lack of air... the turbochargers spin up to 10% faster to make up for it... so don't be surprised if we see some grenading going on. There will also be a serious amount of fan insanity in the greatest stadium section in Formula 1.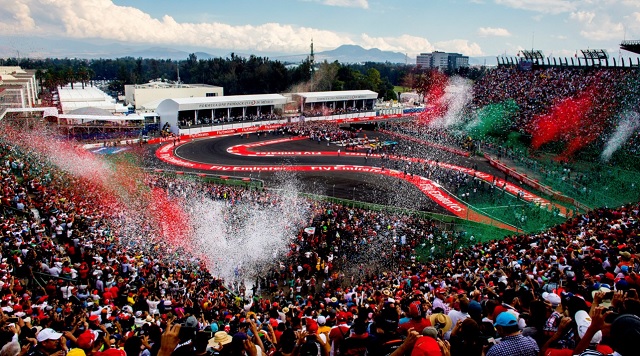 It is literally a stadium! Baseball, to be specific... home plate would be just offscreen right of this picture. It seats 40,000 fans, and the podium ceremony is held here. Dear god, if Sergio Perez makes the podium the crowd will be able to be heard here in Duckford.
The Legendary Announce Team will be at it again... here's the broadcast schedule:
Practice 1: 10a - 1130a live on NBCSN
Practice 2: 2p - 330p live on NBCSN
Quals: 1p - 3p live on NBCSN
2017 Grand Prix of Mexico: 2p - 4p live on NBC proper.
All times Pond Central, of course. Seeing Practice 1 up there came as a pleasant surprise... NBCSN is going all-out for their last network weekend, I suppose. See ya after!
Posted by: Wonderduck at 08:11 PM | No Comments | Add Comment
Post contains 324 words, total size 2 kb.
24kb generated in CPU 0.07, elapsed 0.3797 seconds.
47 queries taking 0.3396 seconds, 266 records returned.
Powered by Minx 1.1.6c-pink.