July 05, 2010
F1 on TV: Grand Prix of Great Britain 2010
People say that Monaco is the soul of Formula 1, and surely that's where the big deals usually get done in the sport. After all, who in their right mind would turn down a fully-paid business trip to Monte Carlo on F1 weekend? Right, nobody.
But if Monaco is the soul, the home of the British Grand Prix is the heart of the sport. Silverstone was the site of the very first official World Championship F1 race in 1950, and most of the teams are based within easy drive of the track. Heck, Force India's site is located literally across the street from the entrance.
But with Birdie Ecclestone in charge of track choices, the heart has changed. Let's take a look at the track map: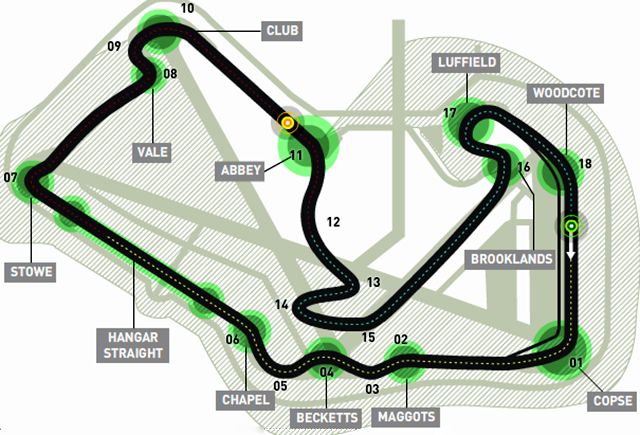 Ladies and Gentlemen, may I introduce the Silverstone Arena Circuit layout. The original, familiar layout used to follow the green more-or-less horizontal line from Abbey to Brooklands. The new Arena layout is about 780m longer, and was created so the circuit could host a round of the MotoGP motorcycle championship when it looked like F1 would be moving to Donington Park.
I'll be curious to hear the driver's opinions on the new section. It looks like it'll make the track a little faster overall. The stretch from Abbey to Turn 13 will probably be a flat-out sweeper, and the run from 14 to Brooklands probably won't require any braking in the least. All of this
might
add three more opportunities for passing (13, 14 and the reduced-radius Brooklands), or it might just end up doing nothing. I suspect the latter, but we'll see.
Still and all, Silverstone still has my favorite conglomeration of turns, the Maggots-Becketts-Chapel complex, so I'm happy. Probably F1's ultimate high-speed rhythm sequence, if I was given access to one place on the F1 calendar, even if it wasn't a normal spectator spot, I'd choose the inside of Becketts, pretty much right where the number "04" is on the map. Seeing the cars change direction on a dime like they do there must be an awe-inspiring sight. For the record, second choice would be at the crest of the hill of Eau Rouge, third would be inside the tunnel at Monaco. Fourth would be somewhere on the pit wall of any race. But I digress.
For a relatively high-speed circuit, the usual setup for the cars sees a medium level of downforce. There's just enough tight turns to make it worthwhile to go a little slower on the straights. "Ya gotta go slow to go fast" isn't just an overused aphorism, it's also the truth. Stowe, Vale, Turns 13 and 14, and the M-B-C complex all scream for a ton of grip. So you crank on a bit more wing and smirk when you slotcar through the turns while everybody else slops around. Still haven't heard about the tire compounds that Bridgestone'll will be bringing, but I'd guess supersoft/medium. I don't remember the track surface as being particularly abrasive.
Well, we'll find out beginning Friday morning, from 8am to 940am, with SPEED's coverage of the 2nd Practice session. Quals airs from 7am to 830am Saturday morning, also on SPEED.
The race, however, will be from 11am to 1pm on Sunday. This will be the third of four FOX races, so check your local listings, just in case. All times are, as usual, Pond Central time.
Hopefully Mark Webber won't go for any more unscheduled flights... though Silverstone is an old RAF base, let's leave the airshow stuff to the Red Arrows.
Posted by: Wonderduck at 10:24 AM | Comments (5) | Add Comment
Post contains 599 words, total size 4 kb.
Posted by: Mallory at July 05, 2010 02:56 PM (WJ2qy)
Posted by: Avatar_exADV at July 05, 2010 06:20 PM (mRjOr)
Posted by: Wonderduck at July 05, 2010 07:06 PM (iJfPN)
Posted by: RobertV at July 05, 2010 09:59 PM (0H/si)
Posted by: vonKrag at July 08, 2010 01:32 PM (VGXAE)
Comments are disabled. Post is locked.
26kb generated in CPU 0.06, elapsed 0.2172 seconds.
47 queries taking 0.1853 seconds, 270 records returned.
Powered by Minx 1.1.6c-pink.