July 19, 2010
F1 on TV: Grand Prix of Germany 2010
What do you do when you've got two Formula 1-quality race tracks in a country, neither of which are willing to shell out the cash to Birdy Ecclestone to own the GP outright? You alternate the tracks, of course. They did that in Japan for a short time, bouncing between Fuji and Suzuka, but the idea originated in Germany. Last year the German Grand Prix was run on the Nurburgring Jr track. This year, however, it comes back to Hockenheim. Let's take a look at the map: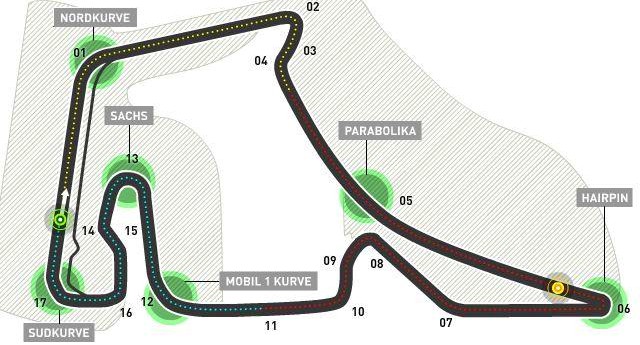 In
its original format
, the circuit didn't have a turn at Turn 2, instead charging out into a forest, then returning and joining the modern track at the Hairpin. It was a frighteningly fast track that had the ability to reach up and
kill even the best F1 driver ever
. Of course, that's too dangerous for today's racing, and rightfully so, and the track owners let Hermann Tilke get his hands on the layout. Now it's just another track.
However, it's a track that the new-spec cars have yet to run on with slick tires, since they raced at the Nurburgring last season. What's really surprising is that Bridgestone has decided to bring the super-soft and the hard rubber compounds to Hockenheim. Now that might make a driver's choice of tires very interesting. The asphalt on the circuit isn't known as being particularly abrasive, but it doesn't baby the rubber, either.
In fact, the whole circuit is sort of like that: it's very much in the middle of the circuits on the calendar as far as difficulty, downforce settings, tire wear, top speed, yadda yadda yadda. I suppose if you want to see just how good your car is, there probably isn't a much better place to find out.
Of particular interest to the fans this time around will be the reception of one Slappy Schumacher and the other German drivers (Nico Rosberg, Seb Vettel, Adrian Sutil, Timo Glockenspiel, Nico Hulkenberg), not to mention two (technically) German teams (Mercedes, BMW-Sauber). Should be raucous.
Well, we'll find out just how raucous the fans get starting Friday from 7am to 840am with SPEED's coverage of the 2nd Practice session. The next day, SPEED brings us Quals, from 7am to 830am.
I'm pleased to say that this will be the final race of the season to be broadcast on FOX, though to be fair, it appears that most of their problems with the Canadian coverage was due to the race being done live. The last two races have been pretty decent, though wayyyyyyyyyy too many commerical breaks for my taste. Anyway, this race will be Sunday from 11am to 1pm, with a replay Tuesday on SPEED, also from 11am to 1pm.
All times, of course, are Pond Central.
Posted by: Wonderduck at 08:18 PM | Comments (1) | Add Comment
Post contains 470 words, total size 3 kb.
1
I love a good race in Germany -- either track will do.
I wish F1 would use the split-screen format (like Indy) for the Fox coverage. That way we could see the whole race.
Posted by: Mallory at July 20, 2010 12:30 PM (WJ2qy)
Comments are disabled. Post is locked.
23kb generated in CPU 0.05, elapsed 0.1999 seconds.
47 queries taking 0.1763 seconds, 266 records returned.
Powered by Minx 1.1.6c-pink.