June 17, 2008
F1 on TV: France 2008!
From the rip-snortin' good times of Montreal, we find ourselves back in Europe for the French Grand Prix.
*crickets*
Yeah, it hurts for me to read that, too. Unless it rains, the French GP is usually a really dull, slow-paced parade. In France. In
rural
France. To give you an idea of where Magny-Cours is in France, it'd be like having a Grand Prix somewhere in eastern Iowa (without the flooding)... with a very very small town hosting.
The good news is that the 2009 French GP is going to be held somewhere else, perhaps in Paris. No, it won't be at the track used for the 24 Hours of LeMans (which is a real shame; a seven mile course with a straightaway nearly as long as the entire track length of Monaco? With a F1 car? Sign me up!), alas.
But, for this year, Magny-Cours is what we've got, so lets look at the track map, shall we?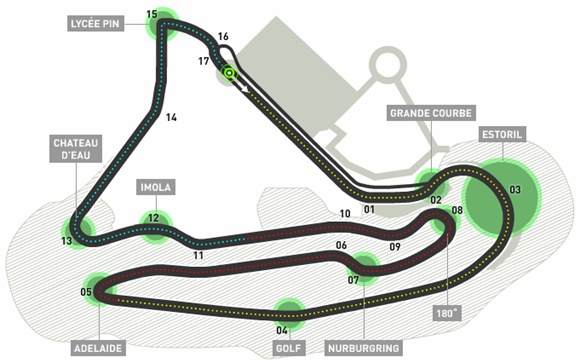 The predominant feature of Mangy-Curs is slow turns mixed with obscene hairpins. Just when it seems like there's an opportunity for a passing manuever there's another stinkin' bend in the road. Turn 1 is the alleged best passing location.
A few years back, the track was reprofiled to add a chicane (turns 16/17) to help increase passing. While that didn't work at all, it did shorten the pitlane to the point that running a three-stop strategy is actually quite workable at Mangy-Curs, and Slappy Schumacher won in 2004 (I think it was) using an unheard-of four-stop plan.
So expect lots of red-hot pitlane action. Whee. And our friends, the Legendary Announce Team, will be there for all of it.
Friday, from 7am to 830am, we'll have LIVE coverage of Practice 2 on SPEED.
Saturday, from 7am to 830am, there'll be plausibly LIVE coverage of Quals, also on SPEED. Will Robert Kubica take a second pole? Will Ferrari and McLaren scrape their jaws up off the floor after BMW's win at Canada? Will home team Renault actually get on the podium? It all starts on Saturday!
Sunday, the actual Grand Prix of France will be shown on FOX, from 12n to 2pm. That's tape-delayed, by the way, but at least it's the SPEED announce team. For those of you who can't stand the 'Big Four' networks, the race'll be replayed on Wednesday from 11a to 130p on SPEED.
All times, of course, are Central.
Posted by: Wonderduck at 05:35 PM | Comments (10) | Add Comment
Post contains 407 words, total size 3 kb.
1
I just took a look with Google Earth. That town can't have a population of more than a couple of thousand. It really is out in the sticks. France doesn't get a lot more rural than that. I wonder why they built a race course there? (Probably because land was cheap.)
Posted by: Steven Den Beste at June 17, 2008 08:32 PM (+rSRq)
2
1500, one hotel. It's so far away from anything that the teams despise going there. The track was originally built for a race-driver school back in the '60s, I gather. The French gov'ment decided to pump a lot of cash into it as a way to boost the economy of the very rural region.
It didn't particularly work, I guess, since there's still only one hotel. I gather going there on race weekend would be like going to the Super Bowl at a modern domed stadium... but there's only a two-lane dirt road leading to it.
Posted by: Wonderduck at June 17, 2008 08:55 PM (AW3EJ)
3
I was wondering about that. It did seem as if the roads there were rather narrow for the kind of traffic I'd expect for race weekend.
There is another bitty town on the other side, but it's even bittier, and probably doesn't have a hotel at all.
This reminds me a bit of the Pendleton Roundup, one of the great rodeos of North America. Ordinarily Pendleton OR is a rather sleepy town, albeit a hell of a lot bigger than this one. Ordinarily it has a population of about 17,000. For the Roundup, the population approximately doubles for a couple of weeks. A lot of the visitors bring trailer houses or motor homes with them, and of course rodeo cowboys don't generally expect the kind of opulence that I would suspect is considered pretty routine for F1 drivers and teams.
Also, it's better served by the road system. I-84 goes right through the middle of it.
About 30 years ago I went to the Roundup one year. My roommate and I drove out there and waited at the booth for people to show up with unneeded tickets to sell, and we each picked one up. It didn't turn out to be possible for us to sit together, but that wasn't a big deal. A lot of fun, even if I did get sunburned.
...probably more fun than watching this race, from the way you describe it...
Posted by: Steven Den Beste at June 17, 2008 09:15 PM (+rSRq)
4
I'm wrong. According to Wikipedia, the 17,000 people of Pendleton host about 50,000 visitors for the Roundup. Which means the population quadruples.
Posted by: Steven Den Beste at June 17, 2008 09:18 PM (+rSRq)
5
I'd love to watch a F1 race at the track; the atmosphere must be amazing... even at a track like the one at Mangy-Curs. It's the whole watching a dull race on TV thing that blows.
Posted by: Wonderduck at June 17, 2008 09:25 PM (AW3EJ)
6
And yet we in the US don't rate a race. Not to mention that there's currently no French Drivers! (uh, no Americans either, shhh...) I'm sure they could find a nice spot of land here in my neck of NJ to host build a track, wedged nicely between New York and Philadelphia, with D.C. only a few hours away... To that end they could go back to Watkins Glen.
The Vegas rumors were nice, I don't see why that couldn't be as big as Monoco celebrity wise...
Posted by: Buttons at June 18, 2008 03:00 PM (VjS5e)
7
Is there anything that no one will add to Wikipedia? It's got an article on the 2009 F1 season.
The number of races listed as confirmed or suspected is absurdly long. Another race at Indy is listed, but I bet not.
What I thought was more interesting is that they're going to impose a spending cap on the teams. It wouldn't include driver salaries and engines.
I wonder if transportation and lodging would be included in the budget? It can't be cheap to move the team and all its equipment all over the world, presumably by air.
Posted by: Steven Den Beste at June 18, 2008 06:04 PM (+rSRq)
8
I just remembered something else I wanted to ask about. If you've got a track where passing is particularly difficult, then there would seem to be little benefit to having a light car, and you'd be best off going with as few pitstops, and as heavy a fuel load, as you could manage.
Certainly if you're running a 3-pit or 4-pit race, each pit stop will be shorter because you're taking on less fuel. But overall, 4 pitstops will take more time than 2, so you'd be better off with 2.
What am I getting wrong here?
Posted by: Steven Den Beste at June 18, 2008 06:07 PM (+rSRq)
9
Okay, I just took a look at that wiki for the 2009 season. Amusing, and about as speculative as it's possible to be. The only thing that can really be taken as gospel from it is confirmed races. Yes, even the teams list is up in the air (don't ask, I don't want to get into it until some more news comes out).
I'm only going to assume that transport costs will not be included in the budget. You're right about it not being cheap, that's for sure. In the European part of the calendar, they use trucks to move about from race to race. The teams also have what they call mobile homes that are about as high-tech as their cars. For the overseas races, they fly the cars and staff, but most everything else is shipped (literally) ahead of time.
Regarding the pitstop conundrum, Steven, I'm going to have to write a full post on that one.
Posted by: Wonderduck at June 18, 2008 07:17 PM (DcSb+)
10
Not to mention that there's currently no French Drivers!


Sebastien Bourdais (SeaBass) might take issue with this assertion.
Posted by: Wonderduck at June 20, 2008 09:01 PM (AW3EJ)
Comments are disabled. Post is locked.
30kb generated in CPU 0.04, elapsed 0.2065 seconds.
47 queries taking 0.1753 seconds, 274 records returned.
Powered by Minx 1.1.6c-pink.