June 07, 2010
F1 on TV: Canada 2010
Yep, that's right: F1 on TV. You know what that means... it means we're in that four-race stretch where Formula 1 is shown on a major network, but tape-delayed. Whee. Except for this week as the F1 Circus has returned to the Circuit Gilles Villeneuve on the Ile Notre-Dame, a manmade island in the St Lawrence River, in Montreal. And this will be an interesting study in F1 racing for more reasons than one. "Why", you may ask, "is that?" All will be revealed in due time, Sparky, but first! It is time for... the track map!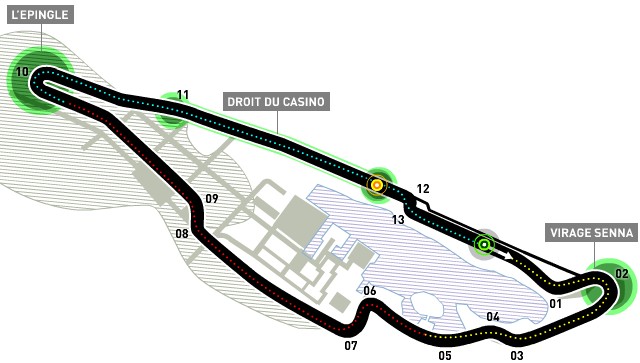 Montreal is what I'd call a "classic track", meaning that it's not a Hermann Tilke "Adventure" circuit ("
You are in a maze of little twisty passages, all alike
"), and here's where it gets interesting. You see, the Circuit Gilles Villeneuve was off the calendar in 2009, meaning that this'll be the first time the new-spec cars will have been here. Last year, every race was an exciting voyage of discovery as to how the low downforce, slick tire-shod chassis ran on each track. Of course, this year the teams have a years' worth of experience on most of the circuits, with two exceptions. One exception is the new layout in South Korea, a Tilke circuit. The other exception is Montreal. Exciting!
This circuit is well known as being murder on brakes. Turn 10 is the true killer here. You see, F1 brakes are designed to run at ridiculously high temperatures: 1000ºC. From Turns 1 thru 7, that's not a problem, the carbon brake discs stay right where they're supposed to. But then comes the run from Turn 7 to the hairpin Turn 10, which is nearly as slow as Monaco's Loews Hairpin. The catch is that, during that high-speed sprint, the brakes cool dramatically then, when the driver stomps on the "stop in a hurry" pedal, the heat builds up so rapidly that a thin layer of the carbon disc actually melts, or "glazes" the brakes, reducing the stopping efficiency, and of their ability to dissipate heat. That means you have to apply more force to the brakes to slow down, which increases heat buildup, which means more glazing. Repeat 70 times. This means that over the length of the race, the brakes get
too
hot. This is the only circuit where I've seen a brake disc actually explosively shatter. The run from Turn 2 to 6 has a similar effect, though reduced, as does the streak from 10 to the Turn 12/13 chicane.
If there's one spot on this circuit that people remember, it's that chicane. Cars routinely come within a few inches of the outside wall as they come out of it, and the curbs are... um... aggressive. If you catch too much of the curb on the inside of 12, you get thrown into that wall, which is lovingly emblazoned with the slogan
Bienvenue au Québec.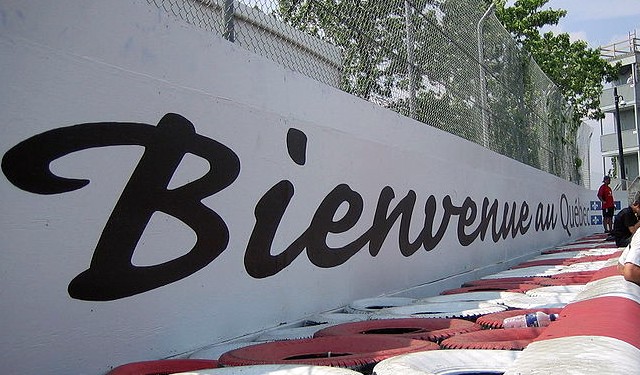 Because of all the drivers that have left their suspensions here, it's known as the "Wall of Champions."
We'll find out who'll be the lucky driver to join the list beginning on Friday with LIVE coverage of Practice Session 2 on SPEED from 1pm to 240pm. We'll get Quals on serious tape delay because of NASCAR stuff on Saturday from 330pm to 5pm, also on SPEED.
The race itself will be LIVE on Sunday from 11am to 1pm, but on your FOX affiliate. Check your local listings for times in your area, as they
do
have to option to move it around. Also, don't expect any pre-race coverage, and next to no post-race stuff either. For that, keep it here for F1U! There will be a replay on SPEED on Tuesday, from 11am to 1pm. (All times Pond Central)
Luckily for all of us, the Legendary Announce Team will be providing their usual sterling analysis for the race. Don't miss it, it'll be a blast!
Posted by: Wonderduck at 08:06 PM | Comments (3) | Add Comment
Post contains 656 words, total size 4 kb.
1
IIRC this track also has an extra helping of wildlife, doesn't it? Wood chucks or something like that?
Posted by: Steven Den Beste at June 08, 2010 12:09 AM (+rSRq)
2
Yes. Turkey has its dogs, Montreal has marmots. A few years back, Ant Davidson's SuperAguri wound up with a marmot corpse stuck into his front wing. Ew.
Posted by: Wonderduck at June 08, 2010 06:41 AM (iJfPN)
Comments are disabled. Post is locked.
25kb generated in CPU 0.05, elapsed 0.1868 seconds.
47 queries taking 0.1603 seconds, 267 records returned.
Powered by Minx 1.1.6c-pink.